6th Annual Student Conference for Integrative Medicine
Description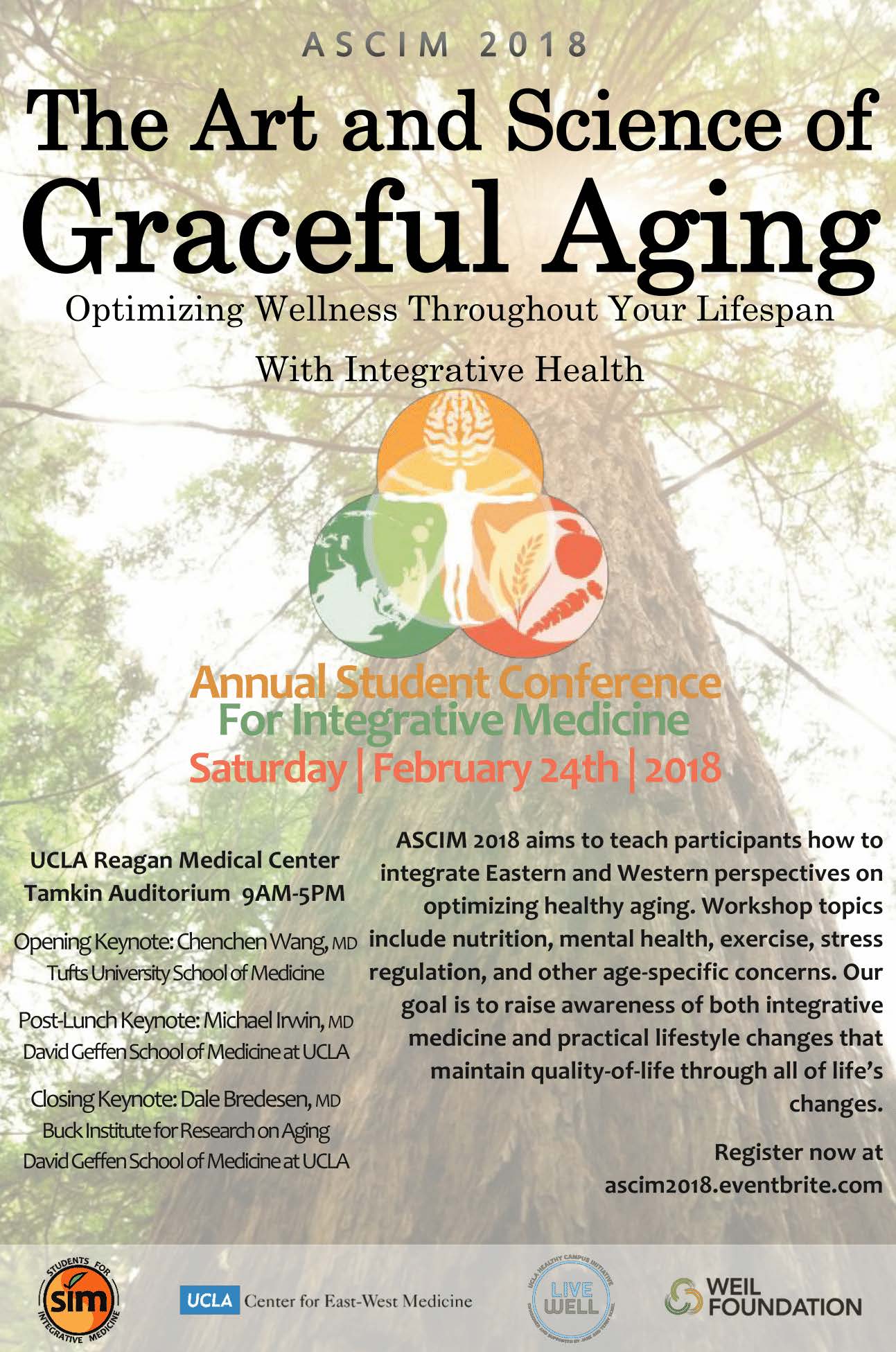 ASCIM 2018 aims to teach participants how to integrate Eastern and Western perspectives on optimizing healthy aging, with special attention to nutrition, acupressure, mental health, sleep, meditation, Traditional Chinese Medicine (TCM) concepts, stress regulation, Tai Chi and other age-specific concerns. Our goal is to raise awareness of both integrative medicine and practical lifestyle changes that maintain quality-of-life through all of life's changes. This conference is open to all students, health professionals and anyone interested in improving their health or pursuing a health-related career.
Keynote Speakers:
Tai Chi, Stress, and Pain
Chenchen Wang MD,
Tufts University School of Medicine
Stress, Inflammation, and Mental Health
Michael Irwin MD,
David Geffen School of Medicine UCLA
Alzheimer's and Memory
Dale Breseden MD,
Buck Institute for Research on Aging
David Geffen School of Medicine UCLA
Workshop Breakouts:
Session 1: Maximizing Wellness in Key Life Stages
Children and Adolescents - Rachael Maciasz, MD - Hospitalist at Ronald Reagan UCLA Medical Center, Integrative Medicine Fellow at the UCLA Center for East West Medicine (Room C)

Young and Middle-Aged Adults - Nadia Haddad, MD - Founder and Lead Clinician at the Institute of Holistic Psychiatry (Tamkin Auditorium)

Seniors - Sarah Gelberd, MD, MPH- Geriatrician, Los Angeles County Department of Mental Health Adult Medical Director (Room A+B)
Session 2: Optimal Living for Everyone
Experiential Learning: Acupressure - Annie Zhang, MD - Subspecialty Consultative Fellow at the UCLA Center for East-West Medicine, Assistant Clinical Prodessor at David Geffen School of Medicine at UCLA (Room C)

Nutrition - Zhaoping Li, MD - Professor of Medicine, Chief of the Division of Clinical Nutrition, and Director of the Center for Human Nutrition at UCLA; Lynda and Stewart Resnick Endowed Chair in Human Nutrition(Tamkin Auditorium)

Experiential Learning: Tai Chi - Mingdong Li, PhD, OMD (China), Lac - CLinical Specialist at the UCLA Center for East-WEst Meicine, Professor at Yo San University of Traditional Chinese Medicine, Author of Chinese Internal Medicine (Room A+B)
Session 3: Panel Discussion: How to Start and Develop Healthy Habits (Tamkin Auditorium)
Pain and Sleep - Jeanne Melvin, OT - Occupational Therapist, Founder and Director of Solutions for Wellness


Mindfulness and Meditation - Justin Laube, MD - Physician, Assistant Clinical Professor at the UCLA Center for East-West


Exercise - Matthew Konersman, DPT - Physical Therapist, UCLA Health Rehabilitation


Moderator: Katie Hu, MD - Primary Care East-WEst Fellow at the UCLA Center for East-West Medicine

Session 4: Promoting Health Across Modalities
Beautification with TCM - Yue-ying Li , LAc(Room A+B) - Acupuncturist, Clinic Supervisor and Faculty Member of Yo San University of TCM


Chinese Nutrition - Grace Han, MSAOM, LAc (Tamkin Auditorium) - Acupuncturist and Clinical Specialist at UCLA Center for East-West Medicine


Creative Arts and Healing - Julia Grace Vishnepolsky, LMHC, R-DMT - Psychotherapist, Expressive Arts Therapist (Room C)
Admission includes breakfast, lunch, a goodie bag, conference t-shirt, networking opportunities, and a chance to win some great prizes. For questions or more information, email us at ascim.simatucla@gmailcom.
Breakfast & Registration starts at 8am.

All healthcare practitioners are welcome to join and CEUs will be provided.