Description
Mark your calendars for 6th Annual Silicon Valley Fintech Expo March 24th on 2018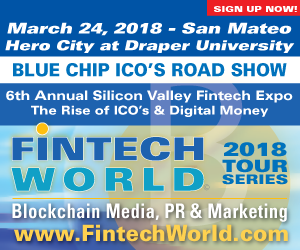 Entitled " 6th Annual Silicon Valley Fintech Expo. we will explore new methods of finance, as well as review existing and developing legal considerations and international initiatives. In bringing together industry thought-leaders, this is destined to offer unique and valuable insights to this growing industry.
Limited to 300 attendees, we are offering you the opportunity to become one of our elite sponsors for this exclusive event.
We are looking forward to your participation and much appreciate if you share this event with your social network.
Registration & Networking
Welcome & Introduction
Cryptocurrency, Tokenized Payments, and FinTech Disruption
Blockchain and Cybersecurity Disruption
Blockchain and Healthcare Disruption
Reception and ICO Demo
ICO's and Venture Capital Fundraising
Blockchain Technology for Enterprise & Consumers Market
Thought leaders industry insights sharing and QA
Pitch Session: Featured Growth Stage Startups*
Smart Contracts for IOT – Connected Cars – Robotics
Thought leaders industry insights sharing and QA
==============================
Crowdfunding Meet Blockchain ICO's -The State of the Industry, When Crypto and Securities Collide, Wall Street & Digital Asset: A huge increase in ICO investment, surpassing VC funding in Blockchain market
The Future of Cryptocurrency
Crypto Bank of Institutional Investors
ICOs, Fraud or the Future?
Blockchain: Opportunities for Healthcare
Regulatory Landscape of Cryptocurrency
Blockchain revolution. Applying Venture Funds metrics to Blockchain investment
How to raise capital from the Family Office and Hedge Fund Communities
10 Common Capital Raising Mistakes
Regulators do not regulate 'technology'
Developments in the Blockchain, DLT, and BitcoinLaws, Rules, Regulations for Title III & Initial Coin Offering (ICOs)
ICO's continue to go wild, and now institutional VCs are taking part
"ICOs: Compliance in a Nutshell"
Pros and Cons of Blockchain ICO's
The Role of Digital Money in Crowdfunding; Security Compliance Audits;
Digital Economics and Blockchain Technology&Artificial Intelligence – Robo Advisors
Challenges facing companies who adopt Blockchain technology:
Health; Education; Government; Energy; Logistics; transposition; DAO Tokens; Digital Asset
Open Roundtable Discussion Q & A
Is ICOs Risky Business?
Wall Street Blockchain; Functionality; Integration and Security"
Artificial Intelligenceconomy; Future of Digital Currencies Exchange
Thought leaders industry insights sharing and QA
Pitch Session: Featured Growth ICO'S
Cryptoeconomic Regulations and Policy
Thought leaders industry insights sharing and QA
Industries Focus (B2C/B2B): – Artificial Intelligence – Big Data/Analytics – CyberSecurity – Blockchain – Bitcoin and Cryptocurrency.
After Hours Networking Event