6th Annual Riordan Wine Gala at the Beverly Hills Country Club

Saturday, April 16, 2011 from 5:30 PM to 9:30 PM (PDT)
Event Details
6th Annual Riordan Wine Gala: An Evening with a Cause
The 6th annual Wine Gala is an annual event that directly benefits 

the Riordan Scholars Program

, a high school mentorship program that supports college-bound juniors & seniors in Los Angeles interested in developing skills in business and leadership. The program has had an unbelievable track record for over 20 years empowering high school students in Los Angeles, with 100% of scholars going onto to 4-year colleges.  This year, the Riordan Programs' goal is to raise at least $30,000 in one night to benefit the Riordan Scholars. 
We invite you and your friends to pledge your support for the Riordan Scholars Program by joining us at the Beverly Hills Country Club on the evening of Saturday April 16th, 2011.  The one night gala will be highlighted by wine tasting, music, interactive entertainment, and a silent auction. All proceeds from the event will go to the Riordan Scholars Program. 
Top 5 Reasons To Attend:    
1) Enjoy complimentary wine and exercise your palette with wineries from all around the world all night
2) Network with professionals from all over southern California at the historic
Beverly Hills Country Club, which showcases an Olympic-size swimming pool, full gym, 10 tennis courts, massage services, hair salon and monthly social events.
3) Bid on several exclusive auction items at a substantial discount, ranging from home entertainment packages to Dream Getaways 

4) Fund raise for an excellent program with a strong track record and legacy 
5) Celebrate the accomplishments of the Riordan Programs in style, as the program enters its 25th year anniversary with honoring its cohort of inspiring leaders.  
 **Bonus** Prospective Applicants - Meet the current Riordan MBA Fellows class and alumni, learn about their experiences and how to become a part of the program. 
This will be a memorable evening of networking amongst peers and professionals.
*Please Note: This is a 21 and Over Only Event *
Wine Tasting
The Riordan Wine Gala features a variety of wines from a multitude of regions providing guests with the opportunity to expand their palettes.
Featuring the Oreana Winery and Tasting Room 

Silent Auction
The Silent Auction features a variety of items and packages generously donated by supporting businesses.  Guests have the opportunity to bid on these items based on the highest bidding amount. Auction items will be revealed by March 2011, and all proceeds benefit the Riordan Scholars Program.
Here are a few of the auction items that will be featured at the event:
Signed Basketball by Kobe Bryant

John Wooden Signed Floorboard

Mad Men and Weeds DVD Box Set Gift Basket

VIP Passes to the Warner Brothers Backlot Tour

DirecTV Entertainment package donated by DirecTV (The Works!)

"Top Gun" Experience as a Fighter Pilot for a Day in a Military Aircraft.

Cruise Vacation for Two Aboard Royal Caribbean International to the Bahamas for Three Nights in an Ocean View Stateroom.

Trip for 2 to Miami Beach, Florida for Four Days & Three Nights at Eden Roc Renaissance Miami Beach with Economy Class Air.

Trip for Two to New York City  (4 Days/3 Nights) at The Ritz-Carlton New York, Battery Park with Economy Class Air.
*Please note that ONLY electronic transactions (credit/debit cards) will be accepted for silent auction items and entrance fees*
Honoring the achievements of:
Stephen R. Torres
Stephen Torres is the Director at DelSolar (www.delsolarpv.com), a Delta Group Company and a leading manufacturer of solar modules. In addition to solar modules, DelSolar offers services in engineering, construction, project development, and project financing to large commercial and utility customers.
Prior to DelSolar, Mr. Torres served as the Chief Operating Officer (COO) of DRI Energy, a division of DRI Companies (www.dricompanies.com). DRI is a privately held roofing services company, operating primarily in the Southwest with offices throughout California and Nevada. The Energy division offers renewable energy solutions to DRI's industrial and commercial customers, as well as residential builders that complement DRI's traditional roofing services.
Before joining DRI, Mr. Torres served as Executive Vice-President of Magnetek (NYSE: MAG), Inc. and President and General Manager of its Alternative Energy division. In that role, Mr. Torres was responsible for all Magnetek's activities with alternative and renewable energy technologies. Specifically, Magnetek's Alternative Energy business focused in providing innovative power conversion solutions to the solar, wind and fuel cell industries worldwide. During his tenure at Magnetek, the Alternative Energy division grew in revenues from $2 to $10MM, culminating in the sale of the division to Power-One (NASDAQ: PWER) in late 2006.
Before Magnetek, Mr. Torres served as the Vice-President of the Western Region for FuelCell Energy (NASDAQ: FCEL), a world leader in the development of fuel cell generators. In this role, Mr. Torres was responsible for all FuelCell Energy's activities in the western US, focusing on developing sustainable end-user markets for fuel cell products, and forging strategic alliances with Energy Service Providers and project developers interested in commercializing FCE's products.
Mr. Torres also spent three years at Capstone Turbine Corporation (NASDAQ: CPST), a leading developer of power generating MicroTurbine systems, as its Director of Distribution Channels. Mr. Torres helped developed the commercialization and distribution strategy for Capstone MicroTurbines, a disruptive technology in the power generation business.
He also maintains his involvement with the community, serving as a Board Member for the Clean Power Campaign, and in the Advisory Board of The Riordan Programs at the Anderson School of Management at UCLA.
Mr. Torres received a Mechanical Engineering degree from the University of Washington and an MBA from UCLA Anderson School of Management.
  Patrice Eitner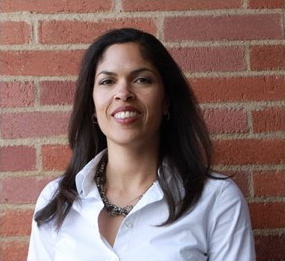 The Outstanding Alumni Service Award is presented to an alumnus who has consistently provided exemplary service to The Riordan Programs at UCLA Anderson. The Outstanding Alumni Service Award salutes the achievements of alumni whose personal lives, professional achievements, and community service exemplify the objectives of The Riordan Programs. The honoree's extraordinary interest in UCLA Anderson, demonstrated through dedicated volunteer service, should be an inspiration to the overall UCLA Anderson alumni base.
This year's recipient, Patrice Eitner (RS'91, RF'96, UCLA Anderson '04), is a native of California who started her career initially in consulting with Adexa and The George Group, Inc. Upon completion of her MBA studies at UCLA Anderson, Patrice then joined investor's Business Daily as the VP of Marketing and Business Development. In 2009, Patrice accepted the role of Director of Academic Services at Corinthian Colleges one of the largest for-profit, post secondary education companies in North America, with more than 112,000 students within the US and Canada. Patrice has taken an active role in her community service efforts with The Riordan Programs. She has served as a Stock Market Leader for the Research Analyst Competition since 2004, mentors aspiring MBA candidates on a regular basis, and always willing to assist Riordan Scholars apply to the college/university of their dreams.

Location: Beverly Hills Country Club
Founded in 1926, the Beverly Hills Country Club was established by the late Elmer Griffin. The Club was established as a convenient location between 20th Century Fox and MGM, where studio executives and stars could meet, socialize, and conduct business. The Club offers a junior Olympic-size pool, 50 group exercise classes per week, a full gym, 10 tennis courts, a hair salon, massage services and monthly social events. BHCC continues its long history of entertaining celebrities and the community alike with great enthusiasm.
About the Riordan Scholars Program
| | | | |
| --- | --- | --- | --- |
|   | |   | |
|   | Richard Riordan |   | William Ouchi |
Founded in 1987 by former Los Angeles Mayor Richard J. Riordan and UCLA Anderson Professor William Ouchi, the Riordan Scholars Program is a pioneering career-based outreach program that motivates high school student from diverse backgrounds and under-served communities to consider and prepare for careers in management through education, mentorship and professional development.
All funds raised help support various Riordan Scholars Program activities and initiatives such as:
The Legacy Scholarship
The College Tour
The One to Many Mentoring Program
The New York Stock Exchange Tour
Riordan Scholars Program Successes
The Riordan Programs is celebrating its 24th anniversary in 2011.
Over 1900 students have participated in the Riordan Programs.
100% of the Riordan Scholars are matriculating to college
40% of the Riordan Scholars enter one of the 32 most selective colleges in the United States
An evaluation of the Scholars' aptitude for financial literacy shows increased awareness and understanding.
The Riordan Fellows class of 2010 raised a record $102,000 for the Riordan Programs.
When & Where

Beverly Hills Country Club
3084 Motor Ave.
Los Angeles, CA 90068


Saturday, April 16, 2011 from 5:30 PM to 9:30 PM (PDT)
Add to my calendar
6th Annual Riordan Wine Gala at the Beverly Hills Country Club