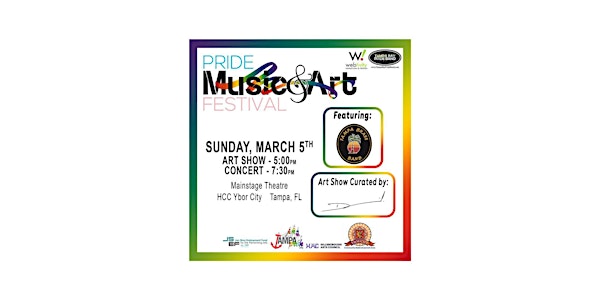 6th Annual Pride Music and Art Festival
Come out to Historic Ybor for the 6th annual Pride Music and Art Festival where all are invited.
When and where
Location
HCC Ybor City Performing Arts Building 1411 E 11th Ave Tampa, FL 33605
Refund Policy
Contact the organizer to request a refund.
Eventbrite's fee is nonrefundable.
About this event
"The Roots of Nature" is the theme for the 6th Annual Pride Music and Arts Festival presented by the Tampa Bay Pride Band. The title is a play on the word "Roots," representing the heritage that inspires the music that we perform, the roots found in human culture and the human connection to the natural world. This theme allows our listener to alternate between an urban root of the past and connection to the distinct elements within and out of our world, empowering and compelling our audience to draw comparisons and contrasts themselves. This theme can be a vessel that allows other composers with different backgrounds, who have similar creative ideas, to be showcased.
The program will use pieces like Danzas for Wind Orchestra as an example of the collage of heritage found in music. The song explores the folkloric fusion of Cuban and African musical based on the geographical migration of the Yorùbá people. The concert also explores a variety of percussion instruments made from plants such as the Chekeré, made of dried gourds.
Another musical composition that fits this theme is Julie Giroux's Journey through Orion. This piece was inspired by images from the Hubble Space Telescope. Stars in the night sky have captivated the human imagination since the beginning of time. This fascination with the sky's natural beauty has led to the creation of stories and constellations that are still shared today.
Blue Shades by Frank Ticheli's is inspired by the traditional African American Jazz music that he heard so often while growing up near New Orleans. Blue Shades was his opportunity to express his own musical style in this medium. The work, however, is heavily rooted by the Blues: "Blue notes" (flatted 3rds, 5ths, and 7ths) are used constantly. At times, Blue Shades clearly demonstrates itself as a tribute to the Big Band era.
During this PMAF we have these pieces, other selections and plans to commission an arranged piece to musical express our theme. We will also be joining with several local artists to express the view of what diversity means to them through their original art. The evening consists of small ensembles, artists, unique performers and more. These works showcased in the festival, both music and art are important to share with our community and be loved by all.
Come on down to historic Ybor City and celebrate diversity through music. Tickets are on sale for $20. Children 12 and under are free through March 4th online. Tickets are $25 March 5th online or in person. We want to thank our Title Sponsor Webtivity Marketing and Design. REFER A FRIEND! You're both eligible for up to $350 credit.Go to Webtivity Special - Website for details.
We want to thank you all our sponsors and donors for their continued support in our program. Lastly, we want to say a special thank you to Ybor City Development Corporation, Arts Council of Tampa Bay, and support from the Hillsborough County Board of County Commissioners.