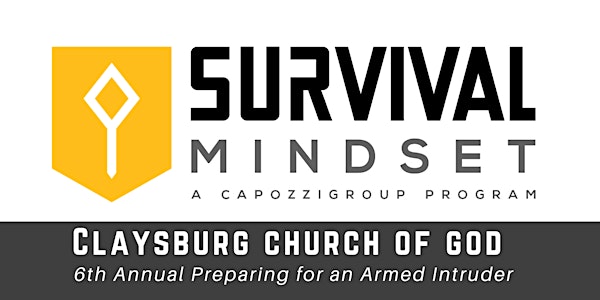 6th Annual Preparing for an Armed Intruder Conference - Claysburg, PA
Experience how to prepare for, respond to, and survive an armed intruder attack. Learn from the Survival Mindset team and local responders.
When and where
Location
Claysburg Church of God 4311 Evergreen Road Claysburg, PA 16625
Refund Policy
Refunds up to 7 days before event
About this event
Survival Mindset is excited to bring to you an impressive line-up of subject matter experts who will be working side by side with you answering your questions as you learn, strategize, and build muscle memory on how to respond to a variety of emergency situations. This will be a packed day that includes a working lunch provided by King's Family Restaurants, Altoona. 
Engage with facilitators from Law Enforcement, Military, EMS, Fire, Emergency Management. 
Experience a real-time simulation of a church attack.
Put your training into practice as you consider your best response options.
Assist with trauma, triage, and transporting the casualties from a hot zone.
This training is applicable not just for church safety teams but also for those in education, business, government, responders, and other organizations. 
This event is open to those 18 and older.
AGENDA:
  7:20 -- 8:00 GETTING STARTED
Doors Open & Registration
Networking, Exhibitors, and Hands-on Stations
Coffee/Tea
8:00 -- 9:30 OPENING AND KEYNOTE
Opening
"Madman in the Lobby" Drill
Lessons Learned: A second-by-second review of MSD High School attack, Parkland, FL -- Rick Capozzi
The First 300 Seconds: Good Samaritan laws and treating the wounded -- Jessica Sorge
The Rest of Story from the Survivor Who Stopped the Sutherland Springs Church Shooting -- Keynote Speaker: Stephen Willeford 
  9:30 -- 9:50 BREAK
Break
Exhibitors & Networking
Hands-on Stations
  9:50 -- 10:35 BREAKOUT SESSIONS
Breakout Session #1 
Breakout Session #2
(The breakout sessions provide a selection of specialized instruction options)
10:40 -- Noon LEGAL
Your Legal Rights and Responsibilities: Attorney Gilbert Ambler
Noon -- 1:00 WORKING LUNCH -Sponsored by Kings Family Restaurants, Altoona
Lunch with Presenters and Exhibitors
Sponsor recognition and prize drawings
[Speaker, videos, etc]
1:00 -- 1:15 DEMONSTRATIONS
1:15 -- 2:00 REAL-TIME DRILLS
Part I: The attack
Part II: Hands-on Trauma, Triage and Transport
Part III: Debrief of incident
  2:00 -- 2:45 BUILDING WALKTHROUGH
Building walkthrough with hands-on applications
  2:45 -- 2:55 BREAK 
Break
Exhibitors & Networking
Hands-on Stations
  2:55 -- 3:25 PANEL DISCUSSION WITH Q & A
  3:25 -- 4:00 WRAP-UP
Survivor, Route 91 Festival Attack, Las Vegas, Dirk Baumgardner
Video Review
Closing session
SPEAKERS/FACILITATORS
Stephen Willeford: Survivor and hero of the worst church shooting in the US. Stephen stopped the massacre at the First Baptist Church of Sutherland Springs Texas. This included a high-speed pursuit of the attacker. Once the assailant drove off of the road, Stephen covered his vehicle at gunpoint until the police arrived. 
Lt. Lou Lusk: 7 Tours and 29 years of military service between the Army and the Air Force. Lt. Lusk has survived 3 IED explosions and was part of the team that rescued Jessica Lynch from Iraq in 2003. 
Sheriff Jim Ott: 28 years of law enforcement experience including nearly two decades as a police chief and is the Blair County Sheriff. 
Attorney Gilbert Ambler: Attorney Ambler is a firearms law expert and popular US Law Shield, presenter.
Jessica Sorge: Paramedic and trauma instructor. Former public school teacher with a gift for educating on how to keep yourself and others alive after an attack. 
Dirk Baumgardner: Survivor of the 2017 Route 91 Harvest Music Festival in Las Vegas, NV.
Rick Capozzi: Nationally recognized subject matter expert on preparing for armed intruders. Rick is a learning strategist and instructional designer who specializes in behavioral change in stressful situations. 
Grand Master Brian Gates: MBGKARMA Kick Boxing, Martial Arts, Defensive Tactics & Firearms.
Fire Chief Bruce Walters: Fire Chief, Blue Knob Volunteer Fire Company
NOTE: Because of the nature of the work of many of the presenters/facilitators, the agenda and/or presenters/facilitators are subject to change. 
This Conference is being brought to you in collaboration with: 
Blair County Sheriff's Department
Hollidaysburg American Legion Ambulance Service
Blue Knob Volunteer Fire Company,
and others being added
Special Thanks to our Sponsors: 
Kings Family Restaurant
US Law Shield
Friends of the NRA
Firearms Owners Against Crime
For information on becoming a sponsor or collaborator, please call 814.317.6571 or email info@SurvivalMindset.us
www.survivalmindset.us
An inherent risk of exposure to COVID-19 exists in any public place where people are present. COVID-19 is an extremely contagious disease that can lead to severe illness and death. By attending a Survival Mindset group event, you voluntarily assume all risks related to exposure to COVID-19.