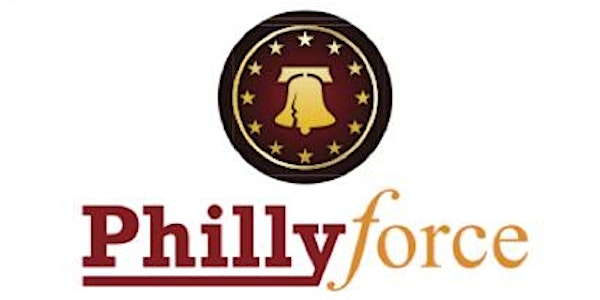 6th Annual PhillyForce Conference
When and where
Location
World Cafe Live Philadelphia 3025 Walnut Street Philadelphia, PA 19104
Description
We are excited to announce our 6th Annual PhillyForce Conference! This year we are continuing to build on the momentum of the past 5 years, and we have a very compelling lineup of speakers and sponsors!
The PhillyForce Conference is our Salesforce Developer User Group's premier event of the year, showcasing the power and potential of the Salesforce platform and community. Join us for a day full of fascinating presentations and speakers, free breakfast and lunch and a networking Happy Hour, all at World Cafe Live. Exclusive conference bags, Salesforce swag, networking, and more are also included!
There is no cost to attend this great event!

AGENDA:
8:15 am – 9:00 am: Registration / Continental Breakfast / Networking
9:00 am – 9:15 am: Opening remarks, Kirk Steffke and Alex Sutherland, PhillyForce Group Leader
9:15 am – 10:15 am: Michael Smith - "Building a Scalable Roll-up Engine for the Nonprofit Success Pack"
10:15 am – 10:30 am: Break (Mid-Morning Refresh)
10:30 am – 11:30 am: Andrew Fawcett - "Salesforce Platform Keynote"
11:35 am - 12:30 pm: Sponsor Spotlights
12:30 pm – 1:30 pm: Lunch / Networking
1:00 pm - 1:30 pm: Bicycle Coalition of Philadelphia & Salesforce & Friends Bike MS team
1:30 pm – 2:30 pm: Svatka Simpson - "How to become a developer/architect in the Salesforce ecosystem!"
2:30 pm – 3:30 pm: David Reed - "Salesforce Continuous Integration For All"
3:30 pm – 3:45 pm: Break
3:45 pm – 4:45 pm: Sarah Franklin - "Trailhead & Trailblazer Community Fireside Chat"
4:45 pm – 5:00 pm: Closing Remarks, Announcement of Winners for Sponsor Giveaways, Kirk Steffke and Alex Sutherland, PhillyForce Group Leaders
5:00 pm – 6:30 pm - Happy Hour/Networking
SPEAKERS:
Salesforce Community & Trailhead Keynote Speaker:
Sarah is an innovative marketer and product leader with a tenured career spanning large enterprises to scrappy startups. She specializes in bringing emerging technologies and trends to market and has a unique blend of technical expertise and business acumen. Sarah is passionate about democratizing technology and making learning accessible, empowering everyone to pursue successful careers in technology. She strives to make a difference, to learn something new every day and is proud to work with a team of the best and the brightest.
Salesforce Platform Keynote Speaker:
Andrew Fawcett, VP Product Management, Platform, Salesforce
Andrew Fawcett recently joined Salesforce as VP of Product Management on the Platform team. Prior to that, Andrew was the Chief Technology Officer of FinancialForce, a leading provider of accounting and ERP apps on the Salesforce platform. Andrew was a long-standing Salesforce Developer & Community MVP prior to joining the company, and also published the well-regarded book "Force.com Enterprise Architecture" through Packt Publishing. Andrew has contributed a prolific number of projects and libraries to the Salesforce developer open-source community, including the widely used "Declarative Lookup Rollup Summaries".
"Building a Scalable Roll-up Engine for the Nonprofit Success Pack":
Michael Smith, Senior Member of Technical Staff, Salesforce.org
"I'm a 7x certified Salesforce Architect & Developer, and have been working on the platform since 2001. While consulting with and implementing Salesforce for various nonprofits I quickly became hooked on the Nonprofit Success Pack. In 2017, I joined Salesforce.org to help further expand the power and reach of the NPSP product line."
"How to become a developer/architect in the Salesforce ecosystem!"
Svatka Simpson, Director of Architecture, Appirio

Svatka is an accomplished developer, consultant, architect, and career coach, with over 17 years of experience in the Salesforce ecosystem. Svatka leads the technical architect team at Appirio, and is responsible for growth and professional development. She also helps customers modernize their business by moving core applications to the cloud. Svatka is a strong advocate for anyone seeking to advance their career in cloud computing technology, and has coached numerous people on that journey, most recently a group of veterans transitioning to the Salesforce ecosystem through the Merivis training & mentorship program.

"Continuous Integration with Salesforce DX: Practice and Principles for All"
David Reed, Senior Salesforce Developer, Radian Guaranty Inc.
Prior to joining Radian in 2017, David worked on nonprofit Salesforce at the American Civil Liberties Union and the Santa Fe Institute. He's excited about using Salesforce for good, contributing to the open source community, and extending the platform with Python and other tools. David is a Certified Platform Developer II and holds an MA in Ancient Greek from Florida State University.
Conference Hashtags:
#PhillyForce18
#PF18
Our 2018 PhillyForce Conference is an affiliate event of Philly Tech Week 2018 presented by Comcast - to learn more about #PTW18 please visit: http://2018.phillytechweek.com/events/th_annual_phillyforce_conference

If you are interested in being a speaker or sponsor of this event, please send a message: https://secure.meetup.com/messages/ to Alex Sutherland and Kirk Steffke to express your interest and get more information.
Check out our Meetup Page: https://www.meetup.com/PhillyForce/events/247357746/


THANK YOU TO OUR SPONSORS!