Description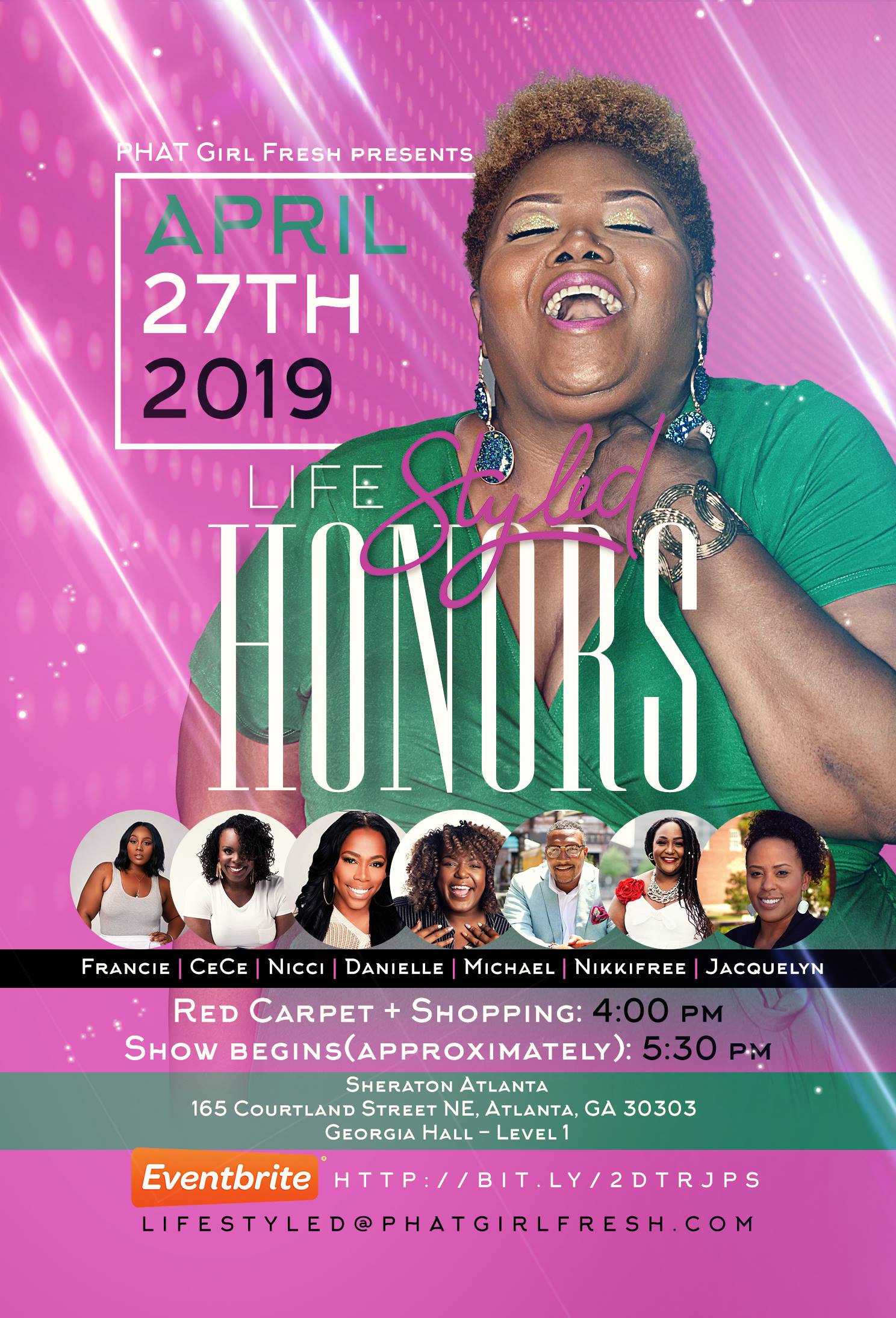 PHAT Girl Fresh is proud to bring Life Styled Honors back to Atlanta, Georgia for the 6th consecutive year. Life Styled Honors will commemorate the 6th-anniversary of the PHAT Girl Fresh brand (a brand that strives to educate and empower the female gender) while celebrating the lives of this year's esteemed honorees.
2019's honoree list features six women who are doing extraordinary work in media, entertainment PR and local government. Through their various platforms, these women are shining their light and spewing magic and inspiration everywhere they go!
The 2019 Life Styled Honors recipients are:
Nicci Gilbert-Daniels: Singer & Executive Producer
Danielle Young: Writer, Producer, and Digital Influencer
Jacquelyn Teemer: City Of Albany Government
NikkiFree Wiggins: Digital Influencer
Francie Maupin: Model, Designer & Digital Influencer
CeCe Olisa: Digital Influencer & Co-Founder of The Curvy Con
As if that wasn't enough, we're bringing back our VIP mixer - same swag, new name! Our annual VIP all-white party, now named "Curves En Blanc" will return Friday, April 26, 2019, at Suite Lounge in Atlanta, GA! Come dance the night away on the rooftop of Atlanta's premier hot spot in downtown Atlanta, curves donned in all white, with some of the most prominent names in plus! And you wanna know the REAL tea? Early bird tickets for the Curves En Blanc are on sale NOW! So grab a pair for you and the bestie and join us for 2019 Life Styled Honors!
Saturday's Life Styled Honors Event is another day of awesomeness. The 6th Annual Life Styled Honors will be held at The Sheraton Atlanta on Georgia Hall (level 1). Doors will open at 4:00 PM for shopping with our vendors, pink carpet photos and interviews with radio personality Joy Tribble along