6th Annual Pediatric Bioethics Conference

Friday, November 1, 2013 from 7:30 AM to 4:00 PM (EDT)
Event Details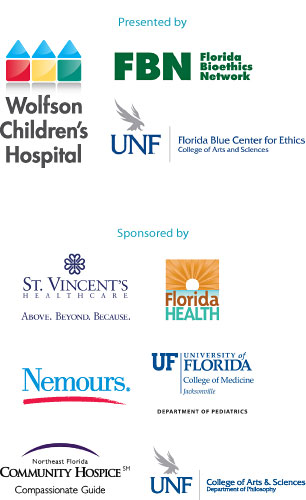 Overview:
Wolfson Children's Hospital, in partnership with the University of North Florida and the Florida Bioethics Network, presents the Sixth Annual Pediatric Bioethics Conference.
With talks on pressing issues by experts in the field, the conference will serve as fertile ground for the development and elucidation of best practices in pediatric bioethics. This conference will include sessions on topics such as "Ethical Issues in Near-Drowning Cases," "Speaking with Children about Death and Dying," and "Ethical Issues in Childhood Obesity."
Why You Should Attend:
Ethics committees, healthcare practitioners and public policy experts are consistently faced with difficult ethical challenges. This conference will provide education surrounding such challenges, and an opportunity to engage peers from across the region to learn what others are doing to cope with the ethical issues that arise in pediatric health care.
Who Should Attend
This course is designed for physicians, nurses, social workers, clergy, psychologists, health administrators, occupational therapists, speech therapists, pediatric mental health workers, pediatric specialists, medical students, nursing students, ethicists, philosophers, and others with an interest in pediatric bioethics.
Conference Program:
Friday, November 1, 2013
University Center, University of North Florida, 12000 Alumni Drive, Jacksonville, FL 32224
7:30 – 8:25amRegistration and Continental Breakfast (provided)

8:25 – 8:30amWelcoming Remarks

 Alissa Hurwitz Swota, PhD,
 University of North Florida and Wolfson Children's Hospital, Jacksonville, FL

Plenary Sessions

8:30 – 9:30amWolfson Lecture: Through a Mother's Eyes: Values, Autonomy and Decision-Making in the Pediatric Intensive Care Environment

 Vicki Forman, MFA, RN,
 Author of This Lovely Life: A Memoir of Premature Motherhood; Winner of the PEN Center USA Prize in Creative Nonfiction and the Bread Loaf Writers Conference Bakeless Prize, Los Angeles, CA

9:30 – 10:30amConscientious Objection in Health Care

 Toby Schonfeld, PhD, Professor of Medicine, and Director, Master of Arts in Bioethics, Emory University, Atlanta, GA

10:30 – 10:50amBreak

10:50 – 11:50amPanel on Ethical Issues in Childhood Obesity

  Ray Moseley, PhD,
Bioethics, Law and Medical Professionalism; Director, CTSI Academy of Research Excellence, University of Florida College of Medicine, Gainesville

  Jonathan Constantin, DO, FACC,
Diagnostic Cardiology Associates, St Vincent's Health, Jacksonville, FL

  George P. Beckwith, Jr.,
Regional Director, Department of Children and Families and Children's Legal Services, Northeast Region, Daytona Beach, FL

  Aurea Thompson MSH, RD, CSP, LD/N,
Pediatric Dietitian, Wolfson Children's Hospital, Jacksonville, FL

11:50 – 12:50pmLunch

12:50 – 1:50pmThe "D" Word: Opportunities & Obstacles When Discussing Death With Children:

 Joanna A. Lyman, MA, CCLS Child Life Specialist, LeBonheur Children's Medical Center, Memphis, TN

1:50 - 2:00pmBreak

2:00 - 3:00pmDifficult Decisions in Tragic Situations: Ethical Complexities after Near-Drowning Incidents

 Sabrina F. Derrington, MD,
 Assistant Professor of Pediatrics, Northwestern University, Feinberg School of Medicine, Evanston, IL; Ann and Robert H. Lurie Children's Hospital of Chicago, Pediatric Critical Care and Pediatric Palliative Care, Chicago, IL

3:00 - 4:00pmLegal and Ethical Implications of Using Behavior Contracts in Pediatric Settings

 Tara L. Adyanthaya, JD, MBE, TL,
Healthcare Ethics Consulting & Mediation, LLC, Decatur, GA
This is a continuing education event. Details of each discipline are provided on the Wolfson website at wolfsonchildrens.org/bioethics. For more information, contact Michelle Spencer at masismore222@gmail.com.
Approved Continuing Education Credits:
This activity has been planned and implemented in accordance with the Essential Areas and policies of the Accreditation Council for Continuing Medical Education through the joint sponsorship of Baptist Health, Florida Bioethics Network, and the University of North Florida. Baptist Health is accredited by the ACCME to provide continuing medical education for physicians.
Baptist Health designates this educational activity for a maximum of 6 (six) AMA PRA Category 1 Credits. Physicians should only claim credit commensurate with the extent of their participation in the activity.
"Baptist Health System is approved as a continuing education provider by the Florida Board of Clinical Social Work, Marriage and Family Therapy, and Mental Health Counseling.  Provider # 850.  Expires March 2015.  Approved for 6 CEUs"
Approved for 6.0 Nursing Continuing Education Credits; FBN # 50-2709
How to Register
All employees of Baptist Health, UF Health, St. Vincent's Health, and the Florida Department of Health; residents of the University of Florida (UF) College of Medicine – Jacksonville Pediatric Residency Program; nursing, social work and ethics students with a local college or university; and current Florida Bioethics Network (FBN) members receive free attendance and should register online with EventBrite: http://pedsbioethics.eventbrite.com.
When you are asked for a promotional code, please enter:
EMPLOYEE – If you are a Baptist Health, UF Health, St. Vincent's Health, or Florida Department of Health employee.
STUDENT – If you are a resident with the UF College of Medicine – Jacksonville Pediatric Residency Program or a nursing, social work or ethics student with UF, JU, UNF, FSCJ or another local college. (Please bring student ID to event.)
MEMBER – If you are a current FBN member in good standing
IF you do not have access to a computer or if you have any questions about registration, please contact: Donna Zebe (904.202.8793); Donna.Zebe@bmcjax.com
Registration includes admission to program sessions, continental breakfast, luncheon, refreshments and a course syllabus.
Handouts for the conference will emailed to registered participants prior to the conference
Florida Bioethics Network (FBN)
The Florida Bioethics Network is dedicated to the understanding and resolution of ethical and legal problems arising in healthcare and medical research in Florida's hospitals, hospices, nursing homes, managed care organizations and teaching institutions. If you'd like more information about FBN, or to become an FBN member, visit http://www.fbn.med.miami.edu or contact Ken Goodman at 305.243.5723.
FBN Guidelines for Ethics Committees
The FBN Guidelines for Ethics Committees is a must-have resource for institutions and individuals with a serious commitment to bioethics. The current edition includes a glossary and a section on bioethics and the law. You can obtain a copy by becoming a professional-level member ($100).
Accommodations
A discounted hotel room rate of $79 plus 13% sales and occupancy tax is available for Thursday night and $99 plus 13% sales and occupancy tax is available for Friday at Hotel Indigo for conference attendees. Rooms with king-sized beds have been blocked, but the hotel may book whichever room is available. Call the hotel's front desk at 904.996.7199 (24/7) to make a reservation. When you call, tell the representative you are with the Pediatric Bioethics Conference (group code: BC1). If a guest wants to reserve a room outside these dates or a specialty room that is handicap-accessible, a suite with a whirlpool, or a master suite, please let the hotel know that you prefer to upgrade. Additional charges will apply.
Hotel Indigo, 9840 Tapestry Park Circle, Jacksonville, FL 32246
The discounted rates are available through October 17, 2013, or when the block of rooms is taken. Please book early to avoid disappointment.
Parking and internet access are free for guests at the hotel.
EVENT CANCELLATION POLICY:
To accommodate others who may wish to attend this class, we ask that all cancellations be submitted at least 72 hours prior to the start of the class. If you paid a fee for the event, and you submitted the cancellation notice 72 hours or more prior to the start of the event, you can either apply the class fee to another Baptist Health event or request a refund. Please submit your cancellation instructions here via Contact the Host
DISCLAIMER:
Views and conclusions expressed in this program are those of the presenter(s) and not necessarily those of the employees, administration or Medical Staff of Baptist Medical Center. All material presented in this program is provided for information only, and may not be construed as professional advice. Use of Baptist Medical Center's facilities for this presentation does not imply endorsement of any product, service or opinion discussed.
DISCLOSURE:
All faculty participating in continuing medical education activities sponsored by Baptist Health are required to disclose to the audience whether or not they do or do not have any real or apparent conflict(s) of interest or other relationships to the content of their presentation(s).
PRIVACY DISCLOSURE:
Baptist Health has engaged EventBrite, an unaffiliated company, to provide a convenient event scheduling and processing service for our patients. Any information that you enter into EventBrite is governed by the EventBrite Privacy Policy and the EventBrite Terms of Service Agreement.
When & Where

University Center at UNF
12000 Alumni Drive
Jacksonville, FL 32224


Friday, November 1, 2013 from 7:30 AM to 4:00 PM (EDT)
Add to my calendar
Organizer
Baptist Health is the only nonprofit, mission-driven, community-owned healthcare system in North Florida. We are here to serve the community's needs with the area's most comprehensive healthcare network, providing a full spectrum of high-quality clinical services across the continuum of care to support your family's health and wellbeing at every stage of life. Noted by our community for having the best doctors, best nurses and best overall quality, our circle of care is unlike any other in our region.