Description
Featuring Keynote Speaker
Christian N. Burchill, PhD, MSN, RN, CEN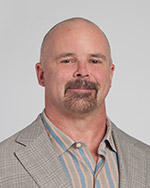 Christian N. Burchill is a nurse scientist for Cleveland Clinic's Office of Nursing Research and Innovation. Dr. Burchill's program of research is in organizational contextual factors that impact the delivery of care and patient outcome. He has produced many published works on his research throughout his career. In addition to actively conducting research, Dr. Burchill mentors clinical nursing staff on the research process and the proper way to execute a research study. He also participates in and leads multi-disciplinary research studies, disseminates research findings both locally and nationally, and serves as a research consultant to others.
Dr. Burchill has extensive clinical practice experience in the areas of emergency and trauma nursing. Prior to joining Cleveland Clinic, he was a clinical emergency nurse at the Hospital of the University of Pennsylvania where he was one of a select few within the hospital to be named an expert in his area of practice by the hospital's blue ribbon panel. Throughout his time with the organization, he was also a staff development instructor, a clinical nurse in the ortho-trauma surgical unit, and chaired the hospital's emergency department safety and security prevention task force. He developed and chaired the nursing shared governance unit council on behalf of the emergency department. Dr. Burchill is a certified emergency nurse and certified group development consultant.

Conference Agenda
(All events to be held in the Barrette Business and Community Center)
8:15-8:55 a.m.
Registration, Poster Viewing, and Buffet Breakfast
8:55 a.m.
Welcome - Dr. Linda Linc, Dean of the School of Nursing
Prayer - Dr. Maria Pappas-Rogich
9:00-10:00 a.m.
Keynote Speaker
Christian N. Burchill, PhD, MSN, RN, CEN
"Workplace Violence: It's Not Part of the Job"

10:00-10:20 a.m.
Break– Poster Viewing and Vendors
10:20-10:50 a.m.
"Interprofessional Education for Nurse-Led Falls Prevention"
Eileen Fleming, MSN, RN, NE-BC; Susan Hazelett, MS, BSN, RN; Diane Brown, PhD, MSN, RN, CCRN (presenters)
10:50-11:20 a.m.
"Alone and Defeated: Victims' Reflections on Cyberbullying"
Dr. Melvina (Mel) Brandau, PhD, MS, RN (presenter)
11:20-11:45 a.m.
Presentation of the Betty Neuman Award

11:45 a.m. - 12:30 p.m.
Break– Poster Viewing and Vendors/Evaluations

---

About the Neuman Award
The Neuman Award was established in honor of Dr. Betty Neuman for her distinguished contributions to the nursing profession. Each year the Neuman award is given to a member for the nursing profession who has made significant contributions to the profession as a nursing educator, leader or clinician.
Dr. Betty Neuman is internationally recognized as a pioneer in the field of nursing as the developer of The Neuman Systems Model (1970). A native of Ohio, she received her Diploma of Nursing from Peoples Hospital (now Akron General Medical Center) as part of the Cadet Nursing program. She received an honorary Doctorate of Science from Grand Valley State in 1998 and an honorary Doctorate of Letters from Neumann College in 1992. She is the author and editor of The Neuman Systems Model, now in its fifth edition. She remains active as a consultant within the U.S. and worldwide on the implementation of her model.
---

Sponsored by the Walsh University Phi Eta Chapter of Sigma Theta Tau & the Byers School of Nursing
Cost: $55 per person, includes buffet breakfast (Lunch is not included)
Registration Deadline: October 13 
For more information, please contact Sherrie Underwood at 330-490-7243.
This activity has been submitted to the Ohio Nurses Association (OBN-001-91) for approval to award contact hours. The Ohio Nurses Association is accredited as an approver of continuing nursing education by the American Nurses Credentialing Center's Commission on Accreditation.
Contact hours will be awarded after completion of morning session and submission of evaluation form. Please call Patricia Flanagan, Walsh University, at 330.244.4967 or email pflanagan@walsh.edu for more information about contact hours.