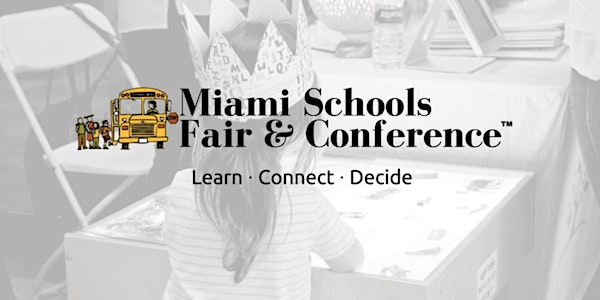 6th Annual Miami Schools Fair & Conference
When and where
Location
Mercy Hospital 3663 South Miami Avenue Miami, FL 33133
Description
The Miami Schools Fair & Conference is the ONLY overall one-stop resource for unbiased and accurate information about school options in the city. Parents connect, learn and preview school options while school representatives get a chance to connect and engage with parents and the broader educational community.
EXPO + CONFERENCE PROGRAM
Free Community Event Sponsored by Mercy Hospital (please RSVP before event to attend for FREE, tickets at door will be $20)
For additional info visit: miamischoolsfair.com
Jeannette Acevedo

Downtown Doral Charter Schools

Principal

Sylvia De Armas

Bottega Child Development Center

Director

Deborah Barmoha

La Prima Casa

Montessori Educator

Ivian Destro Boruchowski

Curriculum Evaluation and Design

Consultant for Foreign Language

Elena Castellanos

Director of Admission

Gulliver Schools

Caterina Cicerone

Government of Santa Lucia

Ambassador

Micaela Dayan

Brickell International Academy

Director

John Eubanks

Palmetto Bay Academy

Associate Director

Victoria Kenny

BKB Moms & Miami Schools Fair

Director

Debby Lichtner

Director of Admission and Enrollment Management

St. Thomas Episcopal Parish Church & School

Maria Eva Molina

Gulliver Schools

Chair, World Language Department

Gabriela Olsen

St Philip's Episcopal Church and School

Director of Admissions

Candelaria Ortega

KLA Schools

Co-Founder

Jessica Pinto

La Piazza Academy

Founder & Director

Jennifer Roig

The Roig Academy

Founding Director

Lina Acosta Sandaal

Stop Parenting Alone

Founder & Psychotherapist-Development Expert

Rocio Velazquez

Children's Movement of Florida

Staff


ADDITIONAL INFO
Attendees will receive our Miami Schools Directory. There will be a chance to meet with preschool and School directors and representatives during the expo. Sessions will be taking place at the same time in Conference Area – make sure to check schedule for your session of interest.
PARKING
Visitor Parking right next to Mercy Pavilion, bring ticket for validation.
CHILDREN
Kids are welcome to all our events- however parents are responsible to care for their little ones. Thanks to College Sitters Miami we are happy to have a free sitting service at the event for certain sessions – (Limited spaces - depending on number of kids at a time)
FAQs
- When will I get my School Guide?
At the beginning of the event
- When does it start?
Doors open at 9 am - Program starts at 9:15 am
- How long is the Event?
From 9 am to 1 pm. Depending on your needs and interests expect to stay there for at least 2 or 3 hours.
- Can I reserve a seat?
Tickets are general admission. Please arrive early.
- Where can I contact the organizer with any questions?
email us at schools@bkbmoms.com or info@bkbmoms.com
- Is my registration/ticket transferrable?
Yes
- Can I update my registration information?
yes
- Will I have to pay anything at door?
This is a free community event – registration prior to day of event is required. Tickets at door will be charged $20.
WAIVER:
In consideration for my attendance to the Miami Schools Fair & Conference at Mercy Campus, Bayside Pavilion, (3641South Miami Ave, Miami, FL 33133, on October 21, 2017 ("Conference"), I, the undersigned attendant (if 18 or over) or the parent and/or legal guardian of the above, together with my heirs, executors, administrators, and assigns, hereby release, waive, and forever discharge Brickell Media, LLC, Mercy Hospital, and/or their respective past and present employees, representatives, agents, officers, directors, affiliates, members, successors, assigns, and volunteers, as well as the Conference's volunteers and sponsors (the "Released Parties"), from and against any and all liability, claims, demands, actions, or causes of action of any and every kind and character which they had, have, or may have in the future, including but not limited to all injuries, damages, or losses, which arise from or as a result of the attendance at the Conference or participation in any associated activities.
By registering for this Conference you are agreeing that at this event or related social activities you may be photographed, and you allow your photo to be used for any conference-related legitimate purpose by the event holders, sponsors, or organizers.