Description
Join Us for the 6th Annual Meet, Munch, Mingle on March 28, 2019
This year were featuring "A Taste of Southern"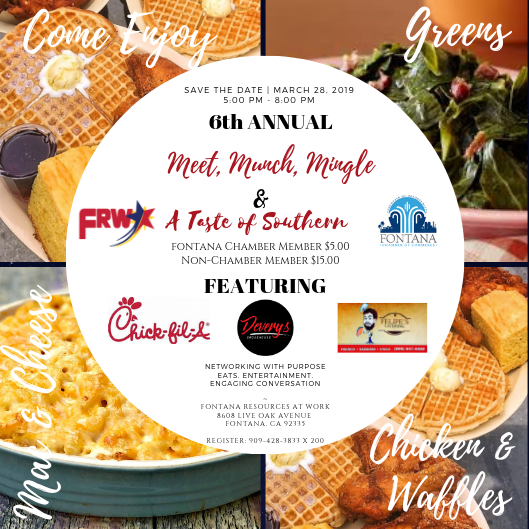 The Meet, Munch, Mingle is an Annual event where we enjoy savory bites, beverages and connect with businesses, organizations and community leaders of the Inland Empire & surrounding area.

The event was designed to bring individuals together who were looking to enhance their business relationships. What better way to do that then with Food & Fellowship in a purposeful way.

WHY YOU SHOULD ATTEND:
(1) Meet key individuals that can transform your business and build pathways not bridges.
(2) Munch & Enjoy savory bites of Southern that include: Chicken, Waffles, Greens, Mac & Cheese and others savory surprises.
Munch Featuring : Chick-Fil-A, Devery's Smokehouse, Felipe Catering and Sweet Takes.
(3) Learn the Formula on How to Mingle with Purpose and transition your NETwork into Networth Relationships.

If you've never attended you truly don't want to miss this opportunity. Today's Opportunity will Open doors for tomorrows Connections.

Admission: $5.00 FCOC Member | Non-Member $15.00

* If you are a retail business and would like to provide a product or gift card for the network with purpose raffle. Please contact Kimberly at: 951-515-4549.