Location
Ashland Hill
2807 Main Street Santa Monica
Santa Monica, CA 90405
Description
Spin PR Group & Main Street Business Improvement Association Presents...

Celebrate Memorial Day weekend and experience Main Street's best restaurants, coffee shops, ice cream shops, and more by joining us for the 6th Annual "MAINopoly: A Taste of Main Street." This all ages event is a take on the classic board game, where every participating location you visit allows you to use "MAINopoly dollars" for tastings, and earns you credit to fill your game board map for a chance to win free prizes. So throw on your top hats and monocles, get your "dice" ready, and make your way down Main Street for a culinary walking tour of the street's finest eateries! Plus, your ticket will help raise money for the annual Summer SOULstice!
When?
Sunday, May 26, 2019.
1-6 p.m.
Where?
Ticketing check-in : 2807 Main Street Santa Monica
VIP: 2000 Main Street Santa Monica (formerly M Street Kitchen)

What?
All restaurants along Main Street will be open to the public. Participating locations offer tastings in exchange for "MAINopoly Dollars" and count as official stops on the game board map. Please check in first to get your game board and 'dollars' before you start your tasting tour. After you get your game board marked off at each stop, turn it in at the check-in location and you will be entered for a chance to win a prize package!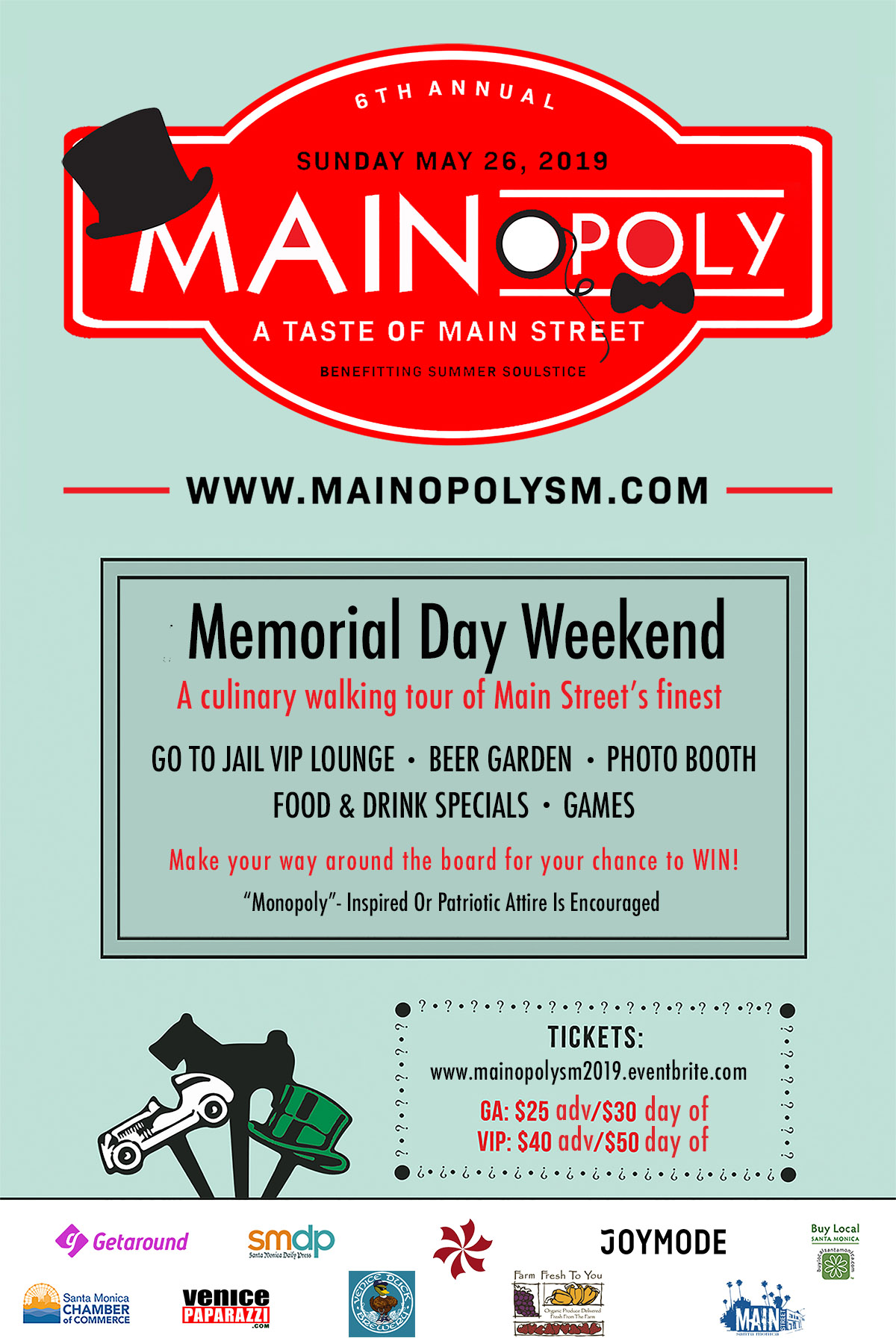 $25 (advance) for 'General Admission' includes:

MAINopoply dollars to exchange for free food and drink tastings at over 20 participating locations and discount food & drink specials (ie. $4 beers, $5 wells, $5 shots)
$40 (advance) for 'Go To Jail VIP Lounge' includes:
Everything in General Admission PLUS: Beer from Venice Duck, Cocktails from Dulce Vida Tequila, samples from Jäger, Food from Ashland Hill, Enterprise Fish Co, Dhaba of India, Brick and Mortar and La Vecchia Cucina, Music by DJ Frankie, games from Joymode, photobooth from Hotpoint and samples from Kevita Kombucha and much more! Pass GO and collect your $$$$!

$15 for kids aged 5-12. Kids under 5 are free.

*A portion of the proceeds will benefit the 19th Annual Main Street Summer SOULstice: https://www.mainstreetsm.com/summer-soulstice/

**Attention All Veterans: As it is Memorial Day Weekend, we'd like to thank you for your service! Show your Veteran's ID at the door for 15% off your ticket.
***Parking: There are meters and self parking lots along Main Street. We encourage you to carpool, use ride-sharing, and/or Metro services for transportation.

****All ages and family friendly.


---
Participating Businesses Include:
2000 Main Events, Ashland Hill, Astro Donuts & Fried Chicken, Birdcage, Blue Bottle Coffee, Brick and Mortar, Beau Greely Gallery, Bulletproof Coffee, Cowabunga Republic, Dhaba of India, Dolcenero Gelato, Enterprise Fish Co., Espresso Cielo, Fedora Primo, Finn McCools, LA Vecchia Cucina, Lula Cocina Mexicana, Manchego, Poke Ceviche, Poking Poke, Rick's Tavern, Sweet Rose Creamery, Ten Women Gallery, The Anchor, The Victorian and more.
Sponsors Include:
Buy Local Santa Monica, Coco Community, Dulce Vita Tequila, Farm Fresh to You, Main Street Business Improvement Association, Santa Monica Chamber of Commerce, Getaround, Joymode, Venice Duck, Santa Monica Daily Press and Venice Paparazzi.
Produced by: Spin PR Group
Interested in participating or sponsoring? Please contact info@spinprgroup.com
*** Rain or shine ***
*** No refunds ***