Description
The Lauderhill Regional Chamber of Commerce presents our 6th Annual Woman of Distinction Awards Breakfast where we honor 9 influential Broward County women for their professional leadership and community contributions. Join us as we celebrate these amazing women.
Meet the 2019 Women of Distinction Honorees: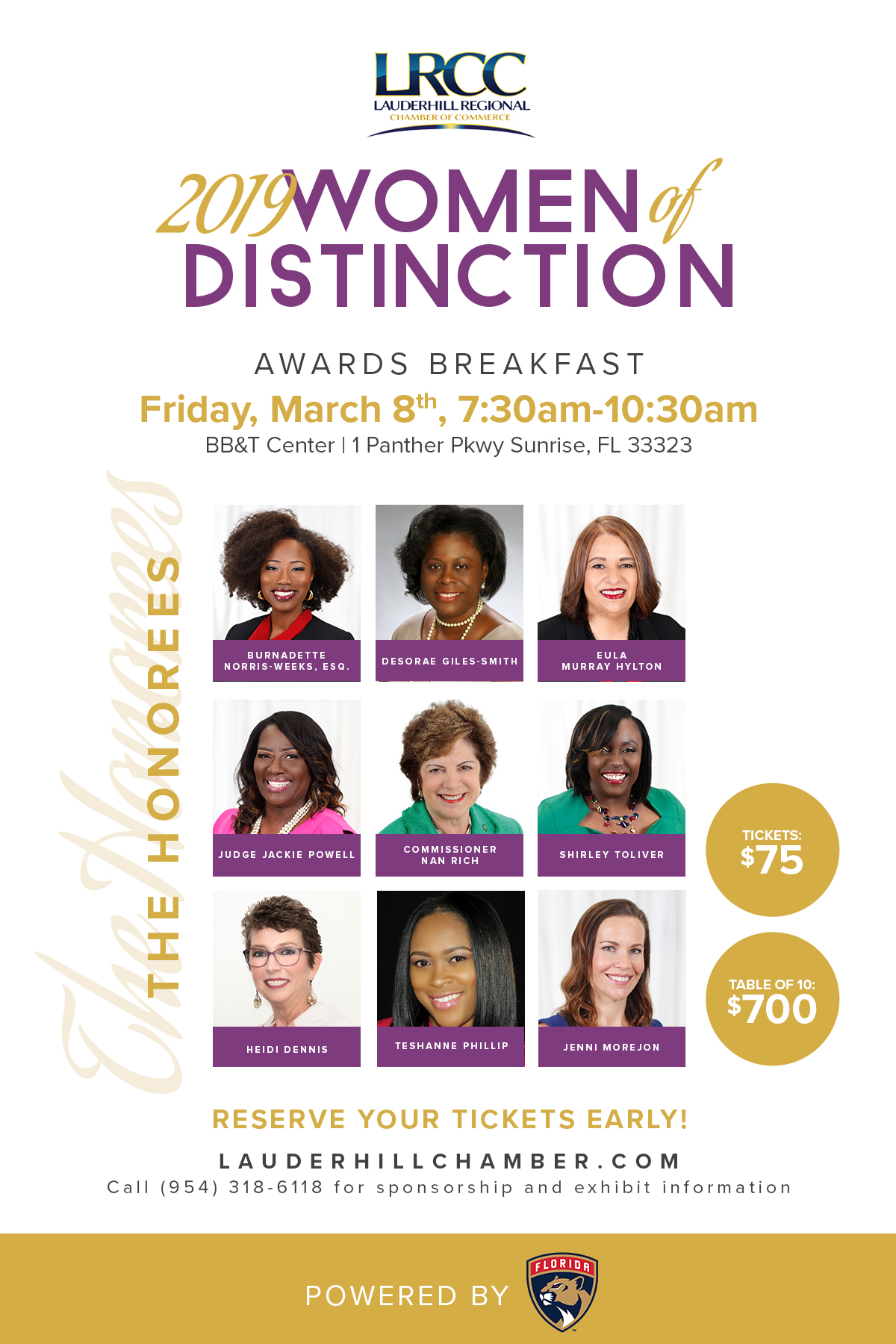 Heidi Dennis - General Manager, Pelican Grand Beach Resort
Desorae Giles-Smith

- Deputy City Manager, City of Lauderhill

Jenni Morejon

- President & CEO, Fort Lauderdale Downtown Development Authority

Eula Murray Hylton

- CEO, Insurance Today

Burnadette Norris-Weeks, Esq - Partner, Austin Pamies Norris Weeks, LLC
Teshanne Phillip -

Founder and CEO, I am Hope Foundation;

Judge Jackie Powell

- Broward County Courts

Commissioner Nan Rich -

Broward County Commission

Shirley Toliver - Area HR Supervisor and District Community Relations Representative, UPS
Meet Our Women of Distinction Alumni:
2014
Commissioner Barbara Sharief - Broward County

Mayor Hazel Rogers - City of Lauderdale Lakes
Commissioner Margret Bates - City of Lauderhill
Chief Constance Stanly - Lauderhill Police Department
Judge Ilona Holmes - Florida 17th Circuit Court
Janice McIntosh - Chief Representative Officer, Jamaica National Building Society
Dr. Brenda Snipes - Broward County Supervisor of Elections
Dr. Rosalind Osgood - Broward County School Board
Capt. Audrey Jones - Broward County Sheriff's Office
Jasmine Jones - Broward County Officer of Economic and Small Business Development
2015
Dinah Stephenson - Chief Administrative Officer D Stephenson Construction
Janet Bullard - CEO Chamber Health Plan
Yolanda Cash Jackson - Lobbyist Becker & Poliakoff
Judge Phoebee R. Francois - Florida 17th Circuit Court
Dawn Stagliano - Director, Government Affairs & Community Investment Comcast
Gabrielle Finley-Hazel - CEO Florida Medical Center
Sandra Bernard-Bastien - Chief Communications Officer, Children's Services Counsel of Broward County
Aude Sicard - Managed Healthcare Analyst, Managed Care Contracting Division
Paola Isaac-Baraya - Broward County Officer of Economic and Small Business Development
2016
Congresswoman Debbie Wasserman Schultz Nicki E. Grossman - President and CEO, Greater Fort Lauderdale Convention & Visitors Bureau
Danielle Knox - WSVN Channel 7 News Anchor
Pauline Grant - CEO of Broward Health North
Alice E. Ancona - Director of Global Outreach Florida Chamber of Commerce
Maria Munro - CEO of Unique Productions International
Dr. Celia Earle - Governer, Kiwanis Florida Division
Dr. Lanalee Sam - Elite OBGYN
Major Josefa Benjamin - Broward County Sheriff's Office
Michelle Austin Pamies - Partner, Austin Pamies Norris Weeks
2017
Veda Coleman-Wright - Public Information Office Director, Broward Sheriff's Office
Dr. Traci Lynn - CEO, Traci Lynn Jewelry
Nerissa Street - Founder, Be Your Own Answer
Dee Thompson - CEO, Dee Thompson Speaks
Karen Pandy-Cherry - President, Refresh Live Foundation
Sandra Carey - Deputy Consul General, The Bahamas
Donna Borland - General Manager, VITAS Healthcare
Sherry Friedlander-Olsen - Founder, A Child Missing, Inc.
Ilene Lieberman - First Female Strong Mayor in Broward County
2018
Jackie Nespral – Television Anchor, NBC 6
Juliet Murphy Roulhac – Regional Manager for Corporate External Affairs, Florida Power & Light Company
Djénane St. Fleur Gourgue - Vice President, Haitian American Chamber of Commerce
Why Honor Women?
Women have immensely contributed to our society. Most evident by the women we honor each year. These women are executives, changemakers and public officials who greatly improve their communities, and ours. We honor the whole woman and their amazing contributions to Broward County. Join us!