Description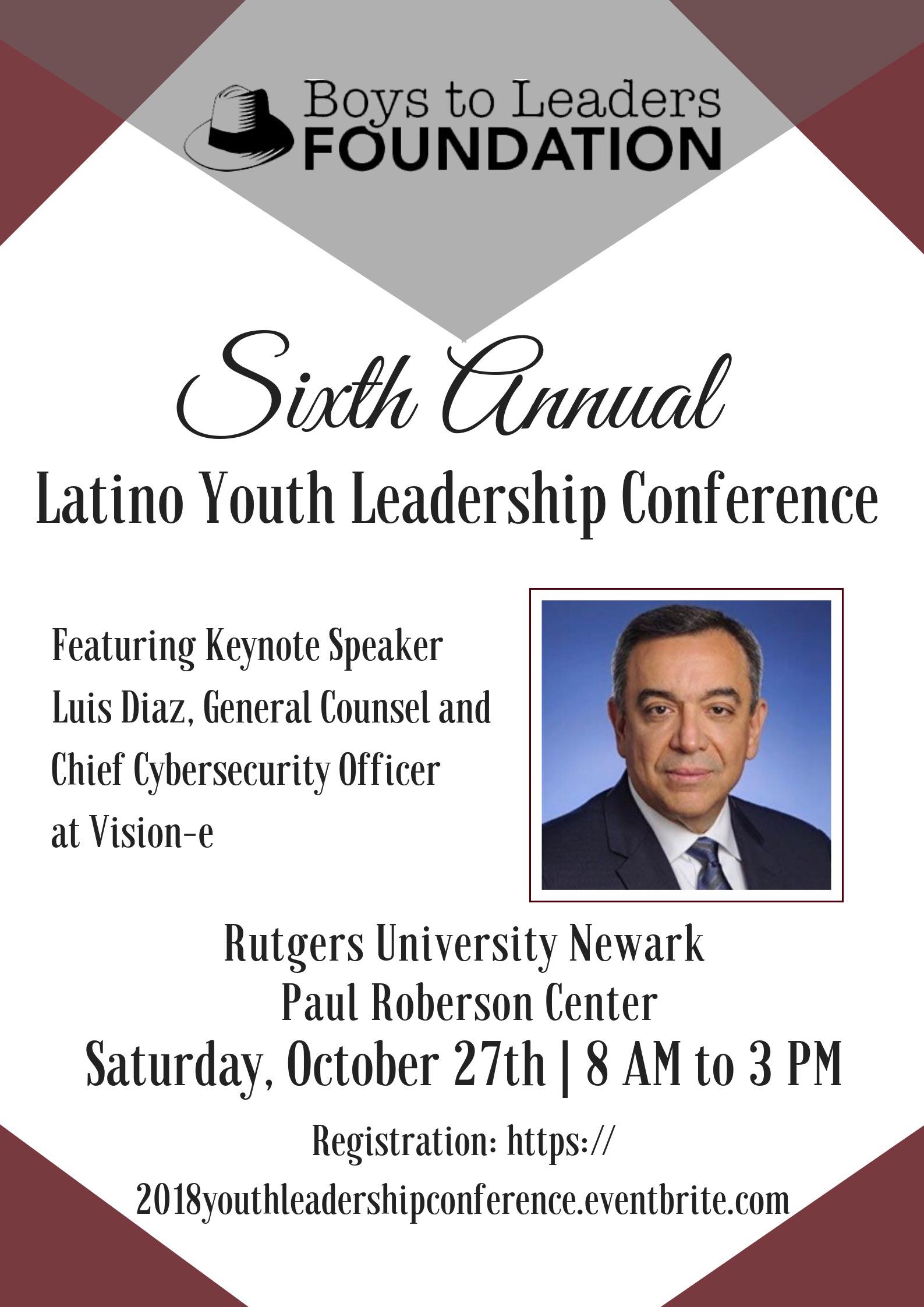 Join us for the Sixth Annual Latino Leadership Conference specifically designed for male students ranging from ages 14 to 19.
This year's theme is Be Who You Are Destined to Be, Not Who They Want You to Be, and our Keynote Speaker is Luis Diaz, General Counsel and Chief Cybersecurity Officer at Vision-e and Affiliated Companies.
The purpose of the Latino Youth Leadership Conference is to train young men on how to lead and succeed in their endeavors by providing educational workshops and connecting them with powerful and prominent community leaders who offer hope, inspiration and guidance. The conference is geared towards promoting a culture of leadership and communication skills that are fundamental to achieving personal and professional success. In addition, Boys to Leaders Foundation aims to address and possibly offer solutions to ongoing and emerging cultural issues that are impacting the young men in our communities.
This is a FREE event, but registration is required to attend!
FEATURED WORKSHOPS
Boys to Leaders Foundation: Leadership Workshop
(Boys to Leaders Signature Workshop) Are you aware of your leadership style or the type of leader you are? This workshop will explore various leadership styles, as well as which style is appropriate for specific situations. How to become the strong and effective leader you want to be. Leadership characteristics and traits will be identified. You will learn to differentiate from casual dressing to business attire and when it is appropriate.
Wake UP! – Overcoming Adversity
This workshop will focus on how to develop goal setting strategies, understanding of accountability, responsibility and character building. It is important for our youth to learn that adversity does not define who they are and they have the power to overcome their challenges.
Obstacles and Pitfalls of a Minority College Student

An open and candid discussion about issues that face young males in universities today.
Entrepreneurial/Branding
Participants will hear about different aspects of entrepreneurship ranging from personal branding to leadership skills that are necessary to start a business.
---
For additional information, please contact Conference Chair: Michael Plata at 908-868-0827 or via email, mplata@archerlaw.com
To learn more about the Boys to Leaders Foundation, please visit http://boystoleadersfoundation.org/
*** PHOTO & VIDEO DISCLAIMER: Photos and/or videos taken during the Latino Youth Leadership Conference may be published in print or posted online such as online photo albums, on photo/video sharing sites such as YouTube and/or on social media sites such as Facebook, Twitter and Instagram.***