6th Annual KosherFeast Media Dinner

Monday, November 14, 2016 from 5:30 PM to 9:00 PM (EST)
Event Details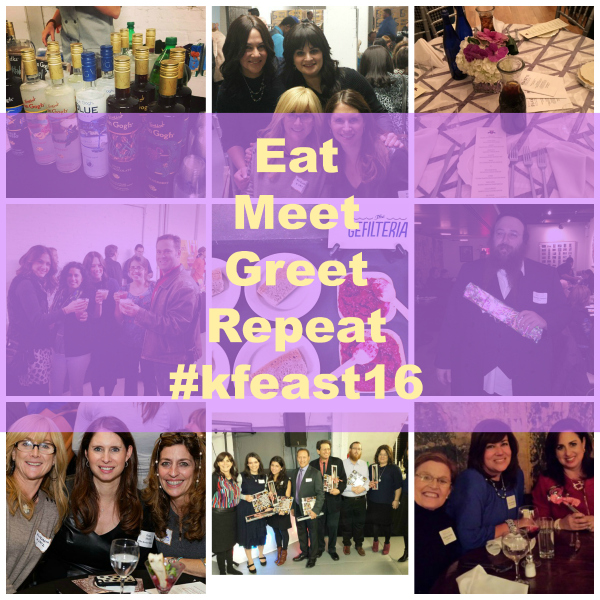 #kfeast16  Let the Kosher Feasting Begin!
Register for the 6th Annual pre-Kosherfest Media Dinner planned for..Monday, November 14th from 5:30 until 9pm at Le Marais, one of the country's most acclaimed kosher  restaurants.... "A Rare Steakhouse...Well Done". Dinner will be presented by executive chef Jose Meirelles. Food writers, culinary editors, media personalities, food influencers, recipe bloggers, cookbook authors and food brand professionals are invited to attend.  
Join us to celebrate the launch of Kosher.com 

This memorable evening will reflect the diversity, growth and reach of kosher cuisine. Attendees will enjoy a sampling of new and exceptional wines, and see your online friends in person. Snap selfies, Instagram your food and just have fun. For menu details and event updates: Facebook.com/kosherfeast
Honorees 
Cutting Edge Kosher - Mendel Segal - Rabbi-Q;  Amy Kritzer - Founder "WhatJewWannaEat" 
Kosher Pioneer- Naftali and Anna Hanau of Grow and Behold;  Paula Shoyer - Cookbook author, TV Personality, Cooking Instructor-- And...Some surprise honorees this year!
Meet our panel of Media Mavens
Come early and join us from 4:30-5:30 for an entertaining and informative panel discussion - focused on engaging an online audience; monetizing a website; maximizing press relationships and more. Bring your questions for a Q & A
The Mavens: Esty Wolbe, Miriam Pascal, Esti Berkowitz, Judah Engelmayer and moderator Naomi Nachman
For more information or to share your thoughts:  kosherfeast@gmail.com
Culinary related brands are invited to inquire about sponsorship opportunities.  
Contact: kosherfeast@gmail.com or call Esther Berkowitz (917) 613-5040.
Tickets:
 Add your name to our WAITLIST:
 Tickets: $125 starting on Nov 9th.
About Kosher.com

This new website will offer thousands of kosher recipes from your favorite kosher cookbook authors, writers and bloggers. It will feature a central database of Jewish magazine recipes, as well as menu generators and shopping list makers to help you easily cook up a storm in your kitchen. There will be something for everyone, from the amateur cook to the culinary expert, along with step-by-step videos and fascinating articles with the latest kosher news and cooking tips.
About KosherFEAST

If you are a member of the media or a kosher brand, this is your community. where the kosher media and kosher brands stay in touch, meet, greet, share pictures, videos, food trends and news. KosherFEAST was established by members of the media, Esti Berkowitz - Digital Influencer, Managing Editor - primetimeparenting.com Roberta Scher - Managing Director, Executive Editor - koshereye.com. The annual KosherFEAST media provides a real time event for members of our community to eat, great, meet, and repeat year after year.
When & Where

Le Marais
150 West 46th Street
New York, NY 10036


Monday, November 14, 2016 from 5:30 PM to 9:00 PM (EST)
Add to my calendar
Organizer
The evening is being coordinated by Esti Berkowitz, of PrimeTimeParenting.comer of KosherEye.com
Esti Berkowitz founder and creator of primetimeparenting, a lifestyle blog about parenting, food and travel and Naomi Nachman, kosher peronsal chef, cookbook author, "Perfect for Pesach" and host of "Table for Two with Naomi Nachman" on The Nachum Segal Network.
6th Annual KosherFeast Media Dinner