About this Event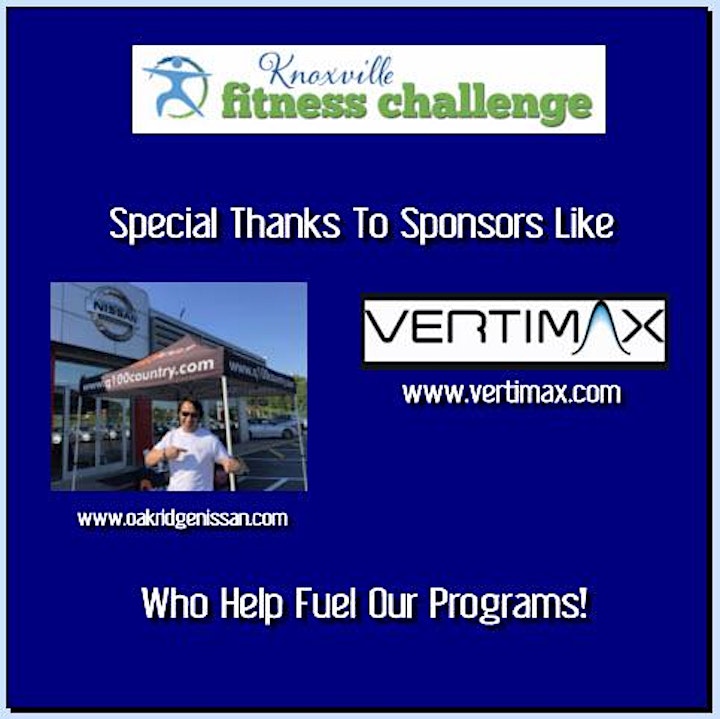 6th Annual Knoxville Fitness Challenge
Saturday, November 7, 2020
Hampton Inn at Papermill
10:00am – 2:00pm
www.knoxvillefitnesschallenge.com
Agenda
10:00 – 10:20: Opening remarks – Knox County Mayor Glenn Jacobs
About Glenn Jacobs: Glenn has been an American professional wrestler, actor, author, businessman, and politician. As a Republican, he is the Mayor of Knox County, Tennessee. In professional wrestling, Jacobs is signed to WWE, where he is known by his ring name Kane.
10:30 – 11:00: Chris Morris (Morris Self Defense) – Lifestyle change: Success through support
About Chris Morris: Chris has done self defense training for over 25 years. Cross training martial arts since before MMA and the UFC were popular, he focused mostly on boxing while playing basketball at the collegiate level, overseas and in AND1 exhibition games. Now with 8 years of experience in jiu-jitsu and winning multiple competitions, he brings an unorthodox style to the sport. At 42, he says he is in the best shape of his life, even after 25 years playing competitive basketball, baseball, soccer, football and cross country, all thanks to jiu-jitsu.
11:00 – 11:45: FEATURED PRESENTER: Lee Murphy – Healthy habits and metabolism
About Lee Murphy:
Lee Murphy is a nutrition instructor with expertise in wellness, public health nutrition, and weight loss. She is also a life-changing lecturer for The University of Tennessee.
University of Tennessee - Knoxville 1999-2001
Dual Degree: Master of Science in Nutrition and Master of Public Health in Community Health Education (MS-MPH).
Cumulative GPA: 4.0
University of North Carolina at Chapel Hill 1995-1999
Highest Honors, Bachelor of Science in Public Health
Major: Public Health Nutrition
12:00 – 12:45: FEATURED PRESERNTER: Samuel Braga – Brazilian Jiu Jitsu; The perfect total wellness combination! Exercise, lose weight, support network and the ability to truly defend oneself in the street or at home
About Samuel Braga: (12 time Brazilian Jiu Jitsu WORLD CHAMPION)
Samuel Braga was born on July 31, 1986, in Belo Horizonte, state of Minas Gerais in Brazil.
Braga started training martial arts through Tae Kwon Do when he was 7-years-of-age, following the sport vigorously for years, competing and earning his black belt when he was still a teenager.
During his later teenage years, Samuel quit Tae Kwon Do and had a short break from martial arts. In 2000, Braga intended on returning to TKD and signed a gym membership to follow through with his intentions. Fate would have it that this same gym also had Jiu-Jitsu classes, a martial art Samuel had heard about through watching UFC and other MMA shows. After checking out a class of BJJ Samuel decided to leave Tae Kwon Do aside and start doing Jiu-Jitsu instead.
His first few years in the lower belts at Gracie Barra Belo-Horizonte were filled with sporting success as Samuel ran through his competition, earning 5 Brazilian national titles in a row: blue belt division in 2001, twice in the purple belt division (2002 & 2003), and again twice in the brown belt division (2004 & 2005).
Braga was awarded his black belt by his master Draculino shortly after the Brazilian Nationals in 2005 still in time to compete at the International Brazilian Jiu-Jitsu Federation (IBJJF) World Championships that year, winning his first world title as a black belt
1:00 – 2:00: Geoff Hampton – Dynamic lifestyle change! Overcoming the failure cycle
About Geoff Hampton: Knoxville Fitness Challenge Creator and Executive Director
Program creator Geoff Hampton is a 35 + year international fitness business development pro. His career was interrupted in 1986 when his first wife was diagnosed with inflammatory breast cancer. She passed away in 1994. This began Hampton's passionate quest to help others who are at risk of catastrophic illness.
Geoff has presented all over the US, Canada & Europe (including Keynote). Presenting topics that include Childhood Obesity, healthy living, health & fitness business development and more. Additionally, with more than 200 published columns and articles he has passionately worked to change the landscape in global health.
Trade Show: 10:00 – 2:00