Description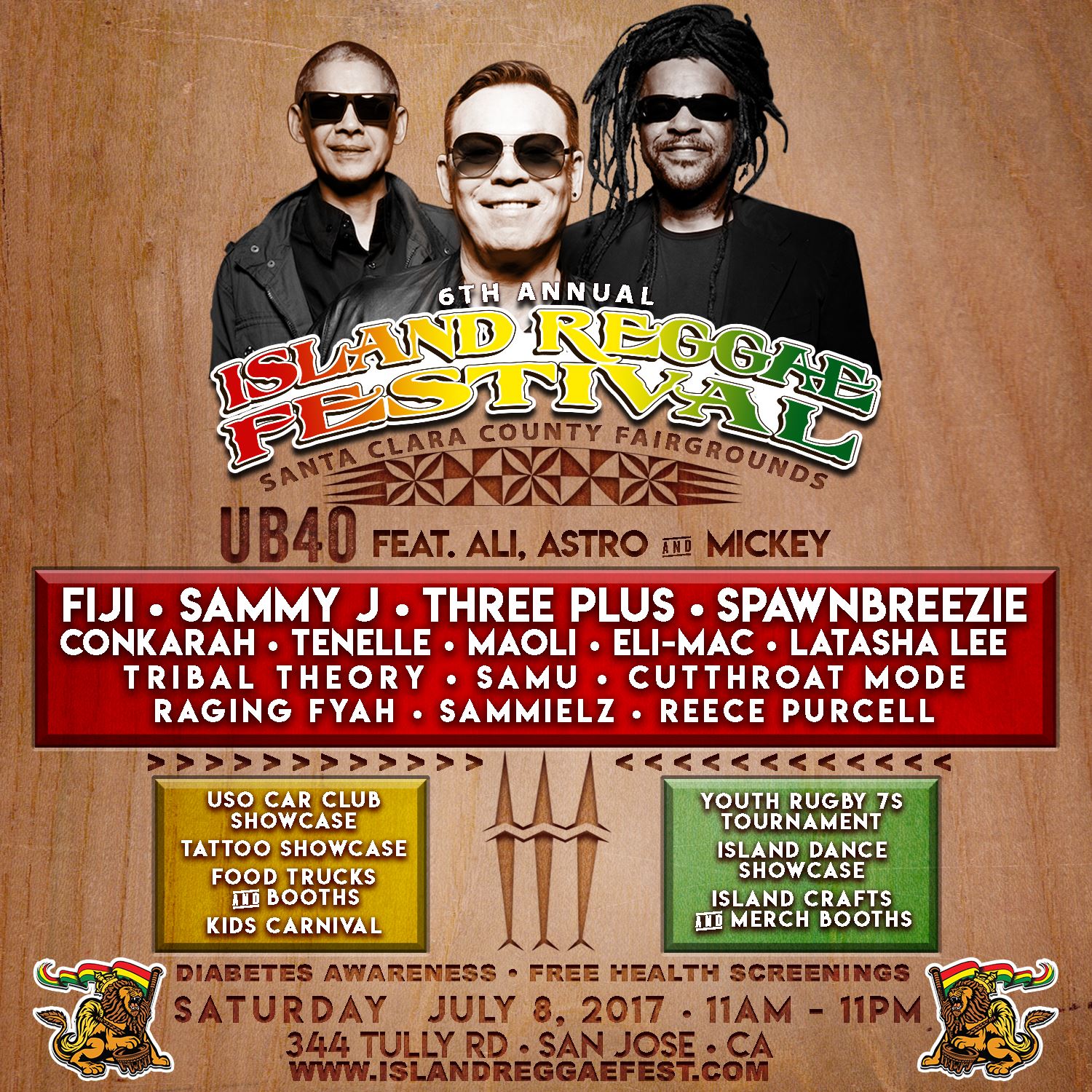 The 6th Annual Island Reggae Festival is an All Ages Event showcasing Polynesian Roots & Culture through:
LIVE MUSIC
POLYNESIAN DANCE SHOWCASE
YOUTH RUGBY 7's TOURNAMENT (at Yuerba Buena High School)

POLYNESIAN TATTOO SHOWCASE
USO CAR CLUB SHOWCASE
ARTS & CRAFTS
Unlimited Carnival Rides for the little one's.
Merch & Food Vendors
* This years IRF2017 Headliner: UB40 feat. Ali, Astro, and Mickey.

Also LIVE Performances by:
Fiji * Sammy J. * Three Plus * Spawnbreezie * Conkarah * Tenelle * Eli-Mac * Maoli * Latasha Lee * Samu * Tribal Theory * Cutthoat Mode * Sammielz * Raging Fyah, and Reece Purcell.
Don't forget our Food and Merchandise Vendors have been hand selected to showcase some of our Popular Polynesian Influences as well as other ethnic food and vendors through out the west coast.
Ticketing Policy
The Island Reggae Festival is a rain or shine event.
All Tickets are non-refundable. All sales are FINAL.
FAQ's:
Do I need to purchase Tickets for my children?
All children 5 and Up or (42" inches and above) are required to have a ticket. Children 4 years and under, or (Under 42" Inches height) are FREE and MUST BE with an adult.
What types of tickets are available for purchase?
General Admission Ticket: allows you access to general areas at the fairgrounds, all events and unlimited carnival rides for children. VIP Ticket: allows you general access to the fairgrounds, all events, unlimited rides for children, PLUS preferred/reserved located at the main stage. Also included are (2) Free Drinks, designated restrooms/porto pottys, and a free meal from a designated food truck.
No outside food or drinks are allowed within the fairgrounds. Both food and drinks will be sold at various vendor booths throughout the fairgrounds.
Can I bring food and/or drinks for my baby?
Yes, baby food, baby formula and water to mix your formula will be allowed.
I have special dietary needs; can I bring in food that my special need requires?
Yes, with Medical Info, we would be more than happy to accommodate you. Please email us at: info@islandreggaefest.com for better clarification.
What am I allowed to bring in to the fairgrounds?
Folding lawn chair Towel/Blanket for seating on the grass PERSONAL CAMERA SMALL BACKPACK

What items are prohibited at the entrance gate?
NO KNIVES, WEAPONS OR FIREWORKS OF ANY KIND. NO OUTSIDE ALCOHOL or ILLEGAL SUBSTANCES/DRUG PARAPHERNALIA. NO COOLERS, NO FLASKS, NO GLASS OF ANY KIND. NO TENTS OR UMBRELLAS, NO LASER POINTERS, NO FRAMED OR LARGE BACKPACKS. NO ILLEGAL/UNAUTHORIZED VENDING. NO FLYERS OR MARKETING MATERIALS. NO SKATEBOARDS, SCOOTERS, BIKES, SNOWSHOES, SNOWBOARDS, SKIS, OR ANY FORM OF PERSONAL TRANSPORTATION. SECURITY WILL BE CONDUCTING BAG CHECKS, PAT DOWNS, AND POCKET SEARCHES AT THEIR DISCRETION. VIOLATION OF THESE TERMS CAN RESULT IN CONFISCATION, EXPULSION, OR AN ARREST DEPENDING UPON SEVERITY OF THE VIOLATION.

IN and OUT Access?
Yes. Note: Everyone re-entering the Fairgrounds must stand in the security line and will be searched again.

Can I bring my pet?
No pets are allowed within the fairgrounds. Service animals, however, are allowed with proper documentation. Click here to view our Special Needs section.

When will the new lineup be released?
Lineup will be gradually released by January 2017 and the Full Line Up by May 2017 (or sooner).
What are my parking options?
There is paid parking located across the street from the Fairgrounds (off of Tully Rd.), and to the rear of the Fairgrounds (off of Umbarger Rd.). Parking is $12 per vehicle.
For all other questions, email: info@islandreggaefest.com.