Event Information
Location
Humble Civic Center Arena
8233 Will Clayton Pkwy
Humble, TX 77338
Description
Houston's best barbecue joints all in one place, for one price!
Purchase your tickets now for the 6th annual Houston Barbecue Festival.
Your favorite barbecue joints will be back this year - Blake's BBQ, Blood Bros. BBQ, The Brisket House, CorkScrew BBQ, El Burro & the Bull, Fainmous BBQ, Feges BBQ, Gatlin's BBQ, Gerardo's, Harlem Road Texas BBQ, Jackson Street BBQ, Killen's Barbecue, Lenox Bar-B-Que, Louie Mueller Barbecue, Pinkerton's BBQ, Pizzitola's Bar-B-Cue, Ray's BBQ Shack, Roegels Barbecue Co., Southern Q BBQ, Southside Market & BBQ, Spring Creek Barbeque, Tejas Chocolate (& BBQ), The Pit Room, Tin Roof BBQ, Truth BBQ, and Victorian's Barbecue.
The final lineup is subject to change. We'll announce more participants in the near future!
$50 **Pre-sale discount** General Admission on sale now. ($60 regular price). **Limited time only.** Includes entry into the festival and unlimited sample portions from each participating Houston barbecue joint. GET THEM WHILE THEY LAST!
$120 VIP Admission on sale now. Includes entry into the festival one hour early (at noon) and unlimited sample portions from each participating Houston barbecue joint. A T-shirt and one (1) drink ticket are also included.
8.25% Texas sales tax is included in the price of all tickets.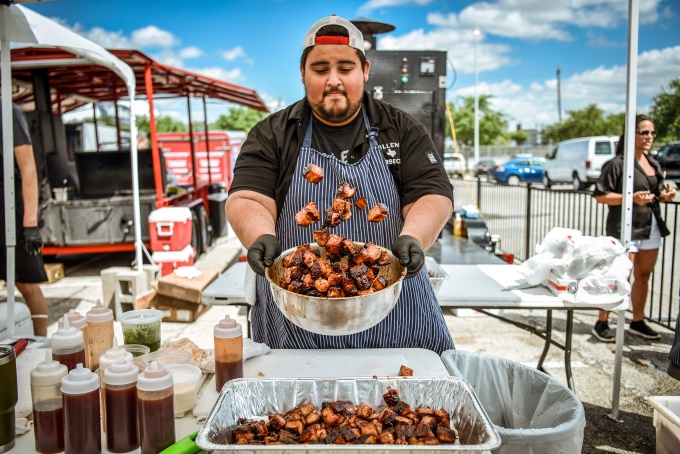 Previous festivals sold out before the day of the event. We encourage you to purchase your ticket immediately to avoid missing your chance due to a sell out.
To ensure a quality event for everyone involved, ticket sales are limited. All tickets will be sold in advance - no ticket sales at the door.
**NOTE NEW LOCATION.** The event will take place at the Humble Civic Center Arena.
We are changing things up this year with a new location that allows us to provide an even better experience at the festival. This is for one year only - we'll be back in Houston proper for 2019!
Live music will be provided.
The event will happen rain or shine. Contingency plans will be in place in case of inclement weather.
A bar with craft and national beers will be available. We have greatly increased the number of beer lines this year to minimize wait time.
Children are welcome, however ONLY CHILDREN UNDER 6 YEARS OF AGE WILL BE ADMITTED FREE. ALL OTHER AGES MUST PURCHASE A TICKET (this is because we want to ensure there is enough barbecue for all guests).
Many thanks to this year's premier partners: Saint Arnold Brewing Company, Ruffino Meats, and Pitt's & Spitt's barbecue pit makers.
Thank you again for your support and see you at the festival!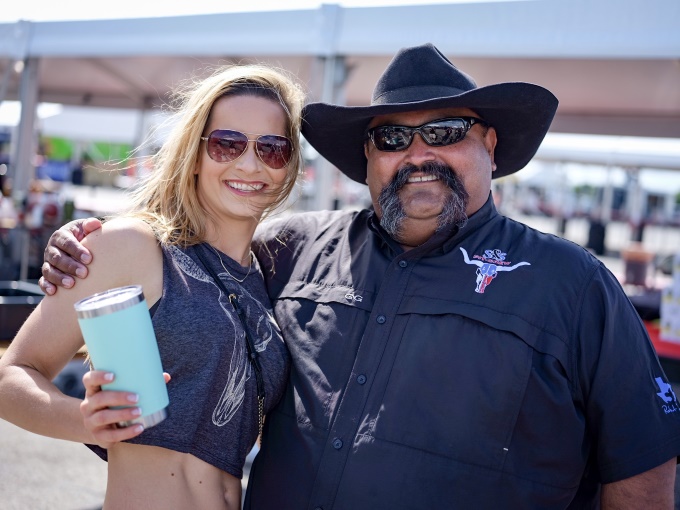 FAQs
What is the refund policy?
THERE WILL BE NO REFUNDS. Tickets are transferable.
Are group/corporate discount tickets available?
Yes, please contact festival@houbbq.com.
Is this a barbecue competition/cookoff?
No. The goal of the festival is to celebrate and recognize Houston barbecue and the people who make it. There will not be any kind of competition or rankings.
How did you pick the participating BBQ joints?
Based on the organizers' experience visiting 100+ barbecue joints in and around Houston, we believe that these invited BBQ joints represent the quality, diversity, and history that best tells the story of Houston barbecue.
What is a "sample portion?"
All of the participating BBQ joints will provide an approximately 2 ounce serving of their barbecue to each guest that comes to their booth. As an example, that's about a slice or half-slice of brisket and one rib.
Can I go back more than once to any or all participating BBQ joints?
Yes.
Can I bring to-go containers and take food home? No, this is not possible. To ensure all guests have enough food at the festival, we require you to consume all food on-site. If at the end of the festival there are still vendors with food, you can request to take some home with you.
Will you have enough food for everyone? Will you run out?
We are working closely with the BBQ joints to make sure their is plenty of food for everyone. Taken as a whole, all of the food brought by all the BBQ joints should provide plenty of food for everyone. However it is possible that some very popular BBQ joints may individually run out before the end of the festival. We encourage you to arrive early, or purchase a VIP ticket, to ensure you get a taste of your favorite BBQ joint.
Can I bring my children?
Yes. However, ONLY CHILDREN SIX AND UNDER WILL BE ADMITTED FREE. CHILDREN SEVEN AND OLDER MUST HAVE A PURCHASED TICKET. This is simply to ensure there is enough food for everyone.
Is the venue stroller-friendly/wheelchair-friendly?
Yes. All of it is paved and ramps are available at grade changes.
Can I bring my own beer/wine/drinks?
No. You must purchase all drinks at the festival.
Can I bring my dog?
No. Dogs are not allowed at the festival, with the exception of service dogs. (PS. We love dogs but we just can't have them at the festival).
Will there be somewhere to sit?
Yes. We will have plenty of covered and uncovered seating for all guests.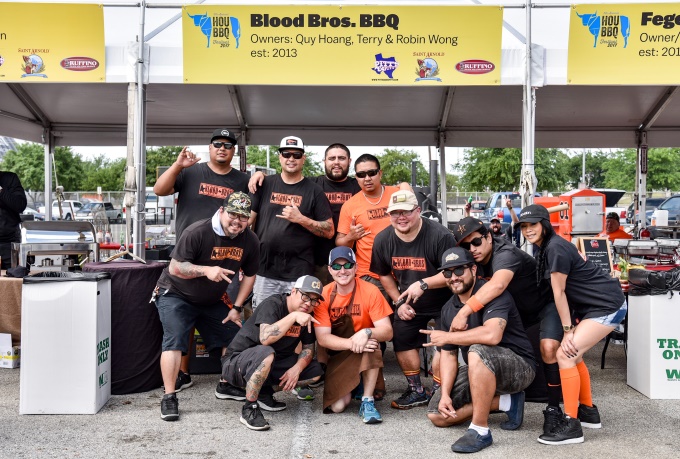 Festival photos credit: Robert J. Lerma.

Date and Time
Location
Humble Civic Center Arena
8233 Will Clayton Pkwy
Humble, TX 77338
Refund Policy