6th Annual HIV/HCV Harm Reduction Summit May 2 - 4, 2017
Actions and Detail Panel
6th Annual HIV/HCV Harm Reduction Summit May 2 - 4, 2017
Tue, May 2, 2017, 4:00 PM – Thu, May 4, 2017, 3:00 PM CDT
Description
This annual summit provides an opportunity for health, chemical health, social service providers, and community members to focus on the problem of Hepatitis C, HIV, and Drug Use in tribal and rural communities. This conference will focus on the following themes:
Call to Action: We are living in a time of great political and policy change. It is unclear what the future holds for people in Indian Country but our summit is focused on providing people with practical tools and a clear sense of direction for ways to access resources.
Decolonization - Sovereignty and Health Justice: One aim of this conference is to help break down barriers between different tribal communities, urban and rural natives, and work together on issues effecting indigenous populations, sharing models for best practices, and sharing strategies for transformative models of care that integrate traditional health practices into health care settings.
Exploring New Partnerships: As policies are rapidly changing, access, availability, and affordability of health care for indigenous populations may be facing unprecedented challenges. This conference will provide information that helps participants gain a better understanding of how to forge partnerships with industry and institutions which could improve access to care in their communities.
Self-Care: People working in substance abuse, health care, and related fields can face a toll on their physical, mental, and spiritual health. This conference seeks to highlight strategies that can be used to help care providers stay healthy and grounded.
Harm Reduction: This conference continues to recognize the importance of non-judgmental, harm reduction approaches to individuals seeking care at any stage in their recovery. How to explore effective strategies for providing care to active users that improve overall health outcomes.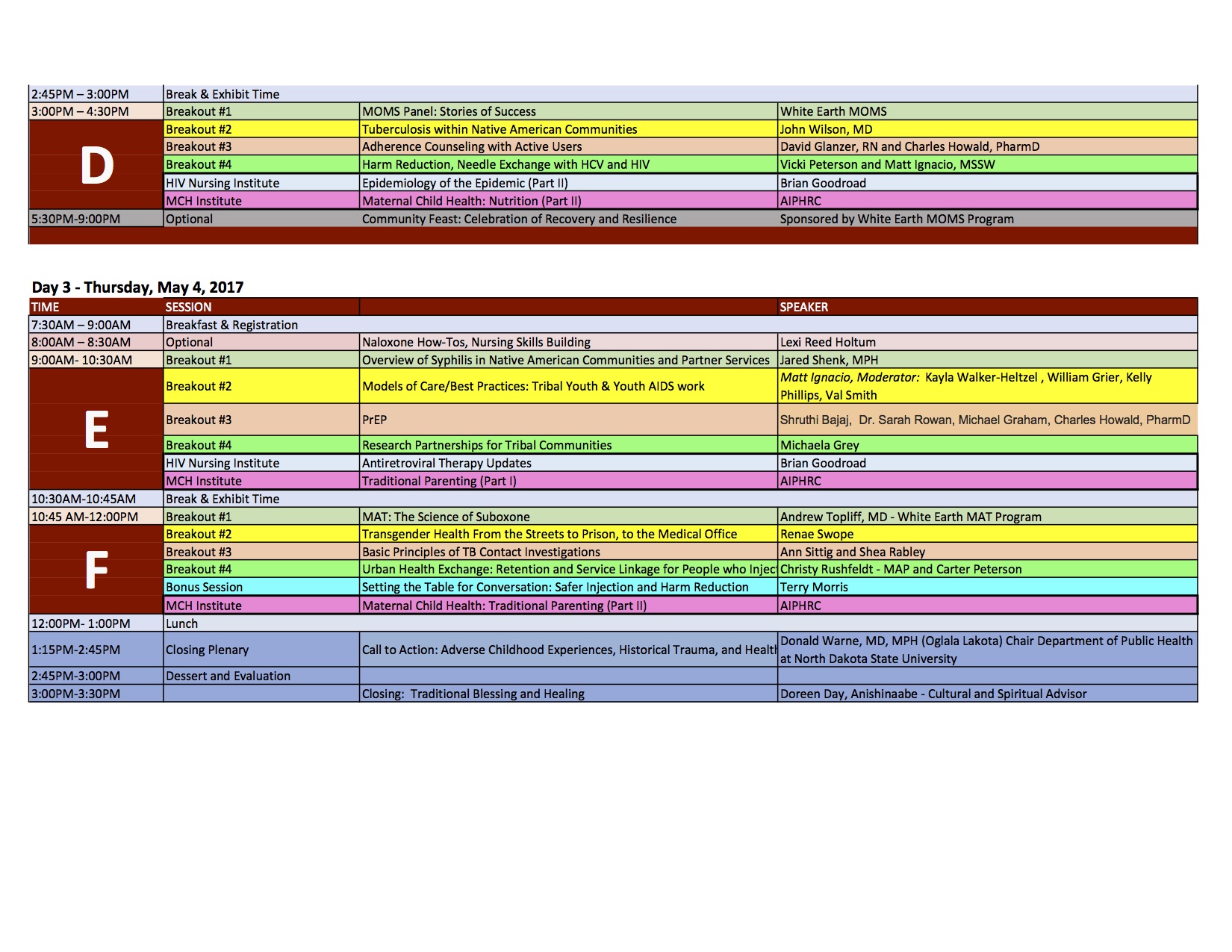 ---

NEW!! This year, we are pleased to announce two Institutes that are being held in conjunction with this year's summit. The HIV Nursing Institute – an intensive review course for the ACRN exam and the Earth, Moon and Sacred Stars Maternal Child Health Institute: Moving Tribal Nations to a Health Future.
Please Note: There will be separate registration for each of these Institutes.
Registration for: Earth, Moon, and Sacred Stars Maternal Child Health Institute:
Http://bit.ly/2kqDQG2
For the HIV Nursing Institute, please indicate on your ticket order. Thank you.
---
For more information about the Summit, contact:
For more information about the HIV Nursing Institute, contact:
For more information about the Maternal Child Health Institute, contact:
---
The summit is sponsored by: White Earth Tribal Health Programs, Minnesota Department of Human Services, Midwest AIDS Training & Education Center, Sacred Spirits - Project CEDAR, and the American Indian Public Health Resource Center.
With support from: Minnesota Department of Human Services and Office of Minority Health Resource Center
#NOWmorethanever