About this Event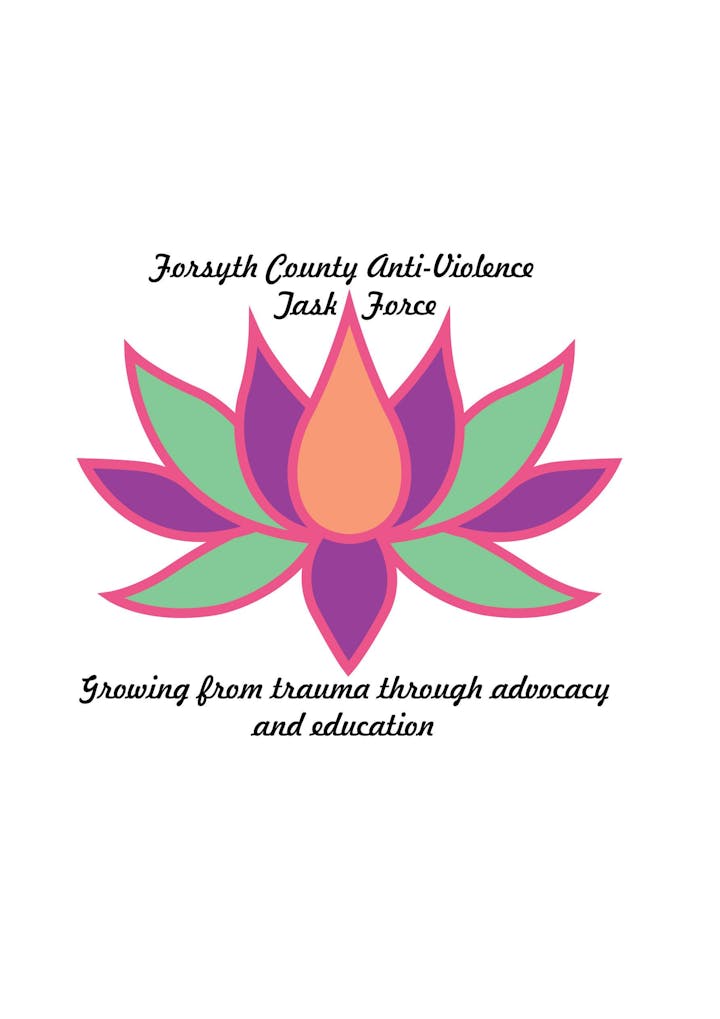 The 6th Annual Forsyth County Anti-Violence Task Force Forum
Assessing Spirituality for Survivors: How Religion Strengths, Impacts, and Challenges Survivors Journeys.
Description
Communities of faith are in a unique position to offer support to survivors of domestic, sexual, and even human trafficking survivors. Survivors often seek comfort and spiritual guidance from religious leaders. Spiritual leaders have the capacity to quickly mobilize resources and bring groups together to support and aide those in need. However, there have been survivors who also have negative responses to their plight because of religious expectations. Nonetheless, religious institutions, have an opportunity to support survivors by extending resources that were originally established for poor, disabled, and elderly (food pantries, clothing banks, emergency funds, childcare, transportation, and even emergency housing).
Learning Objectives:
Educate service providers on the intersections of domestic violence and faith.
Expand on how faith communities can be proponents of the intervention and prevention of domestic violence
Explain how religious texts have been missed used to perpetuate abuse and assert control.
Agenda:
8:00 a.m. Registration Opens
8:30 a.m. Welcome ~ Forsyth County State Court Judge Abernathy-Maddox and Amy Barfield, Executive Director, Forsyth Family Haven
8:35 a.m. Speaker: Julie Owens
Overview of the Power and Control Wheel and defining domestic and sexual assault.
9:00 a.m. Survivor Story: Mrs. Gwen Young
9:30 a.m. Networking Opportunity
9:45 a.m. Speaker: Julie Owens
Domestic Violence and Religion: The Impact on Survivors and the Challenges for Faith Leaders
11:00 a.m. Networking Opportunity
11:15 a.m. Moderated by Julie Owens. Panel Discussion: How Local Faith Communities are Working to Promote Safety and Address Intimate Partner Abuse
Mrs. Kay McDonald, Baptist Church of Cumming, Bible Study Group Leader
E. Latrelle Elliott, Baptist Church of Cumming, Bible Study Group Leader
Mr. Craig Richard, Pastor at Oak Grove Baptist Church.
12:15 p.m. Remember Me ~ Presented by Forsyth Family Haven
Cumming Police Chief David Marsh
County Commissioner, Molly Cooper
Solicitor General Bill Flinch
12:25 p.m. Closing
The training has been approved for:
3 LPC core houres
3 FVIP hours
3 GAMFT core hours
3 CJCC hours for advocates
Light breakfast, snacks and drinks will be available.
Guest Trainer, Survivor, and Panelist Bio
Julie Owens, VAWA Consultant
Julie is a survivor of domestic violence who has worked in the field of violence against women and women's empowerment since 1989. She has founded a hospital DV crisis response team, a transitional shelter, advocacy groups and training programs. She has worked with trauma survivors and addicted survivors, and was a research co-investigator, project director and trauma therapist on studies at the National Center for PTSD. Julie trains professionals widely and has served as an expert witness in both criminal and civil cases regarding domestic violence and domestic violence-related post traumatic stress disorder (PTSD).
Craig Richard, Pastor, Oak Grove Baptist Church
A long-time resident Forsyth County, he began attending church as a junior in high school. He attended, what is now known as the, University of North Georgia graduating with a degree in Health and PE. He began his teaching career with Forsyth County Schools; his first two years were at North Forsyth Middle, then 14 years at Cumming Elementary. Currently he is teaching Adapted PE to kids with specials needs. Mr. Richard felt the Lord call to preach and surrendered to that calling in August of 1999. In 2001, the Lord sent his family to Pine Crest Baptist Church where he was privileged to serve as pastor for 14 years. Finally, Mr. Richard grew up in a home that was abusive. He witnessed the abuse of his mother. He strongly believes that seeing that as a kid and young adult ihas helped him as a pastor. Currently, he is beginning his 5th year pastoring at Oak Grove Baptist Church. He is married and has we four terrific kids.
Kay McDonald, First Baptist Church of Cumming, Bible Study Group Leader
Mrs. McDonald has been involved with First Baptist Church of Cumming for since 2015; but has been part of the faith community since she was 14 years old. She has been conducting bible study at the safe house shelter and transitional housing program in Forsyth County since 2018. She does this because she feels it is important to bring some spiritual comfort to the victims in shelter. Previously, she owned a small business for a few years and has done executive administrative work. Mrs. McDonald enjoys teaching financial planning to assist young people to better their future, teaching God's Word and singing in choirs are great joys in my life. She is married to a wonderful Christian man with blended family of 5 children, 11 grandchildren and 6 great grands.
E. Latrelle Elliott, First Baptist Church of Cumming, Bible Study Group Leader
Mrs. Elliott, joined First Baptist Church of Cumming in 2012. Her work experience includes the legal system, financing, and law enforcement. She has always taken a role in participating in local associations and holding a seat on board, such as the Big Bend Hospice in Wakulla County. She takes part in the bible study group at Forsyth Family Haven.
Gwen Young, Survivor
Mrs. Young was born in Ann Arbor, Michigan and moved to GA at a young age. She has been a resident of Forsyth County for the last 40 year. She is a survivor of domestic abuse and has been living violence free since 1998. Mrs. Young, suffered emotional, physical, psychological, and financial abuse. Nowadays, telling her story helps her to heal. She knows that the lord protected her and without that protection she doesn't believe she would be here to tell her story. It is her faith, 3 children, and 6 grandchildren that still keeps her strong. She is loving life and helping others by sharing her story with victims and in Family Haven's Safe Dates program.
THANK YOU TO OUR 2019 SPONSORS
United Way of Forsyth County
One Call Inc Bail Bonding
24/7 All Bail Bonding LLC
LW & C Bonding and Delta Bail Bonds