A renowned national speaker, Charlie will present on "Tough Choices in Challenging Times"
About this event
The Bismarck-Mandan Young Professionals Network is proud to announce Charlie Plumb for our 6th Annual Epic Impact! A renowned national speaker, Charlie will present on "Tough Choices in Challenging Times" at BSC's National Energy Center of Excellence Building (Bavendick Stateroom).
Doors Open: 5:15 pm
Presentation: 6:00 – 7:00 pm
Meet & Greet (light appetizers provided): 7:00 – 8:00 pm
Captain Charlie Plumb graduated from the U.S. Naval Academy at Annapolis and went on to fly the F-4 Phantom jet on 74 successful combat missions over North Vietnam. On his 75th mission, with only five days before he was to return home, Plumb was shot down, captured, tortured, and imprisoned in an 8 foot x 8 foot cell. He spent the next 2,103 days as a Prisoner of War in the communist prison camps.
During his nearly six years of captivity, Charlie Plumb distinguished himself among his fellow prisoners as a professional in underground communications, and served for two of those years as the Chaplain in his camp.
One of the most sought-after achievement speakers of his time, Charlie Plumb's presentations are as he is, sincere, straightforward, and humorous. Captain Plumb's Military Honors include two Purple Hearts, the Legion of Merit, the Silver Star, the Bronze Star and the P.O.W. Medal.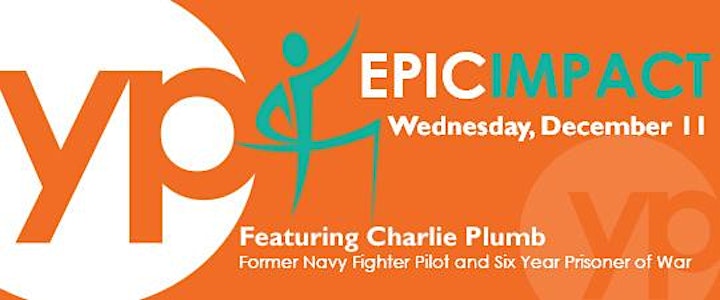 Organizer of 6th Annual Epic Impact - Charlie Plumb
The mission of the Bismarck-Mandan Young Professionals Network is to enhance the culture for young professionals in the Bismarck-Mandan community through professional development, entrepreneurship, community service and social networking; to create new opportunities for members; and to connect members to organizations in the Bismarck-Mandan community.