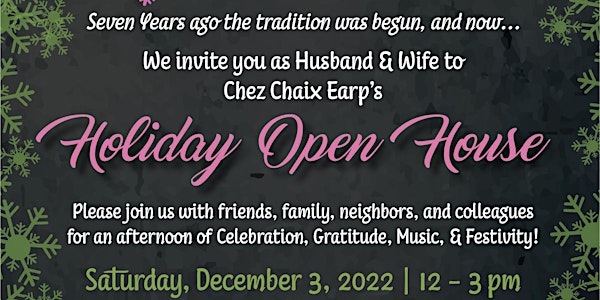 6th Annual Chez Chaix Earp Holiday Open House!
We are so thrilled to welcome in the season with you - friends, family, colleagues, clients, neighbors! Come share some food & joy!
When and where
Location
Chez Chaix Earp 6252 Robin Hood Way Oakland, CA 94611
About this event
What a year 2022 became! Pandemic-Shmandemic*! Traffic back to "normal"! Work filling our dockets! Non-profits doing the work of the people! Elections to bring in people and measures that will champion and benefit the people! Operable walls going in buildings big and small from Lemoore to Sacramento and all places in-between... Not to mention - An Engagement! A Wedding!
PLEASE come share the start of the holiday season with us... our home is open to our clients, friends, family, neighbors - you bring in and fill it with the joy that keeps us going day to day!
There will be plenty of food and beverages - outdoor space if more comfortable for some and indoor space as well. Music, decorations... and of course our Complimentary valet parking team - to make arrival, departure, and parking easier for everyone in our neighborhood of limited parking.
We look forward to seeing you!!
With much gratitude,
Denis & Laurie
* - we know the toll and impact of the pandemic on so many (including us) and we do not jest about that... but, it is nice to have "finally" arrived at the time and place to pause and consider what we did get through... to be on this side of it.