Description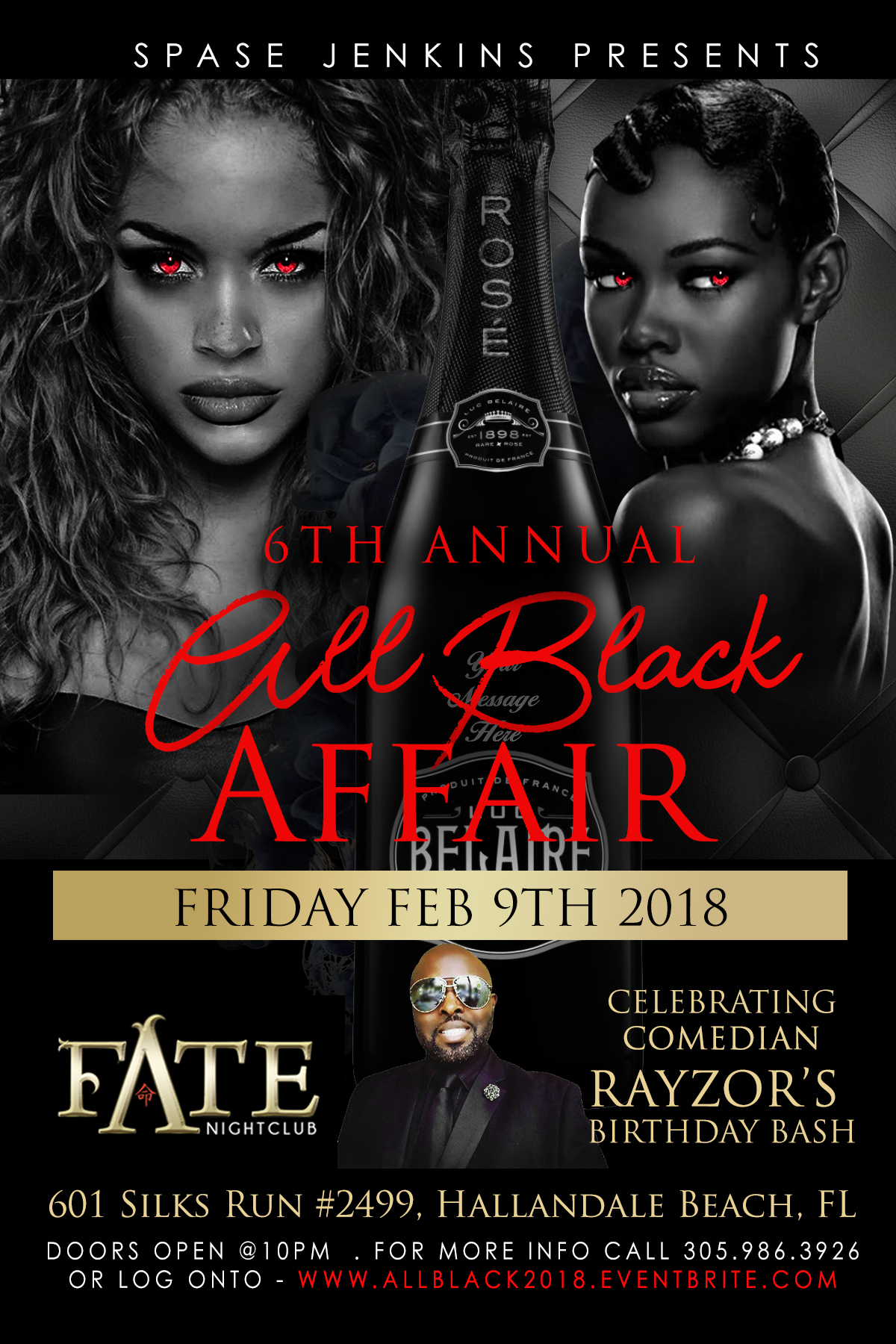 +++++UPDATE:: IT'S HERE!!!! THANK YOU FOR YOU CONTINUED SUPPORT OF SPASE JENKINS QUALITY FLY & FLASHY ENTERTAINMENT>>>THE ALL BLACK AFFAIR IS SET TO BE THE BIGGEST EVENT THIS YEAR!!!!>>>EARLY ARRIVAL IS STRONGLY SUGGESTED!! SEE YOU THERE
THE ALL BLACK AFFAIR JUST TURNED IT UP A NOTCH!! Flying in from NY we have the Legend BIZ MARKIE on the 1's and 2's backed up by MIAMI's own - DJ TIGHT & JAZZ IN THE GARDENS - DJ FUNKMASTA OLLY!!!!! Playing nothing but the HITS...
ALSO JUST ADDED the outside CIGAR LOUNGE Hosted by CIGAR AFICIONADO "TOBACCO KENNEDY" with Cigars and Accessories available on site!! GROWN FLY & FLASHY ONLY....#SPASEJENKINS
+++++ A limited amount of VIP sections remain.
FRIDAY FEBRUARY 9th || 6th ANNUAL ALL BLACK AFFAIR || @CLUB FATE || 10pm Untill...
A night of Great Music & Good Vibes with some of South Florida's most influential movers and shakers. This year's theme is "WE ARE ONE..." now more than ever we must put down our petty differences and come together for a cause BIGGER than thy self. This will be a celebration of that. Calling all of my Fraternities and Sororities if you have never partied at the "All Black Affair" you have never really partied. Calling all of my out of towners if you really want to see Miami's sexiest people off the bridge, not to mention it will be 80 degrees in February (perfect Beach weather) book your plane tickets now. We will have a FREE FOOD Buffet in the VIP area and some of the BEST DJ's on the planet shutting it down.
** Fellas the dress code is strictly enforced Fly or stay home!! Ladies we can't wait to see how that sexy black dress looks on you!
Club Fate the host this year is located at 901 Silks Run Dr. Hallandale, FL (on the grounds of Gulfstream Casino). The venue boasts 3 Full bars, Hookahs, VIP Sections, FREE parking as well as Valet services. Doors open @10pm and we party until 4am. We expect a Grown&Fly sold out crowd like last year. This is a 25 and older preferred event .... Get your limited $15 discounted advance tickets NOW!!
For VIP sections or more information call 305.986.3926
BLESSINGS+