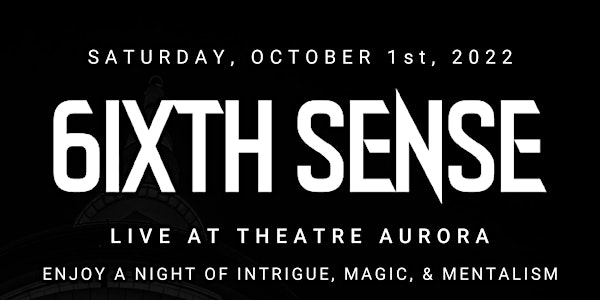 6ixth Sense
Magic, Mind Reading, Escape,Comedy
When and where
Location
Theatre Aurora 150 Henderson Drive Aurora, ON L4G 2J7 Canada
Refund Policy
Contact the organizer to request a refund.
Eventbrite's fee is nonrefundable.
About this event
This mind-altering, unbelievable, eye-opening show will leave you at the edge of your seat as you witness Mind Bender and Scott Hammell attempt to make the impossible, possible. For one night only, there is no better place in the GTA to watch a jam packed show filled with laughter, mind-reading, magic, and more.
Scott Hammell has been entertaining professionally since 1998. In the two decades since, the four-time Guinness World Record holder has hung upside down from a hot air balloon while locked in a straitjacket and chains at 7 200 feet (World's Highest Suspension Straitjacket Escape), dangled by his ankles and juggled for over a minute and a half (Longest Inverted Juggling Duration), successfully completed a card trick while skydiving (World's Fastest Moving Card Trick) and jumped from an airplane to skydive while blindfolded and handcuffed (Highest Blindfolded Skydive). He has performed Houdini's famous Milk Can Escape, juggled live explosives and has been shot at with a sniper rifle and caught the bullet as it ricocheted off a steel plate that hung around Scott's neck. Scott has traveled the world performing in North America, Europe, the Middle East, Southeast Asia, Africa and Australia. His audiences are as varied as his skill sets. Whether it's a royal sheik in Abu Dhabi, a prime minister in Malaysia or a group of village elders who don't speak English in Kenya, Scott always brings his passion for his art to entertain and inspire!
Mind Bender possesses a huge passion for his art form and loves to leave his audience at the edge of their seats. Starting his career in entertaining at the early age of 10 years old, he has since accomplished many milestones in his industry. His highlights include performing over 10 sold out shows across the GTA, performing on 'Canada's Got Talent', working with Criss Angel in Las Vegas, and collaborating with Majestik Magnificent (Michael Jackson's personal magician) in California. With an extreme love for pushing the limits on his escapes, Mind Bender is best known for his death defying acts. He has escaped from a strait-jacket while suspended upside-down, from an airtight body bag shackled and hand-cuffed, and from handcuffs strapped down to a table while swords fell down on him Russian roulette-style. He is so excited to be bringing his vision for '6ixth Sense' to life and for you all to witness his next exhilarating escape.
By attending the event, '6ixth Sense', you consent to any photography, audio recording, and video recordings that may be used for any promotional purposes including, but not limited to, news, web casts, telecasts, and advertising.
Ages 6+