About this Event
(English will follow)
*Cet évènement qui devait avoir lieu le Lundi 2 Septembre a été reporté au Samedi 14 Septembre dû à des conditions météorologiques non favorables. Nous sommes désolés de l'inconvénience causée par ce changement.
Nous aurons de la nourriture sur place, mais vos contributions seront appréciés. Soyez à l'aise de nous poser toutes questions qui vous viennent à l'esprit concernant les contrats, conditions de travail et vos droits en tant que travailleu·ses·rs.
Le BBQ aura lieu sur le territoire traditionnel et non-cédé Kanien'kehá:ka. Tous sont les bienvenu·e·s à cet évènement et nous nous engageons à faciliter un environnement anti-oppressif.
Si vous ressentez que quelqu'un nuit à votre confort et votre sécurité, si vous remarquez que le bien-être de quelqu'un d'autre est atteint, ou si vous avez quelconque autre souci, n'hésitez pas à nous contacter. Vous pouvez utiliser ce formulaire pour signaler des incidents anonymement, ou envoyez-nous un email à gwumontreal@gmail.com.
---------
*This event which was supposed to happen on Monday September 2nd has been postponed to Saturday September 14th due to unfavorable weather conditions. We are sorry for the inconvenience this might have caused.
We will have some food available, but food contributions are welcome and appreciated. Feel free to bring your questions about contracts, working conditions, and your rights as a worker!
The BBQ sits on the traditional and unceded territory of the Kanien'kehá:ka people. We welcome everyone to the event, and are committed to facilitating an anti-oppressive space.
If you feel that someone is making the space unsafe for you, if you notice that someone else is being made to feel unsafe, or if you have any other concerns, please don't hesitate to. You can use this form to make an anonymous report, or send us an email at gwumontreal@gmail.com.
Voici l'emplacement approximatif pour le BBQ - Here is the approximate location for the BBQ: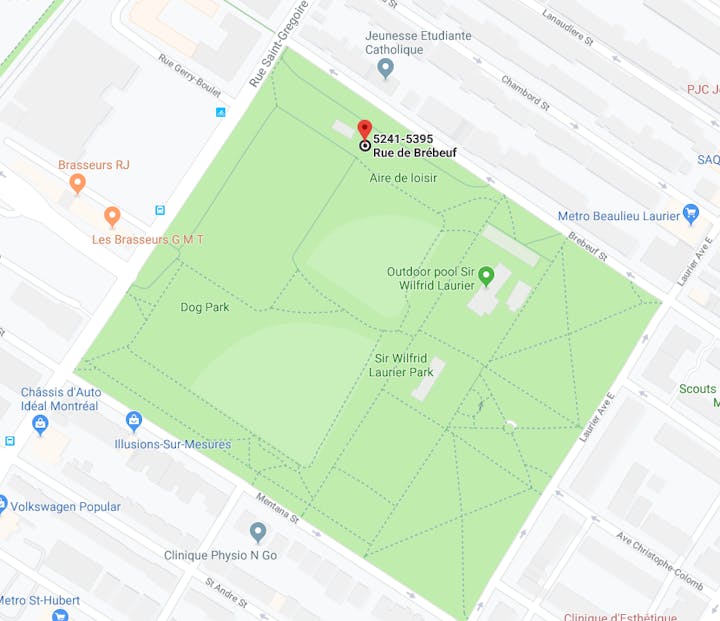 Qui sommes nous?
Who are we?
GWU Montréal est le chapitre local de Game Workers Unite, une organisation internationale dédiée à la lutte pour les droits des travailleu·ses·rs de l'industrie du jeu vidéo. GWU n'est pas un syndicat, mais aide à organiser les travailleu·ses·rs de l'industrie du jeu vidéo autour du monde. Montréal est notable pour le nombre de studios de développement de jeux qui s'y trouvent - les travailleu·ses·rs y sont une puissante force. Ensemble, nous pouvons gagner de meilleures conditions de travail, la dignité, et un support mutuel pour chacun·e. (gwumtl.com, gwumontreal@gmail.com)
GWU Montréal is the local chapter of Game Workers Unite, an international organization of people dedicated to advocating for workers' rights in the games industry. GWU is not a union, but is helping organize workers across the globe. Montréal is notable for the number of game companies it hosts – workers here are a powerful force. Together, we can achieve better working conditions, recognition, and mutual support for all. (gwumtl.com, gwumontreal@gmail.com)
S'ATTAQ (Syndicat associatif des travailleu·ses·rs autonomes du Québec) est une organisation créée pour unir les travailleu·ses·rs autonomes de divers domaines afin d'améliorer leurs conditions de travail et de promouvoir leurs intérêts communs en tant que classe ouvrière. Le SATTAQ converge autour d'un but commun d'ériger un syndicat démocratique et non-hiérarchique, engagé dans l'entraide et la justice sociale. (sattaq.xyz, sattaq.union@gmail.com)
S'ATTAQ (Syndicat associatif des travailleu·ses·rs autonomes du Québec) is an organization that exists to unite freelancers across diverse fields in order to improve working conditions and further our common interests as a labour class. S'ATTAQ has come together in its common concerns to form a non-hierarchical democratic labour union with a commitment to mutual aid and social justice. (sattaq.xyz, sattaq.union@gmail.com)