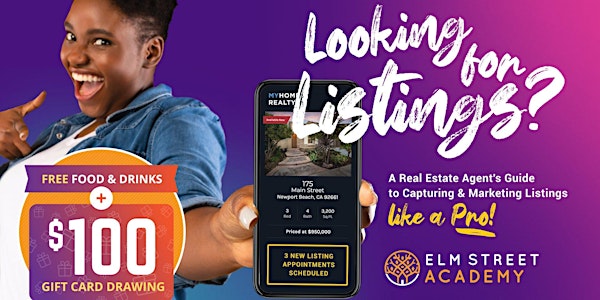 6/9 - LIVE & In-Person - NHMR - Looking For Listings?
10am (LIVE - In Person Training) Tips & Tricks To Make The Lead Capture-To-Conversion Process As Seamless As Possible!
Location
New Haven Middlesex Association of Realtors 2730 Boston Post Road Guilford, CT 06437
About this event
Whether you want to capture seller leads, are trying to create a killer listing presentation, or are looking for unique ways to make your listings stand out…We have the tips, tricks, and strategies you will want to know in order to make the lead capture-to-conversion process as seamless, scalable, and successful as possible.
Join this 90 minute class to learn the latest & greatest strategies for:
- Capturing Seller Leads
- Nailing Your Listing Presentation
- Marketing Your Listing (Proven & Unique Strategies)
- What To Do After The Sale
- And, more!
Register Today!
#listings
About the organizer
The Boot Camp series is a nation-wide training program offered by Elm Street Academy, the creators of the Elevate Productivity Platform. Elevate allows busy real estate professionals the ability to streamline and automate their marketing and day-to-day business objectives by offering high-end IDX websites, lead generation tools, a powerful CRM, email, social, text and blog marketing automation, recruiting and retention tools, and more.
To learn more about Elevate, call 833.303.1040 or visit TryElevate.com.