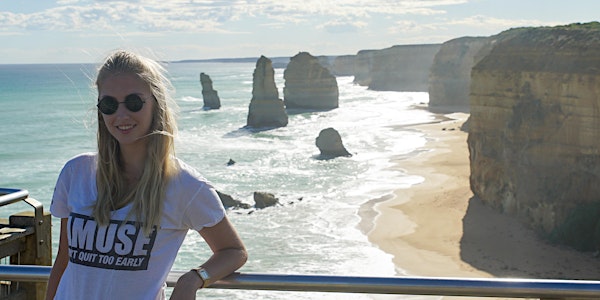 Multiple dates
$69 Great Ocean Rd & 12 Apostles Adventure! (super low price!)
Sightseeing trip to Great Ocean Road including: 12 Apostles, Loch Ard Gorge and other famous spots! All at a super cheap price.
Date and time
Thu, 29 Dec 2022 9:00 AM - Tue, 25 Apr 2023 8:30 PM AEDT
Location
State Library of Victoria (Outside, in front of the statues - SWANSTON ST SIDE) 328 Swanston st Melbourne CBD, VIC 3000 Australia
Refund Policy
Contact the organiser to request a refund.
Eventbrite's fee is nonrefundable.
About this event
New To Melbourne invites you to the beautiful Great Ocean Road!! The Great Ocean Rd is one of the most beautiful trips you can do while in Melbourne, you can see Koalas, Kangaroos, get up close with a Kookaburra for a selfie (people do it! haha) and see the beautiful coastline with new friends. It's a must see if you've never been.
Also you'll have a chance to take photos and make new friends on the trip that you'll meet at our other events and tours.
===== THE ADVENTURE INCLUDES =====
● Planned 12.5 hour (1 day) bus trip
● See the magnificent Twelve Apostles
● Get a photo at the beautiful Loch Ard Gorge - another super popular spot
● Friendly Tour Guide
● Anglesea Beach
● Memorial Arch. Stop off at this famous place for a photo
● Kennett River: Hand feed wild Australia Birds (they will fly and land on your shoulders and head), careful with the cockatoo!; see Koalas and (if you're lucky) get a selfie with a Kookaburra.
● Lunch at Apollo Bay. Lots of local shops only 3 min away from the beach!
*Optional (not included in trip price):
● Helicopter Scenic Flight - 12 Apostles to London Bridge
An unforgettable 15 minute flight experience - not to be missed!! This flight includes the 12 Apostles and Loch Ard Gorge, plus you will travel further along the majestic coast to London Bridge.
===== DETAILS=====
Pick Up & Drop Off location:
● Meeting point: Outside the State Library of Victoria (in front of the center statue of Sir Redmond Barry - Swanston street side, **not** Russel street). Closest train station is Melbourne Central. For detailed information about this pickup please see this document: http://bit.ly/2uXXhQJ
●Please ensure you allow enough time for travel delays getting to the meeting point.
●Tour attendees are required to arrive 5 minutes prior to listed "start time" / departure time of the tour
●Keep in mind there are sometimes delays on the way home ue to traffic. So avoid booking things (like flights) straight after the tour
● Geelong pickup location *Confirmation Required*
McDonald's Geelong Bypass Southbound
310-312 Plantation Rd, Lovely Banks VIC 3221
https://bit.ly/2rTexFO
You must make your pickup request at least 3 days in advance of the tour. If you do not provide this warning ahead of time and confirmation, you must meet at the normal meeting point.
To request pickup from Geelong, please email: message the New To Melbourne FB page and include the tour date on your ticket, ticket/order number, number of tickets you have and the best contact number to reach you on the day. (You must have a ticket before your can request pickup from this location.)
===== Food and Drinks =====
● Our bus trips are really cheap but we do not provide food or drink, that is why we recommend that you bring some snacks with you for the day. You can buy food and drinks at the stops during the trip.
===== TICKETS =====
From ONLY $69 (usually $99 to $138 or so)
As always with our ticketed events: get in early as later tickets become more expensive closer to the event/tour date.
Please have your ticket printed or on your phone to display before boarding the bus
=== Customer testimonials ===
Our customers have a lot to say about our products. Click on the link below to find out what people think:
https://bit.ly/2YF5Tpr
===== New To Melbourne! =====
New To Melbourne is a group of travellers, uni students and locals, we organise cheap events and bus tours with a focus on making new friends, seeing amazing places and doing quality events and trips on a budget. . All our events, bus trips, times, dates and ticket links can be found in the Event section (at the link below). Remember to like the New To Melbourne page for special prices and event updates. Event section link below:
www.facebook.com/NewToMelb/events
=== Private tour groups ===
We also provide private tours for families, hen / bucks parties, birthdays, Christmas or Easter getaways, church / religious groups and sports / hobby groups. There are many advantages to a private tour group such as custom pickup, ability to modify the itinerary and much more. We provide all kinds of destinations and trip lengths like: 1 day trips, 2 day, 1 night trips or 3+ days to anywhere within Victoria and even interstate. See the slide-deck in the URL below for more information:
http://bit.ly/2PYQRb9
===== IMPORTANT =====
● Group discount, Concessions and Children's rates:
Our prices are already one third of normal prices of the other bus trip providers and prices cannot be further discounted.
● Travelling with Children?
You can find all the relevant information here: https://bit.ly/2XzOEEB
(Note: If you cannot access the link provided above, please reach out to us as there is important information you might otherwise miss out on)
● Refund and Transfers policy:
* No refunds will be given if you miss the bus, please ensure you allow time for travel delays getting to the meeting point. Refunds or date transfers made 7 days out from an event / tour date will incur a 50% cancellation fee. Refunds or date-transfers made 4 days out will incur a 100% cancellation fee.
* For refunds or date-transfer please use the Eventbrite's Refund feature (not email).
* We are not responsible for any delays caused by traffic. Changes made to the itinerary in these cases is not subject to refunds/ reimbursements.
* Transfer/resell of tickets to another person are not permitted.
* Tickets can be transferred once, we cannot provide additional date transfers. Once tickets are transferred to another date (or person) they cannot be refunded.
● Breakdown refund policy:
Please see the slide-deck below for information on our breakdown refund policy:
https://bit.ly/2Pa8xA7
HAVE A GREAT TRIP AND SEE YOU SOON !!
About the organiser
This event is run by the New To Melbourne! Group. We are a social group that runs affordable events and activities for international and local people between 18-35. Our events are designed to be fun and a place where people can connect with others and make new friends!
To see our upcoming events or subscribe to updates as they're posted goto:
www.facebook.com/NewToMelb/events