Description
We're saying farewell to summer and looking for new energies and outlooks to channel as we jump into fall! Get your zen on at Ivy Wild with Energy Healer & Hair Artist, Ashleah Walker, as she walks us through an introduction to energy healing and a guided meditation.
During the meditation, we'll focus on how internal energy manifests externally, impacting how we look and feel (this definitely speaks to us). You'll be given a sheet mask to wear during the guided meditation because we like to multi-task...
Tickets include a guided energy healing meditation, a sheet mask, wine and non-alcoholic sips. Please bring a yoga mat or towel to sit on for this event.
---
About Ashleah Walker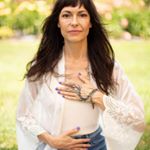 Ashleah is a Hair Artist at Ian McCabe Studio and began Energy Healing 18 months ago as a way to self-care; she quickly realized how beneficial it is to everyone. Healing Touch is similar to Reiki but it's accreditaed by the American Nurses Credentialing Center and endorsed by the American Holistic Nurses Association.
Ashleah uses energy work to clear and balance clients for an optimal well-being in mind, body, and spirit. Working with the chakras, aka energy centers of your body, it governs the energy flow into your physical, emotional, mental, and spiritual self to reduce anxiety, stress, pain and fatigue.