About this Event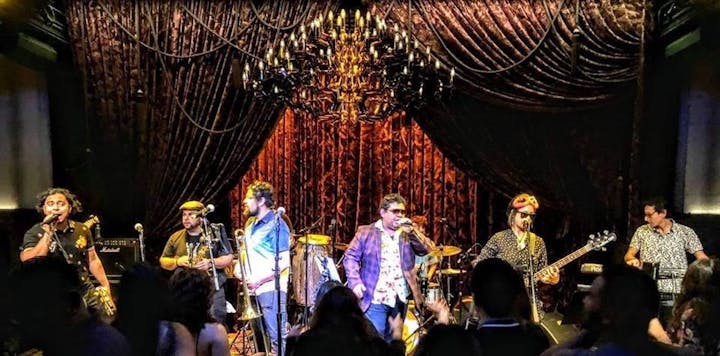 Zakke is an up-and-coming band from Washington D.C. known for their Latin Fusion Style and their high-energy level performances. Zakke's music blends the Latin rhythms with an explosive twist of Funk, Ska, Disco and Rock beats. Their original music is a compilation of daily life experiences and the sarcastic side of things. All together producing one strong mix of sounds and catchy lyrics.
The Band was founded in late 2011 by Max Velazquez and guitarist Felipe Bohorquez (FZ) and has continuously been entertaining to the young and old at the Nation's capital nightclubs and top venues including: The State Theater, The Fillmore, and The Howard Theater, etc. Zakke has shared stage with recognized local artist and several international acts, as well as got invited to play at national festivals and important community events.
Currently working in their first Album "La otra cara del universo" (The other side of the universe) at Bias Studios, Zakke proposes a fresh sound with a whole lot of fusion and fun new music for everyone. The band appreciates that you are part of the journey and would like to give a special thanks to all the fans for the support, look forward to see at the next gig, You'll be Zakkenized!
Venue Information:
Parking is available in side lot (by Exxon)
No Smoking/Vaping permitted anywhere inside venue
Bags/purses will be checked at the door.
Must have ID for entry
If you do not have access to a printer, we can scan ticket from your cell phone. Be sure to have your brightness turned all the way up at the door.
Children under 3 years old are Free.
Kitchen is open during all hours of operation.
Appropriate clothing required at all times (tops and bottoms covered).