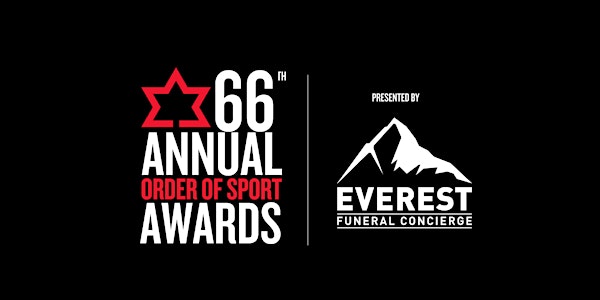 66th Annual Order of Sport Awards - Free Livestream Access
The 66th Annual Order of Sport Awards, presented by Everest, celebrates the induction of a remarkable Class, to Canada's Sports Hall of Fame
About this event
What
Celebrating Induction into Canada's Sports Hall of Fame
Each October, the Order of Sport Awards takes place to celebrate the induction of a remarkable Class into Canada's Sports Hall of Fame. From nomination, to selection and announcement, to induction - each member of the annual Class of Athletes and Builders anticipates the moment the Order of Sport scarf is placed around their neck, Order of Sport pin over their heart and the Order of Sport award placed in their hands.
Receipt of the Order of Sport is a moment that signifies the immense contributions made to Canada through sport and this celebratory event is where the impact of receiving this honour is shared with the nation. Canada's Sports Hall of Fame is proud to be hosting the 66th Annual Order of Sport Awards, presented by Everest, live in Toronto and around the world! The Class of 2022 will be celebrated at a reception and awards show in downtown Toronto as they are presented the Order of Sport award - Canada's highest sporting honour, marking their induction into Canada's Sports Hall of Fame. The awards show will be live streamed across the nation for all Canadians to collectively celebrate this remarkable Class of Athletes, sport Builders and Trailblazers. This Eventbrite ticket grants access to the free online livestream.
Who
The Class of 2022
Adam van Koeverden - A history making three-time canoe-kayak sprint Olympian as the first to win a Gold medal in the men's K-1 500m event in 2004, he is a passionate advocate for sport as a vehicle to affect positive change
Brian Williams - An iconic broadcast voice that resonates with all Canadians, he is a mentor and inspiration for generations of sportscasters – marking an extraordinary career spanning five decades
Dwayne de Rosario - A four-time Major League Soccer champion, a top ten all-time leading goal scorer in MLS history, a remarkable athlete who overcame racial discrimination, transforming soccer in Canada to be a more diverse, inclusive and dynamic sport than he had found it as a young athlete
Edward Lennie - Known today as the 'Father of the Northern Games', a remarkable community leader and respected Inuvialuit Elder, he worked tirelessly during his lifetime to preserve and promote traditional Arctic Sports in Canada
Hayley Wickenheiser - A six-time Olympian who led her team to four Gold Medals, whose unprecedented achievements has helped usher in exponential growth for women's ice hockey in Canada and who continues to promote inclusivity and accessibility for girls and youth in ice hockey
John Tavares - A three-time National Lacrosse League MVP, who spent his entire career with the Buffalo Bandits, retiring as the all-time franchise leader in every major offensive category, and continues to mentor the next generation of lacrosse athletes
Tim McIsaac - A Paralympic pioneer who revolutionized Para swimming in Canada and around the world, winning an outstanding 28 Gold medals, a true champion for inclusion and equality
Tricia Smith - A four-time Olympian who claimed seven World Championship medals and an Olympic medal in rowing, she works tirelessly to promote the values of sport and to advance opportunities for women and athletes in Canada and around the world
Chatham Coloured All Stars - Only playing as a team for seven years they made a lasting impression during a difficult and hostile time for Black Canadians. They forged ahead despite the barriers, leaving baseball immeasurably enriched by all they had overcome
Preston Rivulettes - Blazing fast and fearless "Queens of the Ice," this team is celebrated today as the most successful women's ice hockey team in the history of Canadian sport
Message
From Our President and CEO
The story starts the same for all of us; a ball, a pool, a puck, a pair of skates. For some, the play becomes sport, the sport becomes a personal best, and a personal best becomes competition at the highest level. The success in sport and in life opens new and different doors; supporting a charitable cause, amplifying a community project and the realization that it's not just you and a podium anymore. These are individuals who have achieved greatness and didn't stop there. They are compelled to go beyond their success and give back to their communities as builders, mentors, ambassadors, and role models. This is the Class of 2022.
This evening is the culmination of another incredible chapter in their stories. Receiving our nation's highest sporting honour, the Order of Sport Award, and joining over 700 of Canada's most prestigious sporting icons as they are inducted into Canada's Sports Hall of Fame.
As Canada's only national museum of sport our role is to amplify these stories through our four pillars; curation, education, recognition, and thought leadership, providing exciting and dynamic opportunities for all Canadians to connect with the stories and lived experiences of this incredible Class.