About this Event
$22 - $25
DOORS 8PM / SHOW 9PM
THIS EVENT IS 21+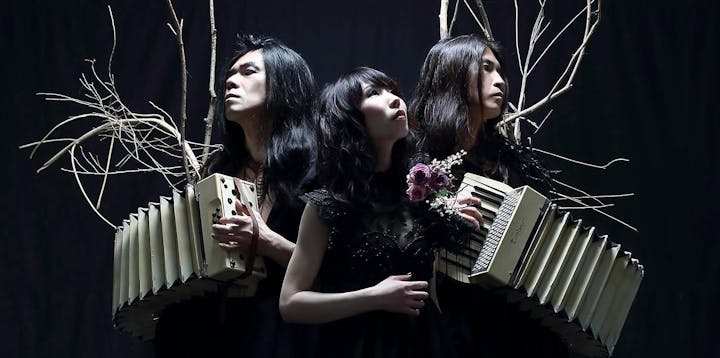 Instagram | Twitter | Facebook | Bandcamp |
"We don't feel comfortable calling Dear a return to our slow and heavy style," says Tokyo's amplifier worshiping experimental metal institution Boris. "We've been heavy since day one." And it's true. From the droning thunder of their Absolutego debut and through the cinematic crescendo of albums like Flood, the bombastic licks of the Heavy Rocks records, the punk rage of Vein, the bottom-dwelling psychedelia of Akuma no Uta and Pink, and the grimy thump of Attention Please and New Album, Boris has always attempted to search out new ways to level listeners with their sound. On the 25th year of their existence, the trio delivers Dear, an album they describe as "heavenly—far beyond heavy."
Though Boris has traversed a broad swath of sonic territories, they have always been consistent in their embracing of excess, pushing their myriad of approaches and stylistic forays to points of intoxicating absurdity. But a time came in the early years of their third decade where the band wondered if there were any new horizons for the band to explore. Consequently, it was decided that the band would begin jamming on material for what was planned to be a record that served as a formal goodbye to fans. In a strange twist of fate, being unencumbered by expectations and having an open-ended approach to the writing process reinvigorated Boris. The renewed vitality yielded an album that fortifies their monolithic wall of sound while also allowing the individual band members to explore the nuances and intricacies of minimalist riffs played at maximum volume.
Album opener "D.O.W.N. –Domination of Waiting Noise-" sets the tone for the record's glacial pace and seismic rumble with vast swaths of sustained chords underscoring oscillator pulses and Takeshi's soaring vocals. Songs like "DEADSONG", "Kagero", and "The Power" take the glacial doom of their early records and broaden the expanses of empty space to allow the chirp of amplifier tubes, the groan of strained speaker cabinets, and the sizzle of cranked distortion to transform their dirges into macrocosms of textures. It was a premeditated strategy, with the band deliberately scaling down on instrumentation in order to allow more color, detail, and tension to emanate from their protracted riffage. The galloping chugs and acidic guitar leads of "Absolutego" provide the most rock-oriented moment of the album, even though the song's crushing timbre is cataclysmic even by the most down-tuned and heavily doped stoner rock standards. Brief moments of respite from the dimed amplifiers can be found on songs like "Beyond" and "Memento Mori", where the band juxtaposes their deluges of fuzz with hints of ethereal dream pop.
Songwriting for Dear initially yielded three albums' worth of material by the end of 2015, but as the band was slated to spend a large chunk of 2016 on their "Performing Pink" worldwide tour, they decided to hold off on releasing any new material. The tour further rekindled their passion, and when the band returned home they wrote several more songs and scaled the three records down to one. "At the very first moment, this album began as some kind of potential farewell note of Boris. However, it became a sincere letter to fans and listeners… you know, like 'Dear so-and-so, this is the new album from Boris' or something like that. We feel so grateful we can release this album in our 25th anniversary year." Adding to that sentiment, Sargent House is grateful to release Boris Dear to the world on July 14, 2017 on CD, 2xLP, and digital formats.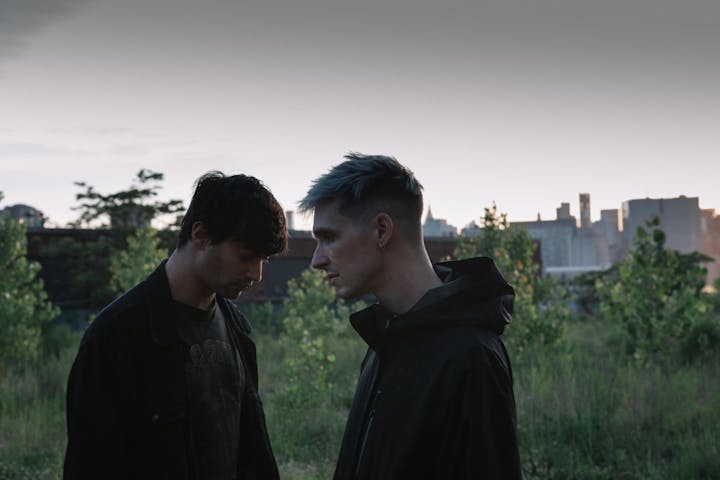 Instagram | Twitter | Facebook
Following the release of critically acclaimed LP Wake in Fright, which had two songs featured in the new season of David Lynch's Twin Peaks, it was time for Uniform vocalist Michael Berdan and instrumentalist Ben Greenberg to return to the studio. The duo decided to up the ante and add a third member to help perfect their vicious post-industrial dystopian cyber-punk. After some deliberation, Greenberg called upon drummer Greg Fox (Liturgy, Zs) to help round out the sound they were looking for. Using a mix of triggered samples and real drums along with layered synths and good old electric guitar, the trio arrived at what would become The Long Walk after only a few short days in the studio.
From the opening whirr of the title track, it's clear that the band is onto something special. Recorded in Strange Weather studios in the first part of 2018, The Long Walk is eight new tracks by the duo of Greenberg and Berdan, incorporating Fox's skills behind the drum kit to add an entirely new dimension to the signature Uniform sound. Ditching sequenced tracks, Greenberg opted for single takes to highlight the Frankenstein-like guitar-bass-synth hybrid that oozes throughout the recording. Meanwhile, crushing guitar thunder is punched up by Fox's masterful drumming while Berdan's cries from the nether feel more desperate and morose than ever. This is Uniform at its most bleak, emotional, and powerful.
Lyrically, The Long Walk deals with paradoxes in spirituality and organized religion. Growing up in a devout Irish Catholic household in an Irish Catholic neighborhood, Berdan went to Catholic school for most of his primary education, and even was an altar boy. Fear of Biblical hell and damnation felt tangible. As Berdan grew and matured emotionally, he began to reject Catholicism bit by bit, viewing the church as a judgmental, repressive people who choose to live their lives dictated by hateful, fear-mongering dogma.
In the recent past, Berdan found himself slowly reconnecting with his Catholic background, observing how the faith that he found so repressive served as a great source of comfort and strength for so many. Eventually, Berdan began to view at the root of Catholicism and all major world religions a practice of love, tolerance, peace, and altruism. He began identifying as Catholic again, finding that basic tenets to be good guiding principles for daily life. Yet therein lay the contradiction that drove him from religion in the first place — many of the human traditions of the church also dealt in repression, intolerance, and bigotry, and some of mankind's most hateful acts have been carried out in the name of God. Could one observe the rituals and practice of a faith while acknowledging and rejecting its ugliest elements?
The title The Long Walk comes from a Stephen King (writing as Richard Bachman) dystopian novel about an oppressive government that forces some of its children to endure a grueling game where there is only one survivor. In this case, it's an allegory for an extended march away from comfort, family, and faith, and eventually into an amorphous sense of spirituality that can be understood on a personal level.