Event Information
Location
Irwindale Metro HUB at Fiesta Parade Floats
16016 Avenida Padilla, Irwindale, CA 91702
Irwindale, CA 91702
Description
Enjoy the 626CX Irwindale HUB City Cross Cycle-Fest FEATURING...
Ready Pac Foods City Cross Finish Line Sponsor Expo, Walk N Rollers Kids Skills Rodeo: Bike, Skate, Scooters presented by SoCal Edison!, LA Party Works BMX Exhibitions, Euro Bungee Jumping, Rock Climbing fun interwoven within the 626CX City Cross Course! Be a part of the Community Bicycle Swap Meet, make fun at the Arts & Crafts Booths... helmet decorating, spoke card making and more! Enter the Tour de Irwindale Bicycle Parade & Costume Contest! Bring your best bike & costume to win! Gen a tune up at the Beeline Bike Tech Zone or try out a Raleigh Bike in the Demo Zone! Hungry? No problem: 626CX Feed Zone including Santa Fe Imports, Grilled Cheese Truck, Ready Pac Foods Snack Bar, and stay hydrated at the APX Sports Drink Hydration Station!
IRWINDALE CYCLE-FEST SCHEDULE:
7AM 626CX Omnium Registration Opens: Enter one or all three events!

8AM 626CX Omnium Stage 1: Time Trial (3 laps of City Cross Course)

9AM 626CX Omnium Stage 2: 626CX Gravel Grinder Ride Departs

626CX CYCLE-FEST: 9AM-4PM:

-City Cross Obstacle Course Community F-U-N Races! Any bike goes!

-Beeline Bike Tech - Bike Demos via Bike Corral & Cycle Track

-Walk 'N Rollers Kiddie Cross Obstacle Course Skills Track

11AM LA Party Works BMX Show Exhibition (also 12:30, 2PM)

12PM Tour de Irwindale Bike Parade & Costume Contest! Dress up and win!

1PM 626CX Omnium Stage 3: City Cross Finals

2:30PM 626CX Omnium & City Cross Awards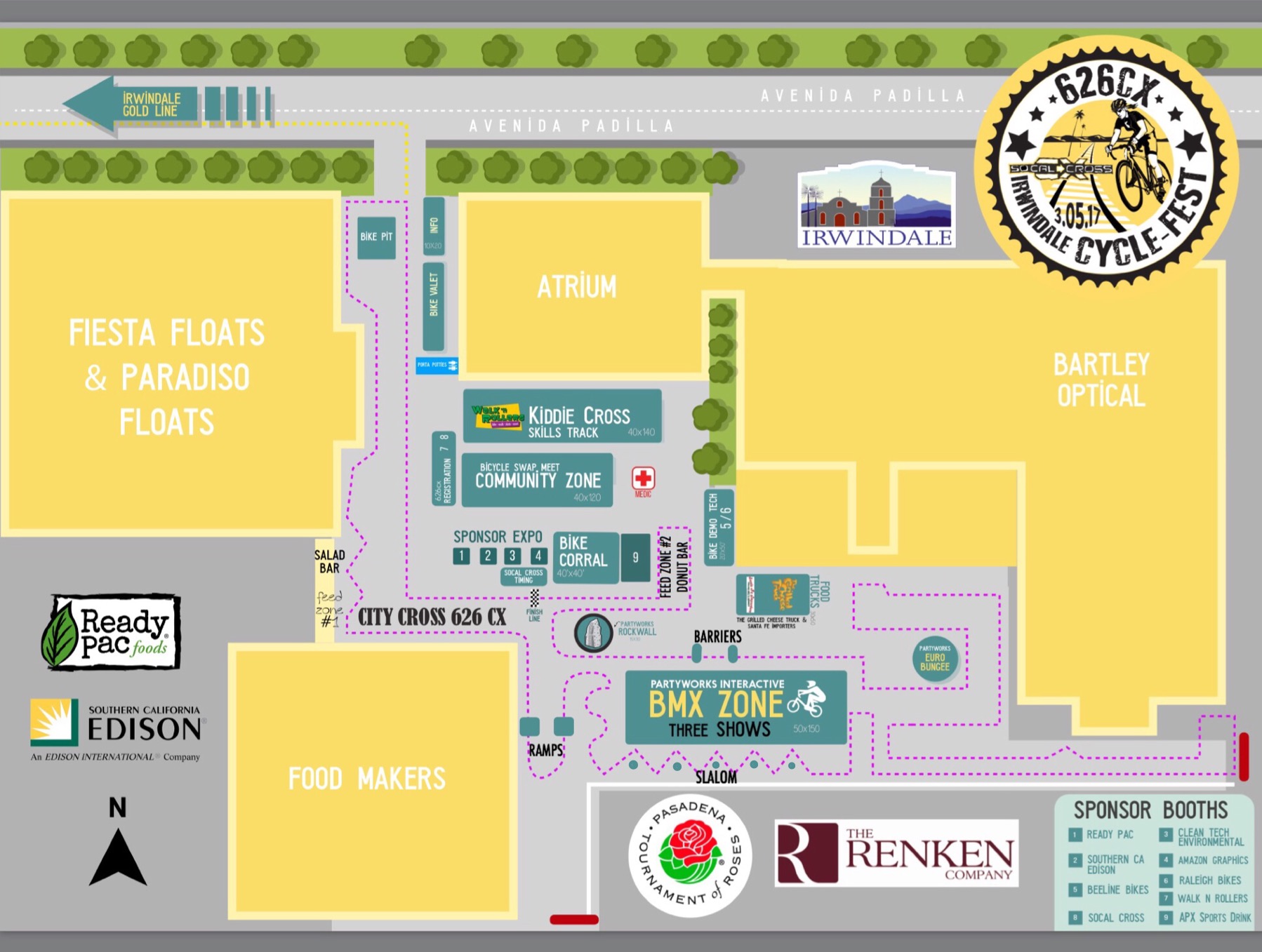 We are ONE DAY AWAY from the first 626 Golden Streets presented by Metro Los Angeles!
Over two years in the making, the historic, 8-community ciclovia coincides with the one-year anniversary of the Foothill Gold Line Extension grand opening,
Sunday, March 5, 2017
!
Explore the communities of South Pasadena, San Marino, East Pasadena, Arcadia, Monrovia, Duarte, Irwindale and East Pasadena via over 18 miles of #OpenStreets during this special, one-time event.
Walk, bike, run, skate, scoot, or ride the Gold Line to 6 event hubs with a range of activities and events, from an LA Rams Fanfest and 626CX CycleFest in
Irwindale
(
9am-4pm
) to live music and art in
South Pasadena
(
9am-5pm
).
Opening Ceremony
Join us at
8:30 a.m.
at the South Pasadena Hub (Mission St and Meridian Ave. adjacent to the Gold Line Station) for the opening ceremony featuring special guest speakers and exclusive giveaways. The first 150 attendees will be entered into a free raffle to win a new Novaro Flyby Folding bike (estimated value is $700).
8 Distinct Event Hubs
There will be 8 different activity hubs with a variety of food trucks, live music, and
freeactivities.
Highlights include:
But wait, there's more!
Stop at all 8 event hub info booths to collect a limited edition #626GoldenStreets city sticker, while supplies last! Collect all 8 and you are eligible for a special prize from Gabe the Sasquatch. Limited supply only, so we highly recommend getting an early start on (626) day!
And that's not all!
Collect all 8 stickers and you'll also be eligible for a special prize redeemable at hub info booths, courtesy of our friend #GabeTheSasquatch.
For more detailed information about event hub activities, live music, and food trucks, down the free event app or visit the activity hub
page
.
FREE Live Performances and Music Until

5pm
Do you love live music and concerts? We got you covered with a FREE All-Day Music Lineup at 626 Golden Streets! Enjoy music at the largest open streets event in the country. ​Create your own schedule by downloading the FREE "626 Golden Streets" App available in your App store by
clicking here for Iphones, or here for Android phones.
626 Social Media Contest: Win a Pure Fix Bike and More!
Post on social media (Instagram, Facebook, Twitter) about the event and use the hashtag #626GoldenStreets to win some cool prizes, including a Pure Fix Bravo bike, 626 t-shirts, and lunch with #GabeTheSasquatch!!!

Winners will be selected before and following the big day, so be sure to include #626GoldenStreets if you upload any great event day photos to social media.


Plan Your Day with the 626 Event App
Plan your 626 day and check out a detailed activity list with the FREE event app by searching for "626 Golden Streets" in your app store, or clicking here for Iphones, or here for Android phones.

#GabeRepublic - Spot Gabe the Sasquatch on 626 Day!
Gabe the Sasquatch is the official spokesperson for #626GoldenStreets. A native of the San Gabriel Mountains, Gabe enjoys walking through the forest, eating locally-grown plants, and challenging persistent stereotypes like sasquatches-can't-ride-bikes.

After joining the 626 team in Spring 2016, Gabe has traveled across Los Angeles County by (big) foot, bike, Foothill Transit and Metro to spread the word that there are indeed cool things to see and do on the eastside of LA. Keep an eye out for him on Sunday March 5 for free selfies, Gabe Republic stickers, and hi5s!




Ride Your Bike to 626 Golden Streets!
Looking for a fun way to get to 626 Golden Streets? Join a feeder ride! Feeder rides are groups of people that meet up to ride to an event together. You can find information about different feeder rides that are happening here.


See you Sunday March 5!

#626GoldenStreets

#GabeTheSasquatch

Date and time
Location
Irwindale Metro HUB at Fiesta Parade Floats
16016 Avenida Padilla, Irwindale, CA 91702
Irwindale, CA 91702