Description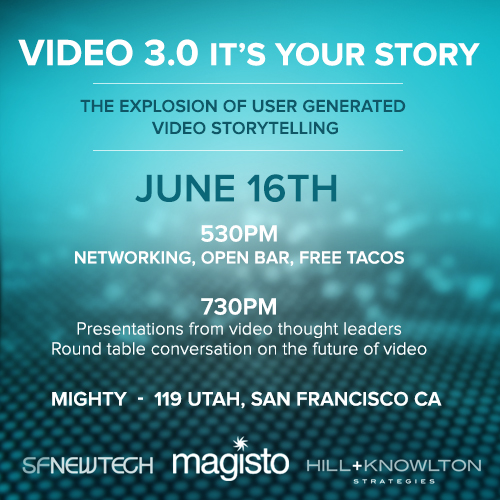 We're at the dawn of a new age of video expression – "Video 3.0".

From sharing personal life experiences to real time video reporting, we're witnessing a new web that is permeated by user generated video.

It's exponentially the most powerful consumer language that includes live personal streams, video messaging and produced personal movies at unprecedented scale.

Join Magisto's CEO Oren Boiman and esteemed thought leaders for an insightful evening of presentations and conversations on the future of online video.

Speakers include:
Veronica Belmont, Host of "Dear Veronica" on Engadget
Chris Painter, Director of Product, GoPro
Allison Gay, Filmmaker, Airbnb
Discussions moderated by:
Jolie O'Dell, ReadWrite
Myles Weisleder, SF New Tech
Magisto will also release staggering statistics from a recent Nielsen study on personal media capturing, production and sharing.

It's an evening you don't want to miss!
Schedule:
5:30 - 7:30
Mingling & Networking
7:30 - 8:30
Video 3.0 Presentations
8:30 - 9:30
Roundtable & Q&A
9:30 - 10:30
Wrap up & Last call
Note: Mighty is a 21+ Venue
---

Video 3.0 Storytellers

Dr. Oren Boiman
Magisto
CEO
Veronica Belmont
Dear Veronica on Engadget
Host
Allison Gay
Airbnb
Filmmaker
Chris Painter
GoPro
Director, Product
Jolie O'Dell
ReadWrite
Special Projects
Myles Weissleder
SF New Tech
Founder
Organizer of 6.16: SFNT - Video 3.0: It's Your Story. With Magisto, Airbnb, GoPro, Dear Veronica, ReadWrite and more!
"One of the tech community's longest-running traditions  — where the beer is cold 
and the ideas are red hot."  -- ABC News
About SF New Tech
As seen in The Wall Street Journal on ABC News,  at The White House, and beyond -- SF New Tech (SFNT) is a world-renowned live platform for technology startups to showcase their latest innovations in front of 100s of tech-minded founders, engineers, investors, media, and more.
Since Myles Weissleder, CEO, founded SFNT in 2006, over 750 companies have taken to SFNT to launch or demo their new products, services, and features, including such internet luminaries Evernote, Waze, 23andMe, Flipboard, Twilio, Splunk and many other "pre-fame" startups.  
As a cornerstone of the San Francisco technology community and as SF's largest, longest-running, and most-loved technology event, SFNT is laser-focused on putting innovators and their innovations in the spotlight in front of their peers -- and beyond.   
Inquire about sponsorship opportunities by emailing events@sfnewtech.com