6/16: Philadelphia Black PR Society Conference @The Liberty View at Indepen...
Description
On June 16, 2017, 8 a.m. to noon, at Liberty View at Independence Visitor Center, Philadelphia Black Public Relations Society (PBPRS) presents #PowerPR: Strength in Excellence, The Power of Us. The half-day conference, via speakers and panel workshops, will empower and provide communicators, executives, brand managers, students and entrepreneurs the skills they need to be competitive and continue to execute excellence in their profession. The gathering is designed to help PR professionals (and those in similar fields) at every level discussing topics from social media, market trends, jobs, how to break into PR and more.
The half-day event will celebrate and empower communications practitioners while providing networking opportunities. Conference is for PBPRS members, all professionals (including non-PR professionals) and members of the community to attend.
PBPRS will also present a $500 scholarship to a student majoring in Public Relations or similar field at the conference (Apply for scholarship here, deadline June 7). The conference will be an annual signature event that will serve to empower public relations professionals and communications practitioners of color in the Philadelphia region. Honors will go to Hopeworks 'N Camden and tech expert, educator and media personality Stephanie Humphrey. Early breakfast will be served.

Conference Lineup:

How to Break into PR (8:15 a.m. -9 a.m.)
Diana Torralvo, Director of Community Relations and Communication, NBC10 and Telemundo62

Leslie Patterson-Tyler, Director of Media Relations and Communications, Kimmel Center

Jennifer Francis, Executive Director of Marketing and Communications, Philadelphia Museum of Art
Social Media--(personal and business branding, handling crisis) 9:15 a.m.-10 a.m.
Victoria Mason, Founder & President of Black Bloggers United, Inc.

LiRon K. Anderson-Bell, Director, Media and Digital Marketing of WURD Radio; Pres. of The PR Glow Up
Travel and Sports PR (10:15 a.m.- 11 a.m.)
Mary Flannery, Public Relations Manager, spokeswoman for Philadelphia International Airport
John Brazer, Director of Publicity, Philadelphia Phillies
Jenea Robinson, Senior Media Relations Manager of VISIT PHILADELPHIA

Tiffany Weber, Senior Marketing Manager of Independence Visitor Center
Keynote Speaker/Awards Presentation: 11 a.m. to 11:30 a.m.

Monica Peters, Strategic Communications professional, Pres. Philadelphia Black Public Relations Society

PBPRS Scholarship recipient (TBA)

Organization of the Year: Hopeworks 'N Camden (Dan Rhoton, Executive Director accepting)

Communicator of the Year: Stephanie Humphrey, tech expert, educator and contributor to the Harry Show

Networking: 11:30 am to noon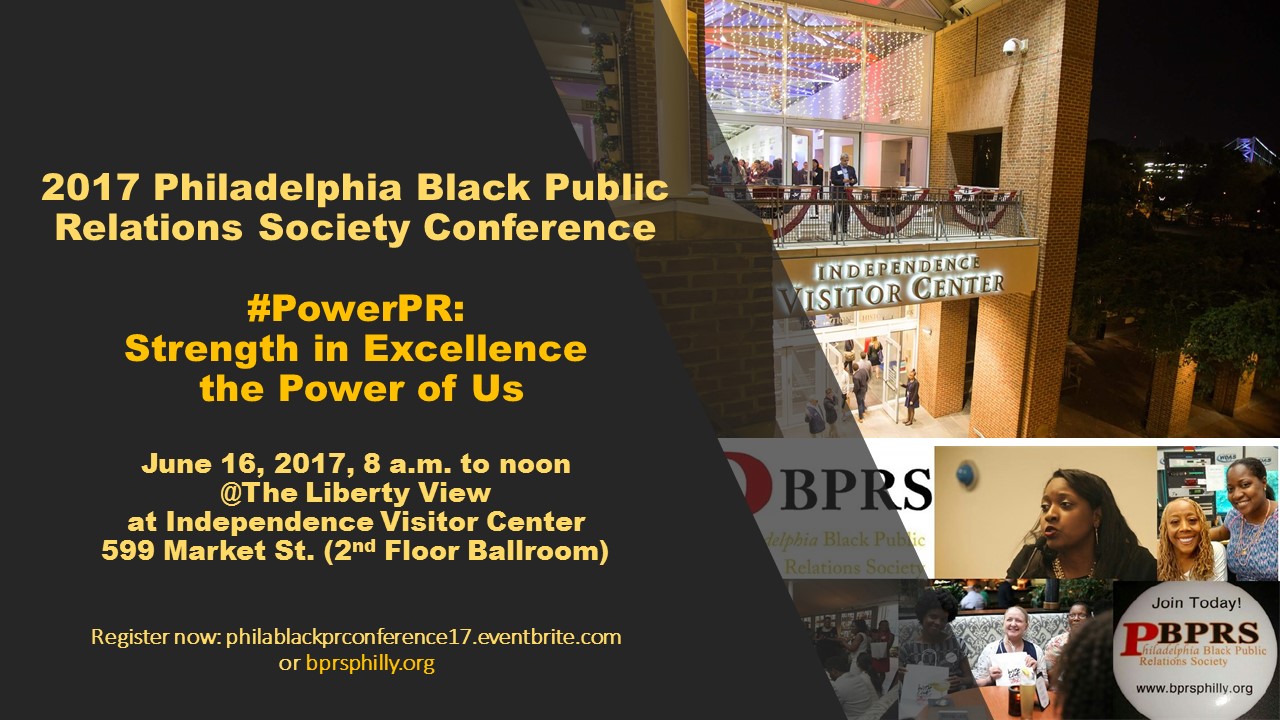 Monica Peters
President, Philadelphia Black Public Relations Society
Email: info@bprsphilly.org
Web: www.bprsphilly.org
Twitter, Facebook, IG: PhillyBPRS
For more information on the Philadelphia Black Public Relations Society visit bprsphilly.org