6-week Improv workshops in Tampa (May)

Sunday, May 15, 2011 from 12:00 PM to 3:00 PM (EDT)
Event Details
ATTENTION funny (and wanting-to-be-funny) people!
If you've ever dreamed of being the highlight of the party or even getting up on stage as a speaker, an actor, or an improvisor, then you will want to learn some Improv.
* Do you want to learn to be more quick witted, fast-on-your-feet, and creative?

* Are you a speaker that wants to be able to handle any situation & connect better with your audience?

* Did you ever see an Improv group live or on TV and think, "I bet I could do that!"?

* Are you an actor that needs to learn some Improv because your teacher told you that you'd need it? (They're right!)
Maybe you think you're shy or quiet. Perhaps you know you're fun and funny, but want to jump that up a level or two. Maybe you just want to meet some great people, play a bunch of games, and have some fun!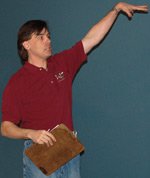 You will learn these valuable Improv skills from a professional Improvisor. I'm wildly enthusiastic. I have a voracious appetite for having fun and making things up.
I've been an improvisor for over 8 years and I've taught Improv with the Bay Area Improv Theatre and at the Patel Conservatory @ the Tampa Bay Performing Arts Center (now the Straz Center) for years. You're in good hands!

I LOVE Improv and really love to help people learn it. It's fun and it's exciting!
Where else are you going to get that??
---
What will we do in these workshops?
* You'll learn to be confident in any situation and commit wholly.
(Wouldn't that be helpful in all areas of life?)

* You will learn to create great stories and interesting characters.
(Great for actors of all types)

* You'll learn new and classic Shortform Improv warm-ups and games.
(You'll be a hit at parties!)
And, if you're not an actor nor want to be, that's fine! The things that I teach will simply help you become a better communicator and be more at ease in groups and speaking in public
THE WHENS, WHYS, AND WHEREFORES…
Classes will begin in Tampa on Sunday, May 15. We get together from Noon until 3 p.m. for six weeks in a row. We're located right near Raymond James Stadium.
The investment for this 6-week program is only $197.
Organizer
Toby Martini
Toby Martini is a master of handling the unexpected and loves to teach people how to function in the face of the unknown. Coming from years of Improvisation onstage, Toby has mapped those skills out to the real world. Not knowing what's coming should never stop you again.

More proactively, everyone could stand to be more creative. Design groups, writers, speakers and EVERYONE needs to know how to come up with new ideas quickly, how to get jump-started when you're stuck, and how to keep moving when obstacles arise. 
(Yes. you can learn that!)


By using the skills, rules and games used in acting and Improvisation, people learn to be more creative, to create stronger relationships, and to communicate with others at a whole new level.
I have been leading Improv workshops for over 7 years and it brings me great joy to help people become more expressive, creative, and bold!

Have fun! It's way more fun than not having fun.
6-week Improv workshops in Tampa (May)