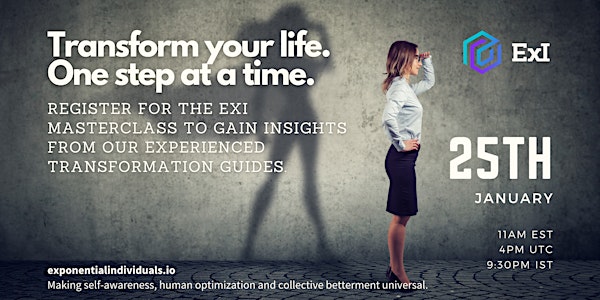 6 Ways to Live Your Best Life & Better the World
Learn how to improve your self-esteem through a proven coaching method
About this event
Are you ready to finally follow your calling and realize your dreams?
Invest 45 minutes in this interactive virtual event (plus optional 30+ minute Q&A) with impact coaches from the OpenExO community. You will be guided through 6 key insights, with tools for you to put the insights into action right away, and options to continue on your journey to becoming an Exponential Individual!
In our new masterclass "6 Ways To Liv e Your Best Life & Better the World," we share a quick and simple unique coaching method to help you align with your calling in life.
This Masterclass is ideal if you are experiencing depleted energy, enthusiasm or uncertainty for what you do. And aspire to spend 80-90% of awake time feeling aligned on your life purpose AND fulfilled | energized | eager to contribute.
Become a better version of you so you can live your best life: for you, those you love, and this planet we call home.
About Exponential Individuals
Exponential Individuals (ExI) is made up of a group of global leaders, authors, and human transformation enthusiasts who are focused on assisting people across the globe evolve their way of being into one that encourages individual authenticity, community collaboration & care, deep healing, and a sense of interconnected responsibility to create a better future for all.
Our moonshot is to help 1 billion individuals by 2040 summon the power that lies within themselves to live more fulfilled lives. We serve as a catalyst to make self-awareness, human optimization and collective betterment universal.
Playing at the intersection of exponential technologies and elevating consciousness, Exponential Individuals is set to become the leading global ecosystem for human transformation solutions & community support.