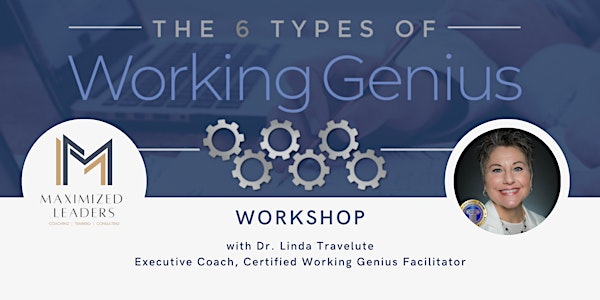 6 Types of Working Genius Workshop w/ Dr. Linda Travelute
The Working Genius is Patrick Lencioni's newest resource helping people realize where they best contribute at work and life.
Refund Policy
Contact the organizer to request a refund.
Eventbrite's fee is nonrefundable.
About this event
6 Types of Working Genius Workshop
An interactive workshop to help you and or your team leverage and apply The 6 Types of Working Genius
Based on Patrick Lencioni's newest groundbreaking book, "The 6 Types of Working Genius", you'll gain a BETTER WAY to understand your gifts, your frustrations, your team members if you work with others, and even your family and friends.
Increase self-awareness
Maximize productivity and morale
Improve meetings
Identify team gaps
Avoid burnout
Get more done in less time
The Six Working Geniuses is Pat and the Table Group's newest model which has evolved from their own experience, frustrations, and client interactions. It is quickly proving to resonate with organizations abroad and making a difference in how teams operate.
HOW THIS IS DIFFERENT THAN OTHER ASSESSMENTS AND WORKSHOPS:
The Working Genius assessment is 20% personality and 80% productivity. People who understand their genius show up to work happier, are more effective, and play well with others.
Knowing Your Working Genius Zones will Benefit You and Your Team
When you know yourself in the context of work, you will lead yourself better.
When you know your team in the context of work, you will lead them better.
When your team knows themselves in the context of work they will lead themselves better and your team will work more productively!
BENEFITS
Working with Dr. Linda Travelute, a Certified Working Genius Facilitator can transform your work by helping you:
Understand why you have been successful or unsuccessful in past endeavors
Clarify which types of work give you joy and energy and which types are draining and difficult
Avoid making unfair and inaccurate judgments about another's motivation
Alleviate guilt about struggles people have with certain types of work
Improve dialogue and directives in team meetings
Make quick and concrete adjustments to roles and responsibilities to better tap into one another's strengths, and avoid one another's weaknesses
Get more done in less time
What are The 6 Zones of Working Genuis?
There are SIX ACTIVITIES needed for doing any kind of work and each one is equally valuable and required for getting work done.
We all have Two Geniuses, Two Competencies, and Two Frustrations within the geniuses below:
Wonder
Invention
Discernment
Galvanizing
Enablement
Tanacity
Two of the geniuses above are within your Working Genius Zone. 2 are Competencies, and 2 are Frustrations.
Working Genius indicates your natural ability; what brings you joy and fulfillment. It consistently gives you energy.
Working Competency indicates what you can do well but are not fulfilled by. Over time this drains your energy.
Working Frustration indicates what you dislike doing and find draining, even if you've learned to be capable at it.
Your Workshop Includes:
VIP Workshop participants will have the official Working Genius assessment convieniently sent right to their inboxes. General Workshop participants will purchase the assessment and complete it on their own.
Every workshop participant will recieve:
A 2-hour interactive workshop session (virtual)
Overview and application of The 6 Types of Working Genius
Besides the Working Genius model overview, we will explore the application to:
Guilt & Judgment
The Three Stages of Work
Being Responsive vs Disruptive
How to Stay Out of the Judgment Zone & Ralley Around Other Geniuses
Exclusive tools and resources for maximum adoption
Breakout sessions with other participants to discuss and brainstorm
Team Map Application Exercise
Guided by Dr. Linda Travelute, Working Genius Facilitator & John Maxwell Certified Corporate Facilitator
"I've participated in 25 years worth of team-building events, but nothing has provided as much value as the workshop with Working Genius. The trust we built in the room was transformative."
— SUZANN SANDVIK
THIS WORKSHOP IS GEARED TOWARD INDIVIDUALS.
GROUP WORKING GENIUS WORKSHOPS ARE AVAILABLE FOR A BUSINESS, ORGANIZATION, OR COHORT - WHICH INCLUDES TEAM MAP SPECIFIC TO YOUR TEAM AS WELL AS DISCUSSION & COACHING SPECIFIC TO the working genius of your team members frustrations and gaps within your organization and how to compensate or hire for them.
If interested in a GROUP WORKSHOP RATHER THAN THIS INDIVIDUAL WORKSHOP, PLEASE EMAIL: Tanya@MaximizedLeaders to get more information and to schedule.