Description
Learn from an entrepreneur that has started 3 multi-million dollar companies
6 Steps to Greater Business Success

Less than 4% of entrepreneurs start companies that gross in excess of $1 million in sales per year. Learn from an experienced entrepreneur that has started and grown over 7 companies over the last 32 years. Three companies grossing multi-million dollars in sales in their first few years from scratch.
Discover how to get More Sales - More Profits - More Time and walk away with real solutions to eliminate Time, Team, Mindset and Money Challenges:
Learn real-time solutions that are working right now to challenges other business just like yours are facing.

See how you too can eliminate the headaches and everyday frustrations of growing your company and finally achieve greater profits and business growth.
You will walk out of this free workshop with at least 5 strategies you can implement immediately to boost your bottom line and/or give you more free time.
This is a power-packed seminar where you'll learn strategies that are working right now for other business owners just like you.
You'll see the 6 Steps to Greater Business Success and experience for yourself the transformation it can make in your business.
How to work ON your business instead of IN your business.


How to turn your advertising and marketing into an investment instead of an expense.


How to recruit, motivate, educate and retain exceptional employees.


How to leverage your time to maximize efficiency and profits.



How to finally get the quality of life that you started your business for in the first place!
We will also discuss the following topics:
6 Steps to a Dream Business – The 6 powerful steps you must implement in your business this year!


6 Keys to a Winning Team – Without a great team, you can only play 'small'. These 6 keys will get you the winning team you need to play at a whole new level.


5 Ways to Greater Profits – When was the last time you drove your profits up 61%? We'll share the '5 Ways' formula proven to uncover hidden profit



Vision/Mission and Culture – How these affect your business and how to get them moving the whole business forward.We will also discuss the following topics: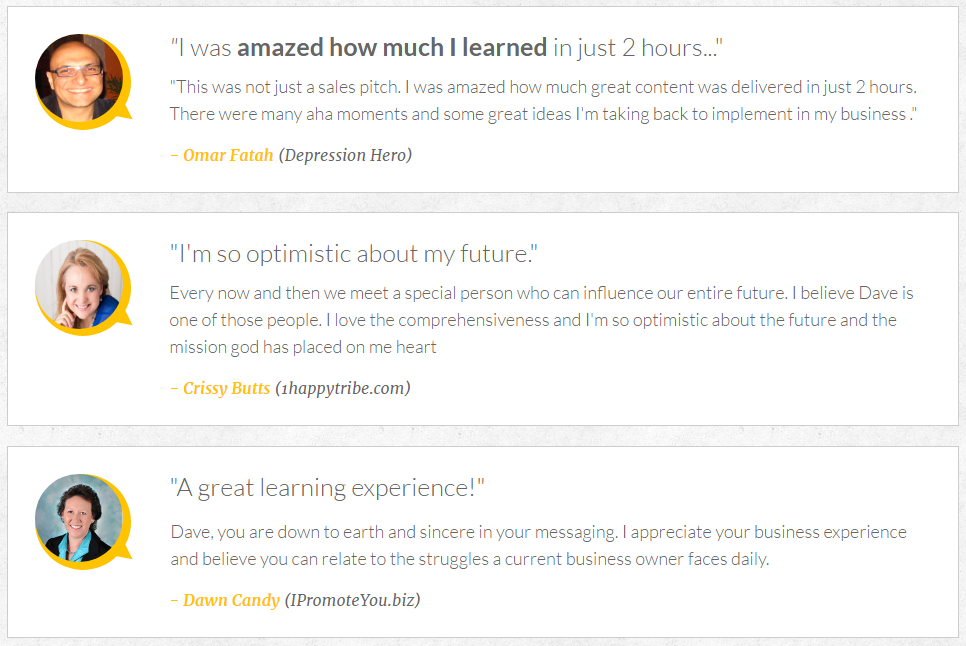 Why is this workshop FREE?
The reason we hold these free workshops is that a certain percentage of attendees ask for help in growing their business, setting up process and systems, developing sales scripts and funnels, Lead generation and conversion, or decide to work with us in some way. There is no obligation in any way on your behalf. But you will walk out armed with valuable data you can apply to your business. This is NOT a sales pitch in disguise.
I look forward to seeing you at the event.
Dave Stanbridge
Entrepreneur, Business Coach, Speaker & Mentor.