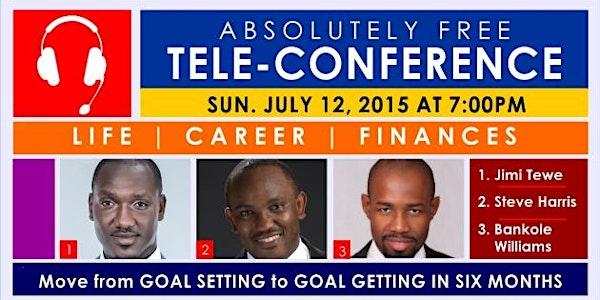 6 Months Gone, 6 Months to Come, What have you Done - Tele-Conference
Description
It's already Half Year! Do you recall all the goals you set, all the timelines you gave yourself and all the things you set out to accomplish this year?
Things just don't happen, you have got to make them happen! You have got to take conscious and deliberate steps towards your dreams becoming your reality in 2015.
Would you like to know how to achieve your goals in the second half of the year? By December 31, 2015 would you like to look back and indeed say "2015 was a great year?" If yes? Then you've got an amazing opportunity to learn the secrets to moving from goal setting to goal getting in 6 months.
3 amazing Coaches are going to be teaching these principles at the 1st ever Tele-conference in Nigeria!
Steve Harris, Bankole Williams and Jimi Tewe will be facilitating this tele conference LIVE on the 12th of July, 2015.
All you require is a smart device (phone, laptop, tablet) and Internet access. Please note also that because it's audio and it does not consume so much data, so don't fret.
After registering, you will be sent the link to the page where you can hear us live by 7pm that day from anywhere in the world! Further information on the use of the platform will be communicated via a confirmation email.
For further enquiries send an email to seminars@edgeecution.com or call
We expect thousands of people at this tele-conference and we look forward to having you join in this movement towards the accomplishment of your goals.