Description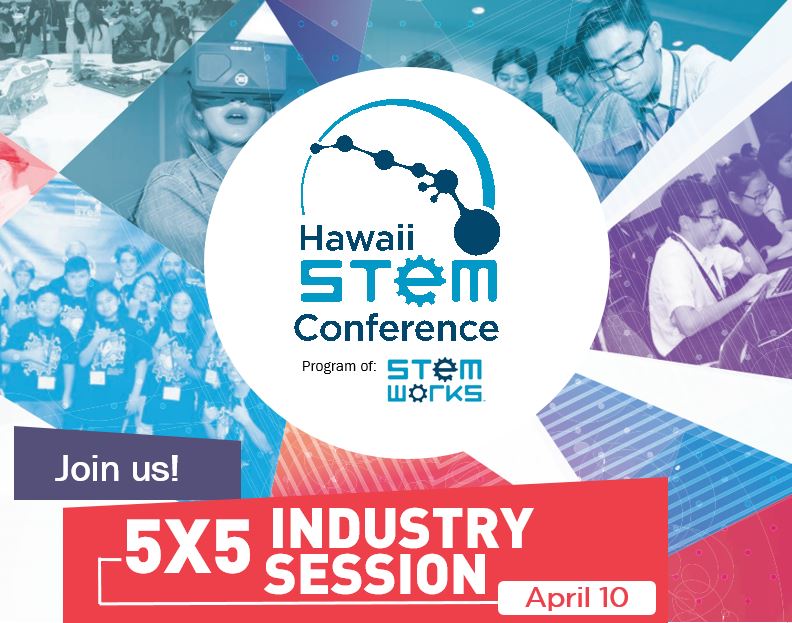 STEMworks will be having our 9th Annual Hawaii STEM Conference. We would like to invite you on May 1st to be part of the Industry STEM Career Panelists in a session we call "5x5 Session". It's an industry networking built on our Hawaii STEM Conference. Students are able to meet 5 different industry professionals every 5 minutes regarding STEM career pathways. At the STEM Conference, we will have local and national STEM professionals like you participating and sharing resources to this wonderful opportunity to more than 1200 middle and high students statewide.
For more information visit the website at: http://www.womenintech.com/HawaiiSTEMConference/index.html
This program is presented by MEDB's Women in Technology Project
FAQS
What is the cost for parking?
Complimentary Parking is available at registration desk. Please bring your ticket for validation.
What is the schedule for me to arrive?
Schedule:(Subject to change)
Check in: 2:30 pm - Kalakaua Ballroom (Level 4)
5x5 Session: 3:00 - 4:30 pm - Kalakaua Ballroom (Level 4)
STEMworks Student Spotlight: 4:30 - 6:00 pm
Celebrate STEMworks Service Learning impact
across the state. Light pupus serve
What is the 5x5 session about?
It's to inspire, motivate, encourage, and connect our young STEMworks middle and high school students about the opportunities and careers in STEM? You'll be joined with other STEM professionals from across the state.
How does the 5x5 session work?
Every 5 minutes you will be designated to a group of students of 10 and students will asked you STEM related questions such as:
What do you do? What is cool about your job? etc....
Deadline has been extended to rsvp is by March 10, 2018
Room Reservations
I'd like to make room reservations to attend the STEM Conference, who should I contact?
Please contact Ala Moana Hotel directly for reservation: (808) 955-4811