Description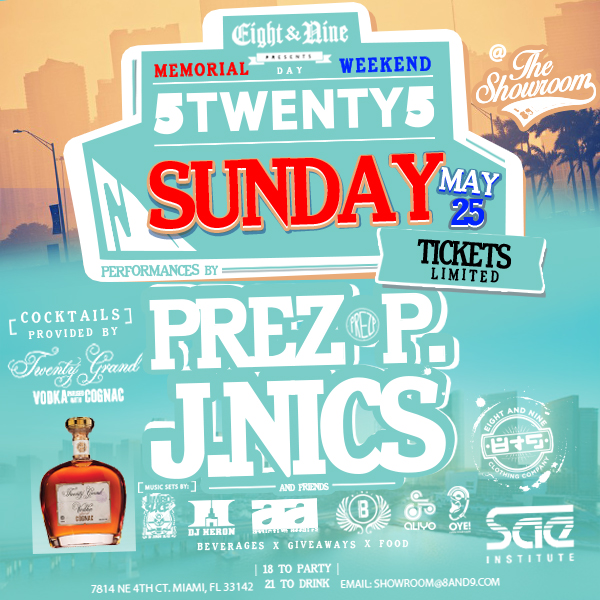 What: 5Twenty5 At The Showroom Memorial Day Weekend Block Party
When: Sunday May 25th, 2014 Memorial Day Weekend
Time: 5pm-10pm
Where: The Showroom By 8&9 Clothing
Address: 7814 NE 4th Ct. Miami, FL 33138
Description:
Sunday May 25th
, Miami based 8&9 Clothing Company will host it's first ever Memorial Day Weekend Block Party, "5Twenty5 at The Showrrom"
. The RSVP event will be held in the company's showroom/parking lot from 5pm-10pm with music sets from Jimbo Slice, DJ Heron, DJ Bre and DJ Aliyo along with performances South Florida's own Prez P. and J Nics. with guest surprises. Attendees will be able to enjoy live music,
network with some of Miami's taste makers along with checking out all of 8&9 Clothing's Summer Collection. Cocktails will be provided by 20 Grand Vodka. Food will also be on the premises. 18 To Party| 21 To Drink.
Entry will ONLY be allowed via RSVP. TICKETS AVAILABLE HERE
Organizer of 5Twenty5 At The Showroom Memorial Day Weekend Block Party
About 8&9:
8&9 is an independent, Miami based streetwear brand.  8&9 products are stocked by over 250 streetwear shops, better boutiques and sneaker stores worldwide.  Aesthetically 8&9 combines an aggressive anti-establishment attitude with quality design, classic sneaker color ways and re-appropriated pop culture references. It is heavily influenced by the beauty and grit of the Miami street scene.
About Premier Kitchen:
Premier Beverage Catering is a full-service catering company, passionate about serving great food and beverages to our clients and their guest since 2009. Our passion spills over into the service we provide clients as well as the menus we design. Our food and beverage menus are designed around  fresh and  local ingredients. Trust in our creative team of off-premise catering professionals to design imaginative themes and custom menus for any event, large or small.