Description
Join us as we celebrate 5 years!
Web Series Festival Global - Celebrating Great Content
630-730 PM Networking with tea and tea cakes (drinks available at bar)


730-830 PM Screening Web Series, Pilots

830-9 PM Q & A with Web Series, Pilot & Script creators in attendance. A surprise guest (TV Producer) will be hosting the Q & A and the announcement of the Best Category Winners & Grand Prize Award Winner.

Limited Seating, buy your tickets today.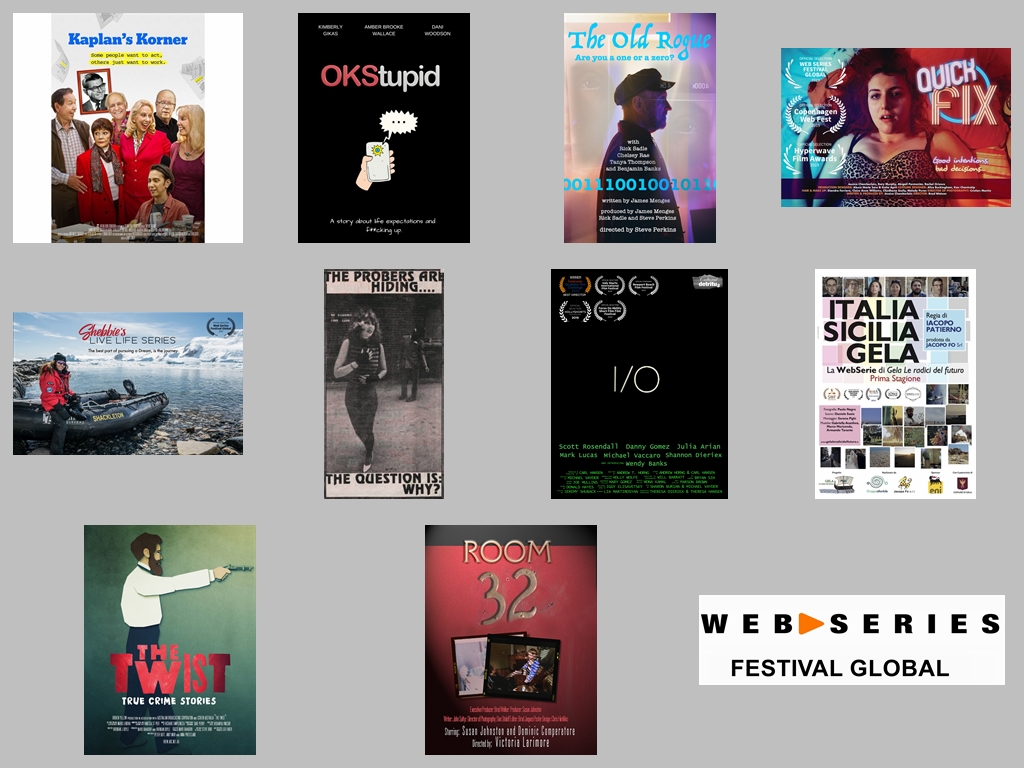 WEB SERIES
Quick Fix Ep 1 (3:10, UK)
Director – Brad Watson, Producer – Jessica Chamberlain
Lazy, late, screen-obsessed and hungry for cash, Suzi doesn't want to work hard at anything, least of all her job.

The Twist EP1 (5:00, Australia)
Director – Brendan J Doyle
Producer - Navid Bahadori
Logline - An animated short form documentary series that brings to life some of Australias' most intriguing true crime stories.

Italia Sicilia Gela EP-Archaeology (10:00, Italy)
Director - Iacopo Patierno
Producer - Jacopo Fo
Logline - Gela is a metaphor for the problems and potential of Sicily and all of Italy.

Shebbie's Live Life Series EP-Tonga (4:10, Tonga)
Director – Justin Edelman
Producer – Dominic Haxton
Logline - Follow along as she proves that living life to the fullest is possible no matter what life struggles you have faced.

Kaplan's Korner Ep 1 (6:00, USA)
Director – Jaymes Camery
Logline - A group of struggling actors inherit an Employment Agency from their departed friend, Marvin Kaplan, a well-known character actor. The employment office is located in the upstairs of a theatre and comes with a maintenance man. The agency specializes in finding Jobs for out of work actors while they are waiting for their next gig.

The Old Rogue Ep 1 (5:31, USA)
Director/Producer – Steve Perkins
Logline - An elderly expatriate returns to the USA after a life overseas only to find that technology, and the social network, has changed his reality with several unintended consequences.

PILOTS

OKStupid (8:10, USA)
Director – Amber Brooke Wallace
Producer – Tammy Wallace
Logline - When April finds out she is going through pre-menopause at the age of 29, her impulsive roommate Jess convinces her to use dating apps as a free 'sperm bank' to help her conceive before her eggs run out. A modern dark comedy about life expectations

Room 32 (9:36, USA)
Director – Victoria Larimore
Producer – Susan Johnston
Logline - One woman's obsessive desire for revenge and its unexpected consequence.

The Legend and Tao of the Probers (3:56, USA)
Logline - is a story of Vision and The American Dream. It is a complex Love Story, a Dramatic Comedy and a Cautionary Tale. The band worked on a high level for the time period. They developed a full stage show, replete with Costume changes, Choreographed Dancers and full Routines. They set themselves apart through a series of Recording Sessions with prominent Producers, professional Sound and Light Show, led by a highly effective and outstanding Marketing Plan. Their methods and philosophy was unheard of for the time, which led them attain the interest of Venture Capitalists.

I/O (5:34, USA)
Director – Carl Hansen
Logline -A man struggles to reveal to his girlfriend that he's been dating her through his robot.
SCRIPTS
Mania by Gregory Mania
Logline - Behind on bills, a snarky out-of-work retail employee enters the New York City nightlife scene.
A Nine-Eleven Carol by Spencer McCall
Logline - On the eve of present day nine-eleven, a curmudgeonly conspiracy theorist is visited by the Spirits of 9/11 Past (2001), Present, and Future - determined to get him to accept the reality of what happened.
Doppelgänger by Mark Dispenza
After an introverted teen loses the girl he loves to suicide, she is replicated by an alien A.I. of immense power and unknown purpose that seduces him into protecting her from a secret government agency that's determined to have her at any cost.

Death Star Tech Support by Brenda Holiday
Just another boring day in the most critical Tech Room in the galaxy.
Data Breach by Bethan Rees
Data has been hacked from a Bristol company by Aliens on planet Neptune who are mocking the British especially with Brexit looming. Will the aliens do the right thing?

THANK YOU FOR AN AMAZING 5 YEARS
SAVE THE DATE AUGUST 22 2020
Submit your Web Series, Pilot & Script today!
www.webseriesfestivalglobal.com