Why should you exhibit?
CNR EMLAK - 5th Real Estate Investments Projects and Financing Fair, which has become the focus of national and international investors, where the leading companies of the real estate sector and giant projects will take place at CNR EXPO Yeşilköy between 23-26 November 2017.
CNR Real Estate Fair is visited by 6,840 foreigners and a total of 29,724 people in 2016. A large part of the new residential projects displayed in the fair were found by the buyer.
CNR Real Estate 2017 is expected to attract investors from many regions of the world such as Europe, Asia, CIS, Turkic Republics, Middle East and Gulf countries. CNR Real Estate 2017 will provide housing, business and shopping center investors in Turkey and close geography, as well as contractors, investors, intermediaries and subcontractors.




Exhibitor Profile
A and B-class villas, residential and public housing projects
Shopping malls and business centers, plazas, residences
Industrial estates and organized industrial zones
Real estate marketing agencies, land offices
Cooperatives and timesharing companies
Manufacturers and importers of wood and steel fabricated housing
Firms providing contracting services for public housing
Banks, finance and credit institutions
CNR Emlak, The unique meeting point of the real estate investment!
CNR Emlak - Real Estate Investment Projects and Financing Fair which will be held between the dates of 23-26 November 2017, at CNR Expo Center, Istanbul.
The Show brings together the leading real estate companies, investors, occupiers, properties and finance professionals from all over the world for the fourth time.
CNR EMLAK is the only show in Turkey and the region for Property and Investment. The show will gather the entire sector; from development, financing, implementation and marketing to the operation and utilization of properties, at the same location for four days at this unmissable business platform. The fair will be unique opportunity for establishing new business connection in the sector in regional and global scale. Its high profile visitors from EU, Middle East, North Africa, Gulf and CIS countries create a great synergy for the show.
=============================
15 sq meter​ DESIGN BOOTH & SPACE

=============================
- Wooden custom design
- 2 x Glass Tables
- 8 x Chairs
- 1 x LCD TV
- Counter & Stool
- Room with door
- Lighting

================================
Other Included Amenities
================================
- Hotel Accommodation: 5 nights for 2 person in nearby 5 star Hotel
5 min away from Exhibition Center (Wyndham, Radisson Blu)
- Airport transfer to Hotel
- WiFi for 2 person
- Catalogue Registration
- Email marketing activities to 400K visitor database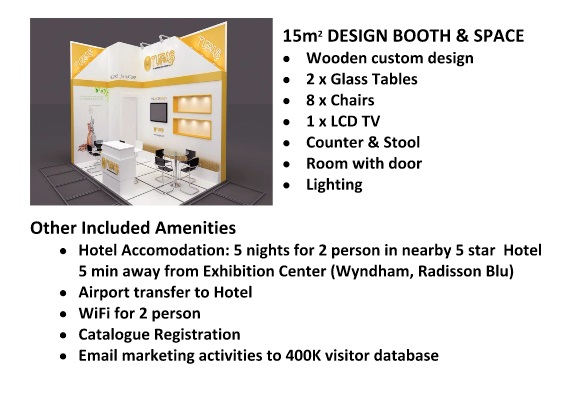 Please contact the event manager Marilyn (marilyn.b.turner(at)nyeventslist.com ) below for:
- Discounts for multiple participants.
- Require a price quotation.
- Require to pay by wire transfer or PayPal
- Invitation letter for visa applications

NO REFUNDS ALLOWED ON REGISTRATIONS
Service fees included in this listing.
-----------------------------------------------------------------
This Event is Brought to You by:
CNR Holdings A.S. - NewYorkEventsList
http://www.NyEventsList.com
http://www.BostonEventsList.com
http://www.SFBayEventsList.com
-----------------------------------------------------------------

MYL171101CEV