5th Mexico Gas Summit 2019 - Marriott Riverwalk

Wednesday, May 29, 2019 at 9:00 AM

-

Thursday, May 30, 2019 at 4:00 PM (CDT)
Event Details

REGISTER BY APRIL 30, 2019 AND SAVE US$400!
The 5th Mexico Gas Summit (www.mexicogassummit.com) is a two day oil and gas event at the Marriorr Riverwalk Hotel in San Antonio, Texas on May 29 and 30, 2019 that will bring together internationally recognized industry speakers, investors, government officials, and C level executives from the energy, infrastructure, transportation and logistics, and related industries. The geographic scope for the event will cover Mexico as a region with a strong focus on the opportunities and challenges associated Gulf Coast onshore exploration and production, gas commercialization, midstream infrastructure and recent opening of the refined fuels market. Gain extremely valuable industry insight as well as develop strategic relationships necessary to increase your probabilities of success and mitigate the risks involved in this evolving market opportunity.
Some of the confirmed speakers for this year include:
• Héctor Moreira Rodríguez, Commissioner, CNH – National Hydrocarbons Commission
• Javier Zambrano, CEO, Jaguar Exploración y Producción
• Dr. Guillermo Zúñiga, Commissioner, CRE - Energy Regulatory Commission
• Christian Perez, Managing Director, VOPAK Mexico
• Pablo Videla, Director Oil & Gas, Techint
• Carlos Rivas, Mexico Fuels Director, ExxonMobil
• Miguel Santiago Reyes Hernández, Director General, CFEnergia
• Luis R. Vera Morales, Executive Director, ASEA - National Agency for Safety, Energy and Environment of Mexico
• Sean Strawbridge, CEO, Port of Corpus Christi
• Rogelio Montemayor, General Director, Strata BPS
• Ron Vogel, Vice President Marketing Mexico, BP Energy
• José Francisco Soto, President, Bulkmatic Mexico
• Dick Jefferis, Chief Investment Office, Avant Energy
• Andrés Fusco Clynes, Commissioner, Energy Commission of Tamaulipas
• Santiago Garcia, CEO, Santa Fe Gas
• Chad Smith, SVP of Terminal Operations, One Cypress Energy
• Peter Greenwood, Country Manager – Mexico & Central America, U.S. Trade and Development Agency
• Verónica Irastorza, Associate Director, Nera Economic Consulting
• Josefa Casas, Consultant & Former Deputy Director of Strategy 2012-2019 for PEMEX
• Tim Juarez, International Trade & Border Planning, Texas Department of Transportation
• Rajan Vig, Founder of Indimex & Mexico Chief Consultant, WPTF
• Geoff Street, Director of Marketing, Tenaska
• María Serna, Partner, Talanza Energy
• James Fowler, Editor of Mexico Energy Report, ICIS
• Chris Lenton, Senior Editor Mexico and Latin America, Natural Gas Intelligence – NGI
• Alejandro Padilla, Director of FX and Commodities, Grupo Financiero BANORTE
• Ernesto Anguiano, EVP Commercial, Ferromex

Some of the companies and organizations that have participated in our annual event include: SENER, CENAGAS, CRE, CNH, PEMEX,  Comisión Federal de Electricidad – CFEnergia, Tonalli Energia, Port of Corpus Christi, Energy Transfer Partners, Howard Energy, TransCanada, Sierra Oil and Gas, Grupo Alfa, Perseus Energy, Jaguar Exploración y Producción, Occidental Petroleum – OXY, California Resources Corporation, The Bank of Tokyo-Mitsubishi UFJ, EnCap Flatrock Midstream, Fondo Mexicano del Petroleo, GIMSA - Grupo Industrial Monclova, Enagas, Texas State Department, BP Energy, Kinder Morgan, Repsol, Whitewater Midstream, Grupo Orsan, Prana Gas, Clúster Minero Petrolero de Coahuila, Comisión de Energía de Tamaulipas, Rio Grande E&P, Export Import Bank of the United States, Grupo Diavaz, Fermaca, GE, Howard Energy Partners, IFC – World Bank, Grupo Industrial Saltillo, ABS Group, TD Williamson, Agencia Nacional de Seguridad Industrial y de Protección al Medio Ambiente del Sector Hidrocarburos – ASEA, Nacional Financiera Investment Bank – NAFIN, Koch Energy Services, NETMex NextEra Energy, BGES, Port of Brownsville, Praxair Mexico, Grupo Mexico Energía, PPG México, Pipeline, Pipe Line Development Co. – PLIDCO, CYDSA, Enbridge, Linde Engineering North America Inc., RGfx Initiatives, Applied LNG, Citibanamex, New Mexico Gas Company, Tech Energy Control, White & Case, Martin & Drought, Crestwood, Marsh, Mirage Energy, Cetco Energy Services, Haynes and Boone, Tubacero, CCN, Tecma, Artha, Banco Interacciones, Trinity Rail, KfW IPEX-Bank GmbH, Cross Country Infrastructure Services, Constellation Brands, CONAGAS, Omega Steel Company, Northland Power Inc, Pentagon Energy, Latitude Technologies, Fondo de Fondos, Vaquero Midstream, Pacific Summit Energy, ICIS Mexico Energy, AINDA, Nera Consulting, Bulkmatic de Mexico, Mexico Institute at Woodrow Wilson International Center and more.
*  Simultaneous translation will be provided at the conference.
Hotel Venue
The Mexico Gas Summit will be held at the Marriott Riverwalk Hotel located in downtown San Antonio's historic River Walk district. Restaurants, bars, and shops are all within walking distance. 

HOTEL WILL SELL OUT 
Reserve your room at the delegate rate of $199 by clicking here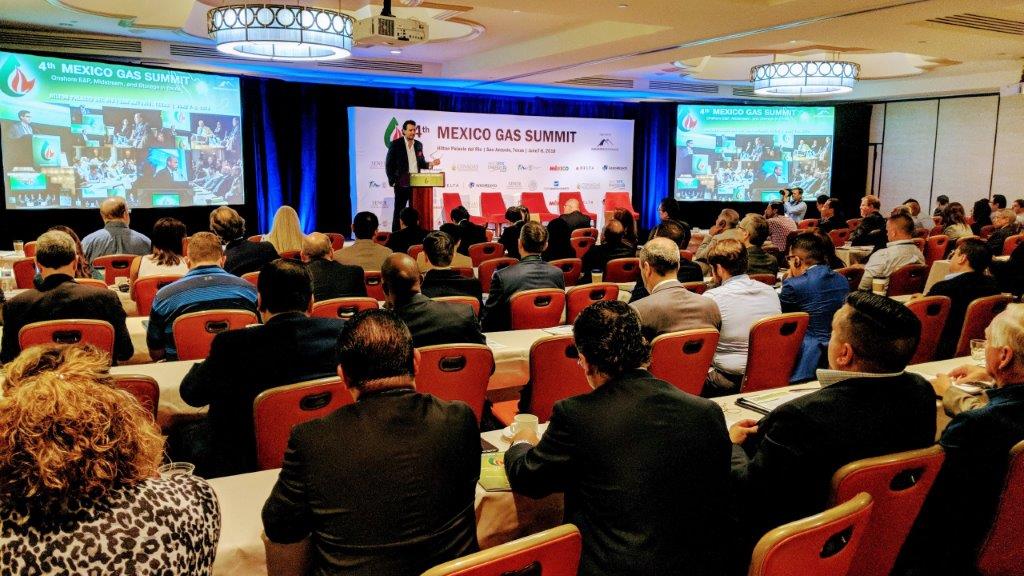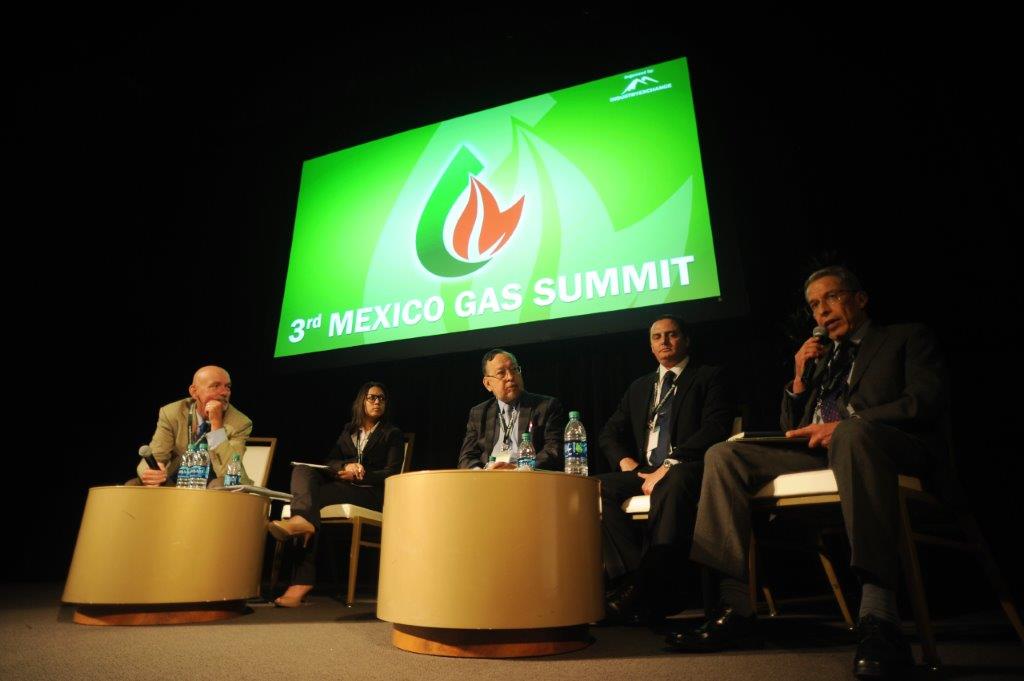 Save This Event
When & Where

Marriott Riverwalk San Antonio

889 East Market Street
San Antonio, TX 78205


Wednesday, May 29, 2019 at 9:00 AM

-

Thursday, May 30, 2019 at 4:00 PM (CDT)
Add to my calendar