Sales Have Ended
Registrations are closed
Thank you for registering for the Luxembourg Peace Prize 2016. We look forward to welcome you in European Parliament in Luxembourg
Sales Have Ended
Registrations are closed
Thank you for registering for the Luxembourg Peace Prize 2016. We look forward to welcome you in European Parliament in Luxembourg
Description
The award comes in alignment with the efforts of the Schengen Peace Foundation, founded in 2005, and approved in 2007 by His Royal Highness Grand Duke Henri, as a Peace-Think-Tank, towards supporting peace-building key players and promoting peace and conflict resolution.

In the 'Spirit of Schengen' of a world without borders, the Schengen Peace Foundation initiated the World Peace Forum, a global platform for peace activists and peace initiatives. The annual conference of the World Peace Forum connects peace activists from all around the world in order for them to meet, exchange ideas, and together achieve greater impact.
In 2011, the 'Luxembourg Peace Prize' was first introduced as an award to outstanding peace-makers. Every year the laureates are honored with a bronze medal, designed by Luxembourg artist Sophia Rein, depicting onone side the face of Nelson Mandela and on the other the view from Mandela's prison cell window.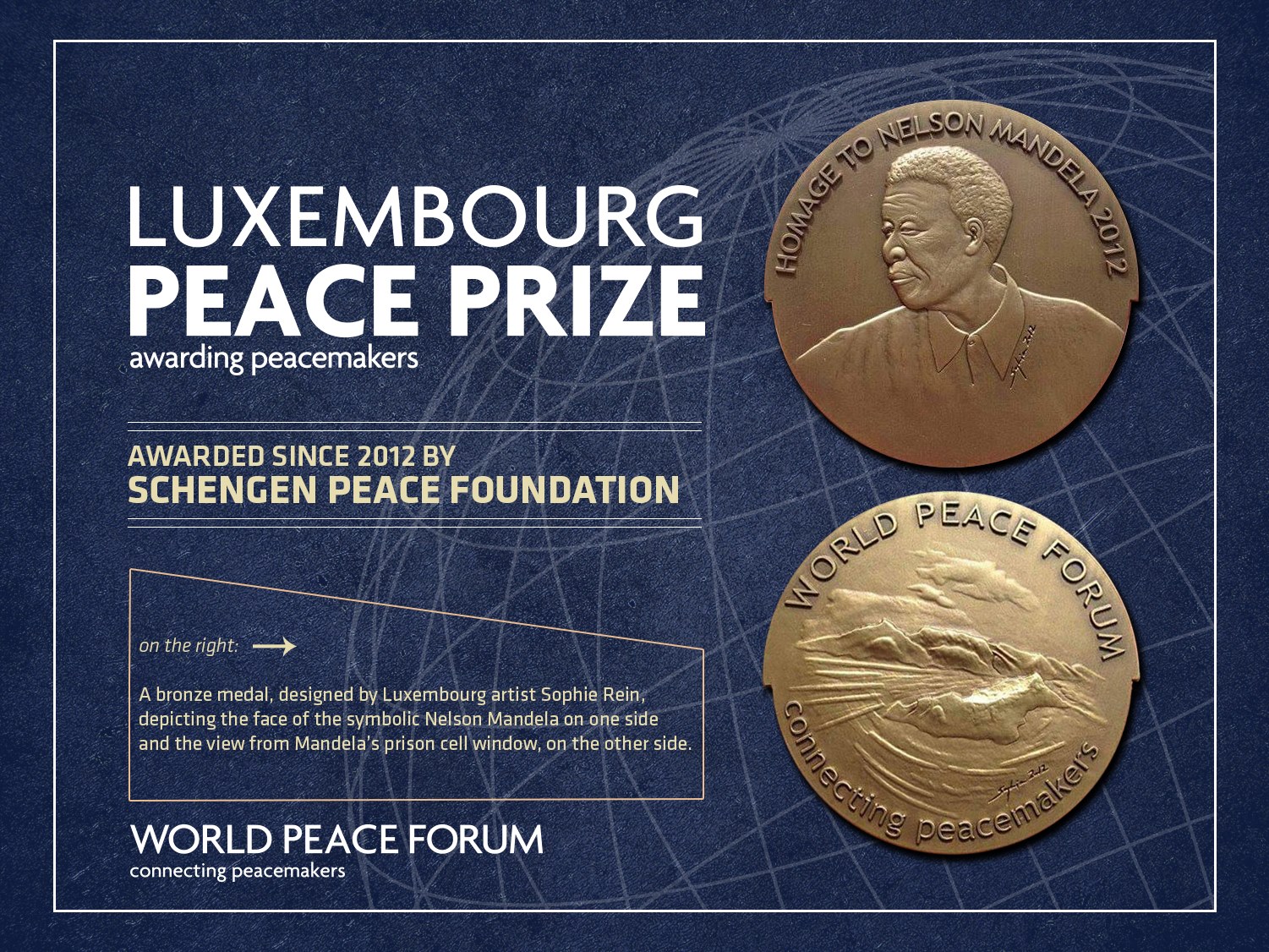 5th Luxembourg Peace Prize 2015
World Peace Forum - Luxembourg
Tuesday, 24 May 2016
Robert Schuman Building
2, Place de l'Europe
Luxembourg City, Kirchberg
Program:
09.00 Registration of Participants

9.30 United Nations Flag Mandala
Mrs. Dagmar Berkenberg, The World Peace Prayer Society, Japan

10:15 Luxembourg Refugee Choir

10:30 Opening Address

10:40 Measuring Peace: The Global Peace Index, Institute of Economics & Peace, United Kingdom

11:00 Global initiative "1% for Peace", Jorge Carcavallo, Argentina, launches the iniative

11:15 Panel: What 1% for Peace Looks Like lead by Kai Jacobsen, Director of the Department of Peace Operations (PATRIR) with Prof. Raphael Pitti (PhD) and others tbc.

12:00 Reports from Alexandra Zeiner of Augsburg, Carlos Palma for Cairo, Codrin Crisan of Baira Mare, Dulce Magalhaes of Florianopolis and Felix Bentz of Barcelona.

12:30 Lunch at Centre Jean XXIII

14:30 Reconvene
Luxembourg Refugee Choir

14:45 The Luxembourg Peace Prize 2016 Award Ceremony

OUTSTANDING PEACE TECHNOLOGY
Global Peace Index, Australia/UK
The Global Peace Index (GPI) measures peace in 162 countries
according to 23 qualitative and quantitative indicators.

OUTSTANDING YOUTH PEACEWORKER
Asma Khalifa, Lybia
Asma is a young Libyan woman working for peacebuilding in her country.

OUTSTANDING PEACE ACTIVISTS
Abdoulrazzak Halim, Syria
Halim is a refugee from Amouda, Syria, currently at Luxembourg Refugee Camp.

Jorge Castella i Cot, Spain
Jorge is a Laureate from 2015, he is the founder of the Barcelona based Fundacion de Fomento Europeo.

OUTSTANDING PEACE EDUCATION
Associazione Rondine Cittadella della Pace Onlus, Italy
This hall of residence hosts students from different conflict areas.

OUTSTANDING PEACE SUPPORT
H.E. Serigne Saliou Cisse, Senegal
Serigne is a Senegale Ambassador at Large at the "International Human Right Commission"

OUTSTANDING PUBLIC PEACE EFFORTS
Mr. Bashar El Kiki, Iraq / Kurdistan
Bashar is the President of the Nineveh Provincial Council in Nineveh Iraq / Kurdistan.

OUTSTANDING NGO
Red Cross Luxembourg and the citizens of Europe who have responded to the humanitarian situation

17:00 Announcement of 2017 Luxembourg Peace Prize

17.10 Closing Ceremony – Mindfulness Intefaith Meditation for the Victims of Violence

Note: this program is subject to additions and changes

https://www.eventbrite.com/e/5th-luxembourg-peace-prize-2016-registration-21532450138

Everyone please pre-register via eventbrite
bit.ly/LPP2016
You must bring a picture id on the day to attend, and be minimum of 16 years of age to enter the building.

GALA DINNER AT MELIA
Following the Luxembourg Peace Prize we will be celebrating
"5 x 5 years" with our friends from Barcelona at a Gala Event at the Melia. For more informaiton:
https://www.facebook.com/events/763825490385534/

INFORMATION FOR VISITORS FROM OUTSIDE OF THE TRI-REGION
Luxembourg Ville Accommodation Recommendations
BUDGET
25 - 40 Euro per person with ensuite per night
http://youthhostels.lu/en/youth-hostels/youth-hostel-luxembourg

MODERATE 100 - 150 Euro per night
Novotel Kirchberg
Best Western Victor Hugo

LUXURY
Melia
200 - 250 Euro per night
http://www.melia.com/de/suche/zimmer-und-preise.htm

HOMESTAY
You may also enquire regarding a homestay with one of our WPF members

Luxembourg Transportation Links
Bus Map
http://www.vdl.lu/vdl_multimedia/Mobilité/autobus/Plan+du+réseau+AVL.pdf

Taxi
http://www.webtaxi.lu/en/eco-class-fare-rates.html
---------------------------------------------------------------------------------------------------------------------------------
Looking forward to seeing you, please register here!
Notre plaisir d'y vous voir, inscrivez vous svp ici!
Será un placer verlo allí, por favor inscríbase aquí!
Wir freuen uns auf Ihr Kommen, bitte hier anmelden!
Date and Time
Location
European Parliament
Robert Schuman Building
2, Place de l'Europe
Luxembourg
Luxembourg