The Latin America Energy Summit - the premier energy event for South America. Renewable energy, power generations, and natural gas in focus
About this event
Register before September 30 and save 50%!
The 5th Annual Latin America Energy Summit (www.latamenergysummit.com) takes place virtually from Santiago, Chile on December 1-2, 2021 and gathers regional energy companies, engineering firms, infrastructure project developers, construction companies, investors and government officials to discuss opportunities revolving around the evolving energy industry in Latin America.
Register today and guarantee your spot! Group discounts available
​During the two day conference, industry experts and colleagues from Chile, Colombia, Peru, Brazil, Argentina, Canada, the United States and Europe, discuss the evolving business opportunities related to energy investments in Latin America. Significant attention is placed on the infrastructure projects related to renewable energy from wind, solar, and hydroelectric sources, as well as the role of hydrocarbons and natural gas in fueling power plant demand as well as transportation logistics. ​ 
Some of last year's confirmed speakers include: 
Maurizio Bezzeccheri, Director South America, ENEL Group
Daniel Cámac, VP Comercial, Engie Perú
Clara Bowman, CEO, AME
Diego Hollweck, CEO, Latin America Power (LAP)
Juan Antonio Rozas, Country Manager, Statkraft Perú
Alfredo Solar, CEO, Atlas Renewables Chile
Juan Payeras, Chief Investment Officer, IFC
Emilio Nadra, VP Comercial, CGC
Pablo Alberio, CEO, Cinergia
Jesús Tamayo, Director, COES Perú
Emiliano Espinoza, Gerente General América Latina, Cox Energy
Marian D'Agostino, Gerente de Comercialización, Pampa Energía
Rodrigo Jimenez, Gerente General, Systep
Victoria Sabbioni, Natural Gas Manager, CGC
Javier Mozó, Managing Partner, DGEnergy Capital
Ismario González, Director Ejecutivo América Latina, Fluence
Ralf Wiesenberg, VP Business Development, Azelio AB
Danilo Zurita, Director Ejecutivo, GPM-AG
Alvaro Ríos, Socio Director, Gas Energy Latin America
Enrique Rodriguez-Flores, Energy Specialist, European Investment Bank
Arturo Brandt, Environmental Lawyer & Consultant
Eric Medel, Especialista de Industria, Plusmining
Rodrigo Castillo, Director Ejecutivo, Eléctricas AG
Ximena Oviedo, Socia Directora, IESD
and more
Competitiveness and increased productivity are crucial in today's operating environment. Don't miss this unique opportunity to develop the strategic business relationships necessary to succeed in this market.
​* Simultaneous translation will be provided.
ESPAÑOL
Identificando los cambios y oportunidades en una nueva época para la industria energetica de América Latina y Sudamerica
Durante el 1-2 de diciembre de 2021 virtualmente desde Santiago de Chile, el 5th Latin America Energy Summit 2021, reunirá inversionistas, operadores, empresas energeticas, autoridades, proveedores, empresas de servicios, consultores y financistas para discutir el entorno de negocios que se está gestando alrededor de los proyectos energeticos en la region de Sudamerica. El foro hara un especial énfasis en las oportunidades y desafios de Colombia, Peru, Chile, Argentina y Brasil.
​No pierda esta oportunidad única de construir nuevas y estratégicas relaciones de negocios con sus pares en la región.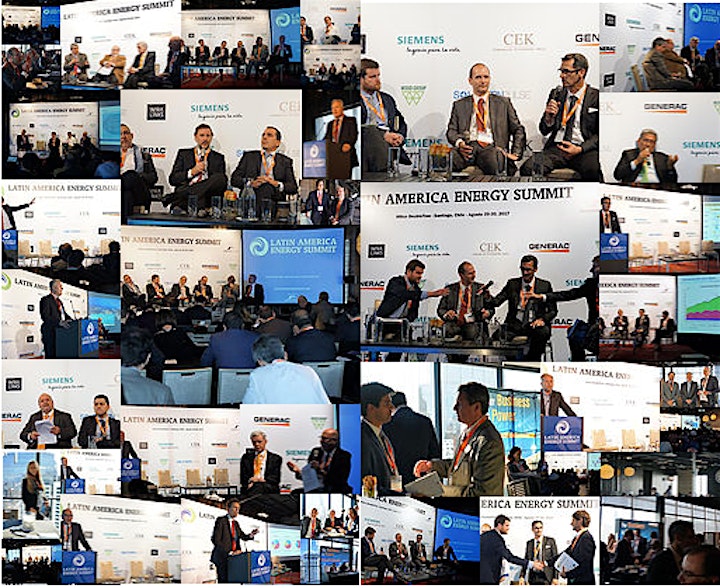 Date and time
Location
Refund policy
Organizer of 5th Latin America Energy Summit 2021 - Chile