5th International Conference on Plastic, Aesthetic and Reconstructive Surge...
Description
5th International Conference on Plastic, Aesthetic and Reconstructive Surgery
About conference

With great enthusiasm and delightfulness, International Conference on Plastic surgery 2019 invites all the participants from the globe for the "5th International Conference onplastic, Aesthetic and Reconstructive Surgery "to be held on August 1-2,2019 in Bangkok, Thailand. Plastic Surgery 2019 theme is "Innovations, Outcomes and NewTechnologies in Plastic, Aesthetic and Reconstructive Surgery" Which is focused on the recent surgical and technological advancement in field of Plastic Surgery. This conference feels honoured to bring together key note speakers, experts, researchers, industries and students from all over the globe. The aim of organizing the Plastic Surgery Conference is to provide exposure to technologies and to provide knowledge about research work going on plasticsurgery.

Plastic Surgery is a medical method which deals in alternating, reconstructing and restoring of the body function and shape. The surgery is related to head, neck, breasts, face, hand and other body parts to increase the appearance and remove any disease and congenital defect. Plastic surgery is divided into two parts: ReconstructiveSurgery and Cosmetic or Aesthetic Surgery. Plastic Surgery includes both to enhance the patients appearance (face lift, nose job, body lift, breasts augmentation) and by reconstructive method of the injury and congenital defects of the patients. The treatment includes removal of excess fat, skin tissues and tightens the body muscles to reshape and rebuild the body parts.

PlasticSurgery is a very vast field which is further divided into many subdivisions. Subdivisions of Plastic Surgery includes: Hand Surgery, Face lift, Mammoplasty, Otoplasty, Genioplasty, Eyelid surgery and other. These subdivisions are basically dealing in a specific field.

ReconstructiveSurgery deals with the congenital defects, burns, infection, disease and traumatic injuries. It is performed to restore the function of the body part and to give normal appearance. Hand Surgery, Reduction mammoplasty, Burn repair and tumour removal are most common type of ReconstructiveSurgery. Aesthetic Surgery or Cosmetic Surgery is another division of Plastic Surgery, is a surgical course of action which is carried out on normal body parts to enhance the personal appearance. Most common Aesthetic surgery procedures are breast augmentation, eyelidsurgery, liposuction, abdominoplasty and face lift. Botox injections and cellulite treatment are most common medicinal treatments to be taken into consideration.

PlasticSurgery is done if the non-surgical method results in failure. Nonsurgical methods include physical exertions and it takes time. On the other hand, surgical methods are quick and results are far better than the nonsurgical methods.

Plastic Surgery invites all the participants across the world to attend '5th International Conference on Plastic, Aesthetic and Reconstructive Surgery "to be held during August 01-02 Bangkok, Thailand, which includes prompt keynote presentations, Oral talks, Poster presentations, and Exhibitions.

We would be delighted to welcome all the interested and enthusiastic participants across the globe to its prestigious world Surgery Congress which is going to be held during August 1-2, 2019 Bangkok, Thailand highlights the theme "Innovations, Outcomes and New Technologies in Plastic, Aesthetic and Reconstructive Surgery" is a two-day conference concentrating on Interactive Sessions & Sub-sessions emphasized on innovation and new trends on different plastic surgeries, keynote lectures from Senior Scientists and industry experts, panel discussions, poster competitions and Young Researcher Forum. The conference program will feature well-known and thought-provoking speakers to interactive discussion sessions.

Why to attend??

The Plastic Surgery conference interacts with members across the globe focused on learning about surgical and its specialties. This is the single best opportunity to reach the largest participants. Sharing the knowledge and demonstrations, Information and B2B meetings with industrialists and potential clients to make a splash with innovative products live and brand recognition at this event. World-renowned speakers, the most recent techniques, and the latest advancements in Plastic Surgery are hallmarks of this conference

Target Audience:

Plastic Surgeons
Doctors
Medical Professionals
Anaesthesiologists
Medical Students
Fellowship holders
Physician assistants
Surgical technicians
Research scientists
Nurses
Pharmaceutical Industries
Top companies producing equipment and technology for plastic surgery:

Baxter International Inc.
Allergan, Inc.
Cynosure
AQTIS Medical
Lumenis
Invasix Aesthetic Solutions
Johnson and Johnson
Solta Medical
Syneron Medical Ltd
Galderma S.A.
Alma Laser
Henry Schein Medical Ltd
Medtronic Inc.
AGENDA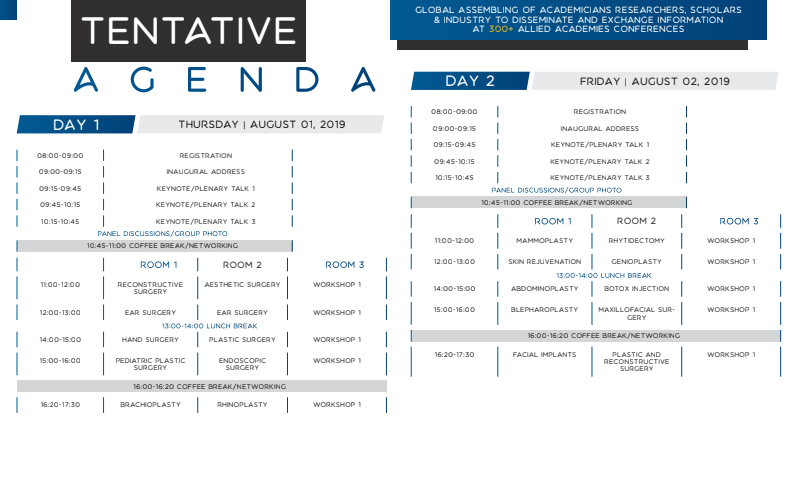 Please contact the event manager Marilyn (marilyn.b.turner(at)nyeventslist.com ) below for:
- Multiple participant discounts
- Price quotations or visa invitation letters
- Payment by alternate channels (PayPal, check, Western Union, wire transfers etc)
- Event sponsorship

NO REFUNDS ALLOWED ON REGISTRATIONS
Prices may go up any time. Service fees included in pricing.
-----------------------------------------------------------------
This event is brought to you by:
Allied Academies - NewYorkEventsList
http://www.NyEventsList.com
http://www.BostonEventsList.com
http://www.SFBayEventsList.com
-----------------------------------------------------------------
VIO190402CRE