Description

5th Annual Zombie Bar Crawl
Saturday April 22, 2017
(Halfway To Halloween)
Registration of the undead takes place at from 7-9pm at FLIGHT

Flight, Fitzgerald's, Lucky's & Tilt on Trade
This is guaranteed to be a killer event.
FREE zombie makeup artists on site (first come, first serve starting at 7pm), commemorative koozie, 4 bars & clubs and more!
Ticket Prices:
$15 in advance and $20 the day

DO NOT DRINK & DRIVE!
Download UBER...
Uber.com - Use promo code UBERLAZYDAY and receive your $10 off your first ride!
Call A Cab...
Yellow 704-444-4444 - Diamond 704-333-3030 - Crown 704-334-6666
Designated drivers are always welcome and can attend any Lazyday.com bar crawl for free. Please email us at ambermrowe@gmail.com for more information.
21+ only...even designated drivers unfortunately.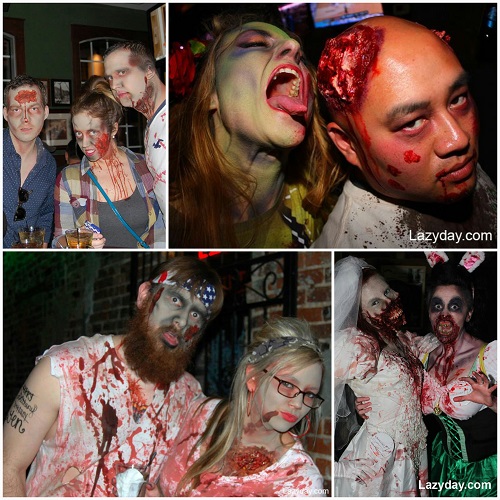 FREQUENTLY ASKED QUESTIONS
Q: How does it work?
A: Imagine a day of organized bar hopping. We will provide an itinerary at registration at FLIGHT on the day of the event that will outline the bars on the crawl and a specific time to be there. At each bar we will have arranged beer and liquor specials.
Q: What time does it start?
A: You can check-in the day of the event at registration FLIGHT between 7-9pm. That is where you will have your zombie makeup done (if you purchased a zombie ticket). Arrive as close to 7pm as you can as the line will build quickly! First come, first serve. We will then hit our second group of bars of the day at 9pm, third at 10pm, etc..
Q: What if I can't make it to registration at FLIGHT between 7-9pm on the day of the event?
A: You can send a friend to pick up your bar crawl wristband, itinerary and koozie. There is not another location once we leave registration to pick up everything you need for the day of crawling. The FUN starts early so be a part of it!!!
Q: How much does it cost?
A: $15 in advance and $20 the day of the event.
Q: Is there a charity involved?
A: Yes, proceeds benefit the Second Harvest Food Bank.
Q: Do I get free drinks at the bar?
A: Unfortunately no but drink specials include a $3 beer, $4 shot and $5 cocktail.
Q: If I pay online, when can I pick up my event wristband, itinerary, koozie etc…?
A: On the day of the event between 7-9pm at FLIGHT, YOU MUST pick up these items at this time, or have someone do it for you. There will not be another point during the day when you can pick up these items. NO REFUNDS will be given if you do not pick up these items at this time.
Q: What is included?
A: Cover charges at all bars and clubs (if applicable), event koozie, beer/liquor specials and more!
Q: What are the specials?
A: Drink specials include a $3 beer, $4 shot and $5 cocktail at all locations.
Q: How, When and Where do I sign up?
A: Sign up on Eventbrite or pay cash at from 7-9pm AT FLIGHT and hope there is still space!
Q: Can I sign up my friends?
A: Yes. You can register anyone that is 21+.
Q: How do we get from bar to bar?
A: We will be walking from bar to bar. DO NOT DRIVE!!! Please either call a cab at the end of the night.
Q: Will the bars be crowded?
A: Of course, however we have taken a few measures to make the day a little more enjoyable. All bars will be fully staffed and have additional beer tubs and bars set up to help avoid long drink lines.
Q: You didn't answer my question…where can I send it?
A: Send an email to ambermrowe@gmail.com