Description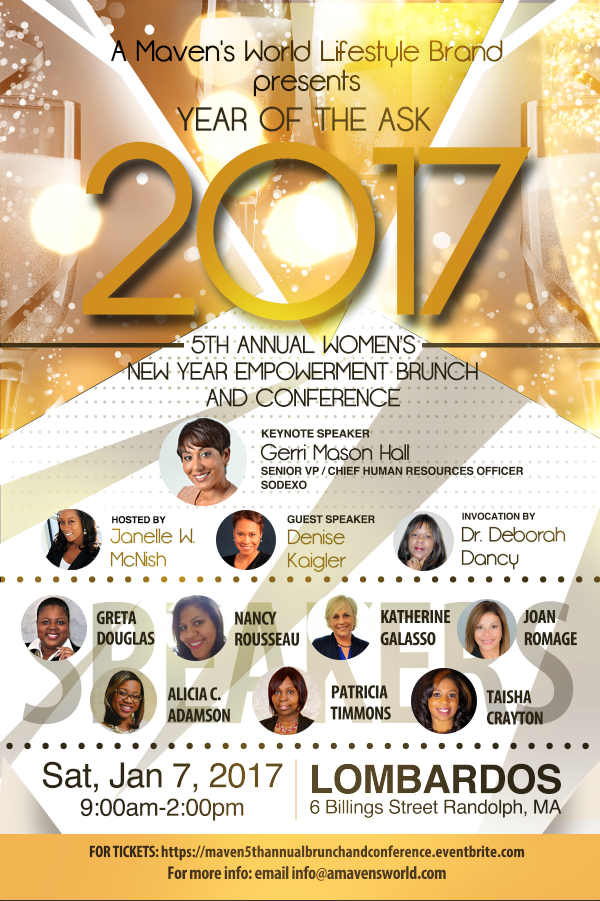 Join A Maven's World Lifestyle Brand in Boston January 7, 2017, for our 5th Annual Women's New year Brunch and Conference. On this day, we will bring together some of the most influential Women Entrepreneurs and Professionals in business. You will connect with other business owner's, attend breakout sessions and learn valuable skills and information you can use in your own business. Our 2017 theme is : "Year Of the Ask",
KEYNOTE SPEAKER

Gerri Mason Hall, Senior Vice President & Chief Human Resources Officers of SODEXO
Gerri Mason Hall leads the people function for Sodexo North America with responsibility for over 130,000 employees. She is committed to creating an environment where all feel valued and have the resources and support to fully engage in Sodexo's quest to be the global leader in Quality of Life services. Gerri joined Sodexo in 2006 leading the Diversity & Inclusion efforts in the Corporate and Government Services business lines. Prior to Sodexo, Gerri designed and implemented Amtrak's diversity programs as the VP Business Diversity and Strategic Initiatives.

GUEST SPEAKER
Denise Kaigler, Founder and Principal of MDK Brand Management and Breakout Presenters:
(Breakout Sessions/ Guest can choose 2/5 on Event Day)
BREAKOUT SESSION I - "Transformational Leadership: What's In It For Me"
Greta Douglas - Transformational Coach, Speaker and Trainer, Greta A Douglas and Co.
BREAKOUT SESSION II: "Earning Millions Through Government Certification and Contracting"
Taisha Crayton - Principal of Chief Biz Builder & Deputy Director of Contractor Cer5tification, Commonwealth of Massachusetts
BREAKOUT SESSION III: - "The Power of Non-Profits Today"
Panelist Alcia Adamson - Director of Philanthropy & External Affairs at Boston Debate League
Panelist Nancy Rousseau - Founder and President of Cultivate Womanhood, Inc., and Grants Manager at Year Up- National
Panelist Patricia Timmons - Founder and Executive Director of M.O.V.E, Inc.
BREAKOUT SESSION IV: - "The Art of Selling"
Joan Ramage - Corporate Sales Consultant, Lombardo's
BREAKOUT SESSION V. "Motivational Interviewing: the Art of Listening"
Katherine Galasso - Training and Communication Consultant, Katherine Galasso Consulting
*This Event will be hosted by Mrs. Janelle Woods McNish, Mrs. Massachusetts 2013 and Mrs. Massachusetts USA Universal 2015.
On this day, we will also ackhnowledge Massachusetts State Representative Gloria Fox and present her with "The Maven Award 2017" for her decades of commitment to the Commonwealth of Massachusetts and her relentless fight for women and children.
Come be empowered, inspired and motivated to make 2017 your BEST year!!! We can't wait to see you.
For further information, please email info@amavensworld.com
For Vendor, Group Tickets or Sponsorship Information, please email info@amavensworld.com
Organizer of 5th Annual Women's New Year Brunch and Conference
Welcome to A Maven's World. Our mission is to connect good people, empower life and build brands. 
Thank you for joining us in our journey to connect people and empower life. When purchasing tickets to any event, be advised that tickets are non-refundable unless canceled by A Maven's World Lifestyle Brand. For additional information, please email us at info@amavensworld.com. 
You can view our websites at amavensworld.com and amwwomensconference.com