Description
The 5th Annual Women in Media Conference presented by WIM is Encouraging, Equipping, and Empowering women in media, and those who aspire to enter it, to advocate for change! This year's theme is "Women in Media: Advocacy & Leadership! Be Bold. Be Seen. Be Heard!" Women In Media's Five Year Anniversary Celebration Officially Kicked Off Wednesday Sept. 6, 2017 AND IT'S A PRETTY BIG DEAL!
For our special anniversary we decided to celebrate for an entire month, check out the reminder line up below and RSVP TODAY! Thank you for your support in our mission.
Facebook @WIMGlobal || Instagram @WIMGlobal || Twitter @WIMSpeaks
---
On Saturday September 23, 2017 Registrants for the 2017 conference will enjoy:
A keynote address by Award-winning Renowned Poet, International Lecturer, Author, and Activist Sista Sonia Sanchez.

Award Ceremony Honoring Sonia Sanchez & PhillyCAM

The conference will offer (9) interactive workshops facilitated by expert media and wellness professionals including:

Errin Whack: Newswoman at The Associated Press and the Philadelphia Association of Black Journalists' 2016 Print Journalist of the Year.

Jo Coppola: Wellness Enthusiastic, Handwriting & Art Analyst

Darlaina Rose: Entrepreneur, Health Coach, & Speaker

Kimberly S. Reed: Award Winning Speaker, Diversity & Inclusion Strategist

Tamara R. Hudson: Author, Entrepreneur, TV Host, & Motivational Speaker

Deaundra Cash: Women In Media Atlanta Production Team, Certified Wellness Yogi, & Spelman College Alumni

Melissa Alam: Founder of Femme & Fortune and FearlessCon

LaQuisha Anthony: Advocate, Education & Training Specialist at WOAR Philadelphia and Founder of V.O.I.C.E.

Jeffrey Jones: Entrepreneur & Host of Community Voice Radio 106.5 FM

Continental breakfast with mimosas and hot lunch sponsored by Eatible Delights Catering & Coca Cola

Women in Media Featured Speakers:

Trisha Graybill: Actress, Author, Model, & Lung Cancer Survivor

Sara Lomax Reese: President & General Manager of 900AM WURD

Teri Yago - Ryan: Media & Community Impact Strategist and Board Chair at Big Picture Alliance

Amber Noble Garland: Entrepreneur, Best Selling Author, & Business Strategist

Councilwoman At-Large Helen Gym: Philadelphia City Council

State Representative JoAnna McClinton: PA House of Representatives 191st Disctrict

Councilwoman Cherelle Parker: Philadelphia City Council Ninth District

Media Marketplace featuring media, businesses and services with career advancing opportunities for Women In Media

Social Media Lounge

Networking

Women In Media Empowerment Corner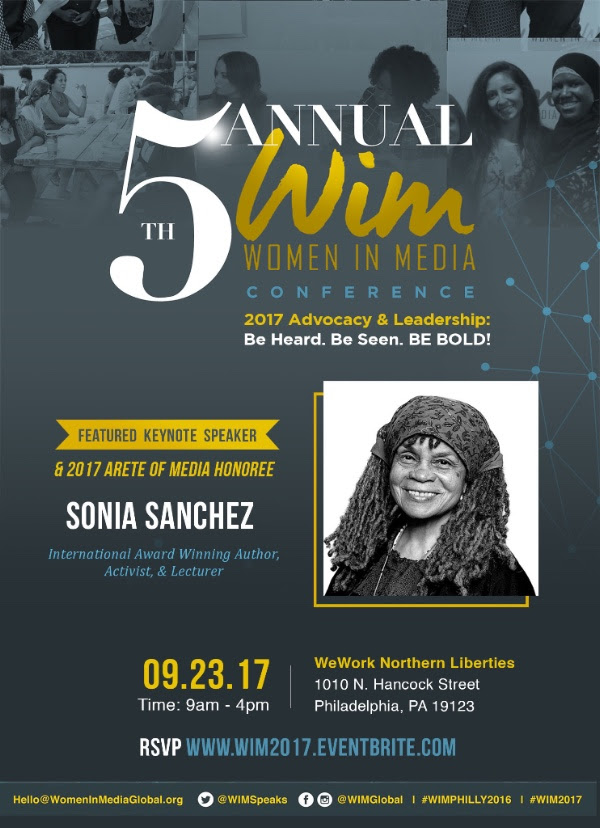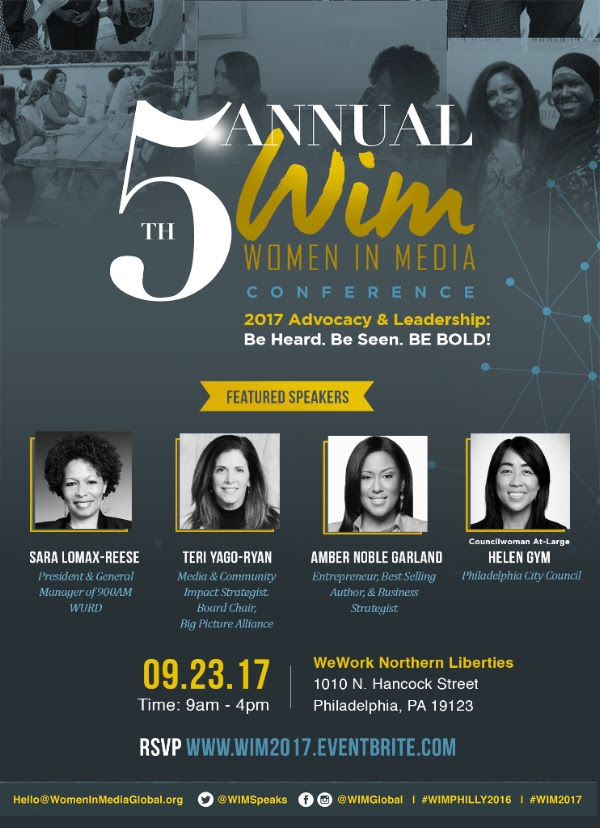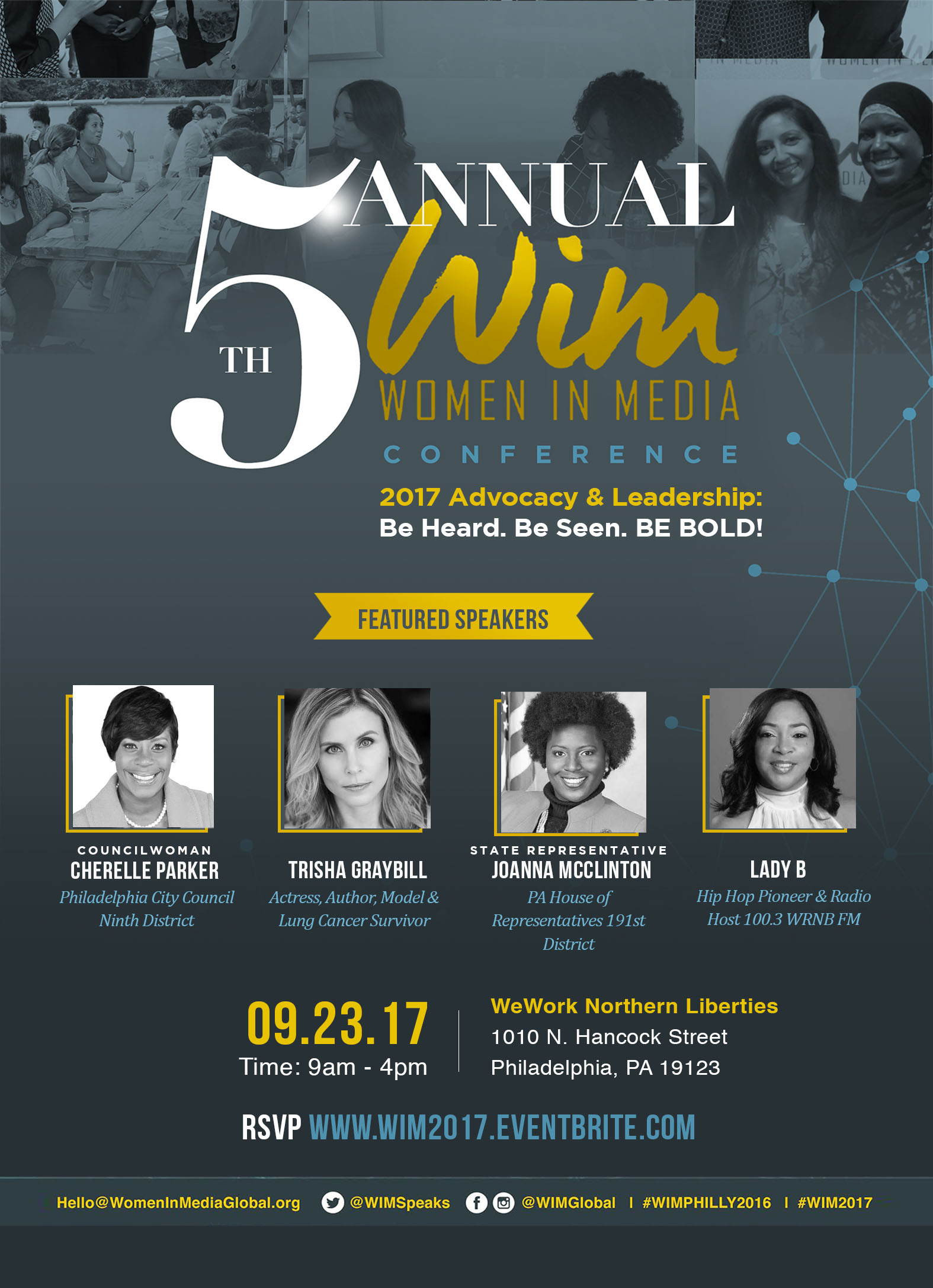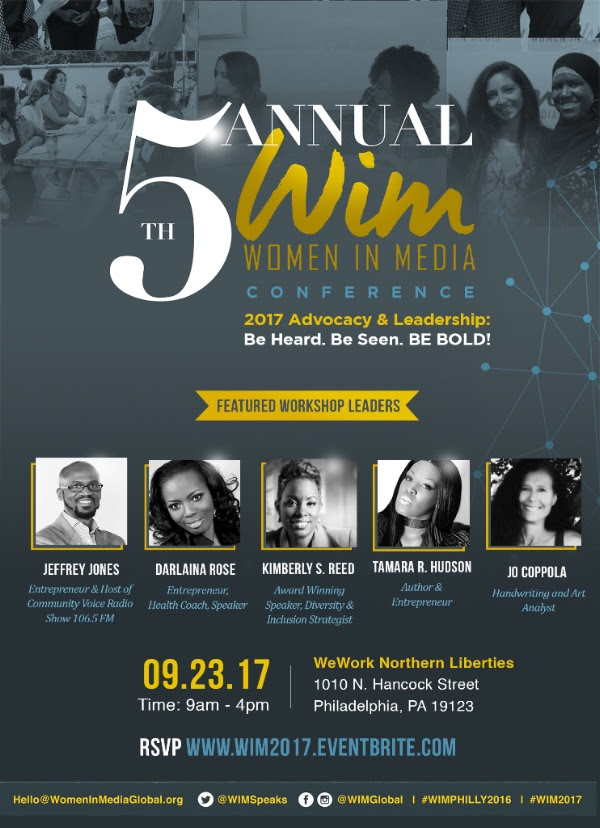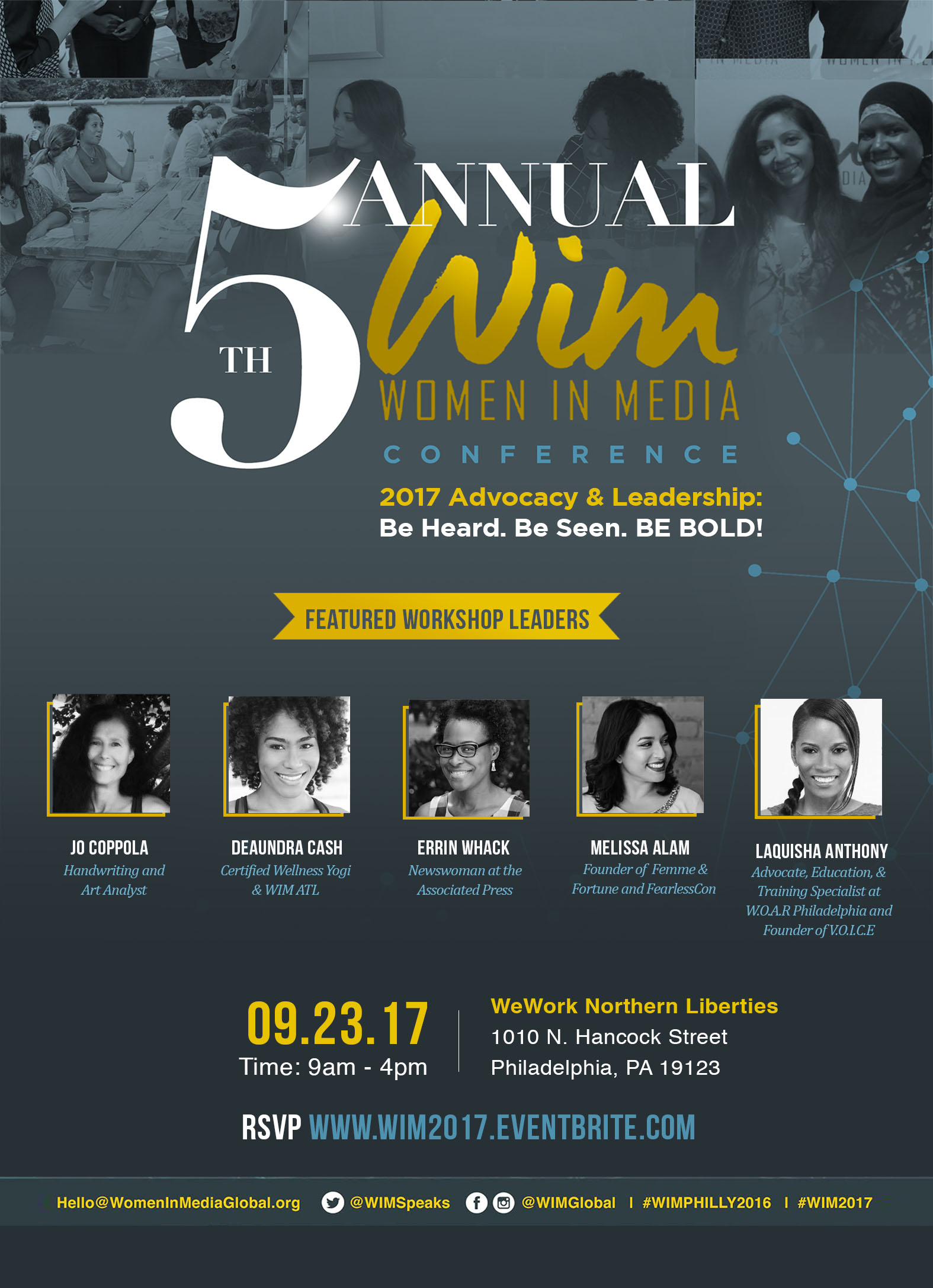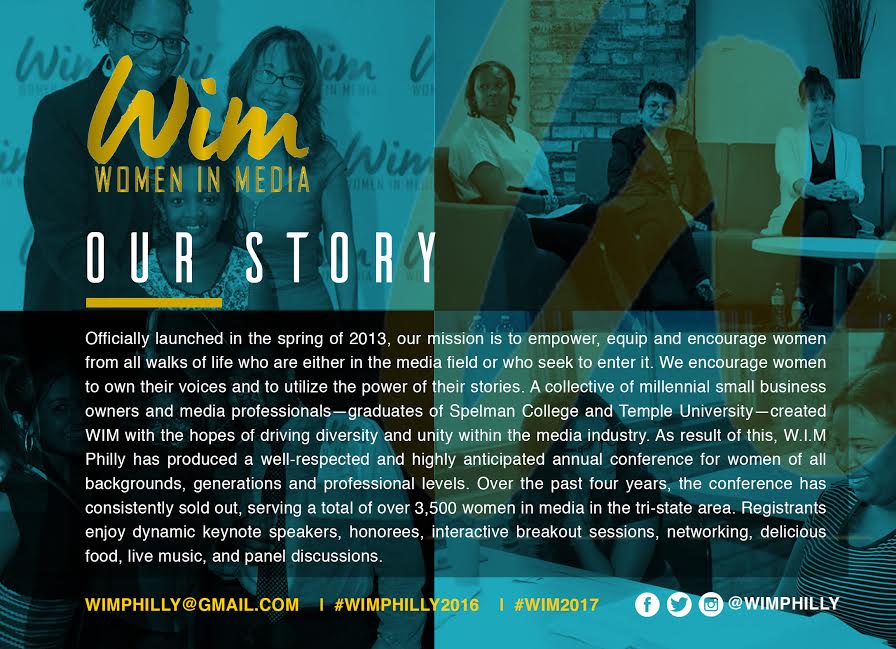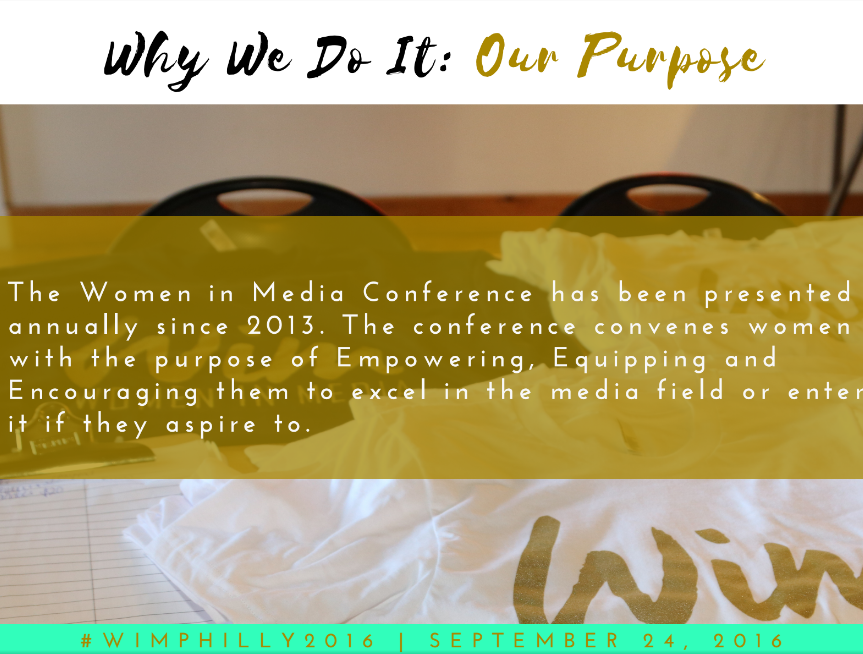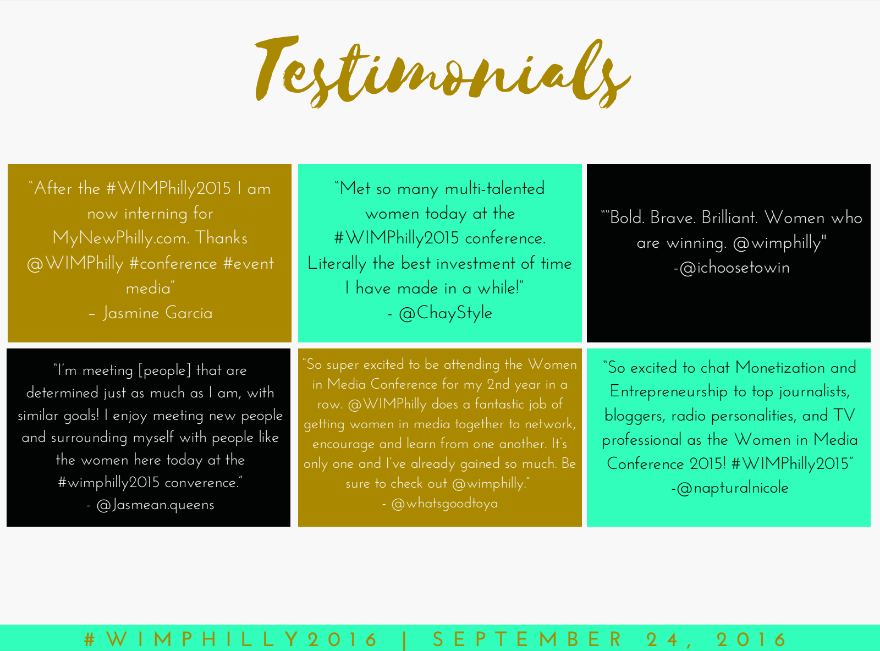 A glimpse at the past: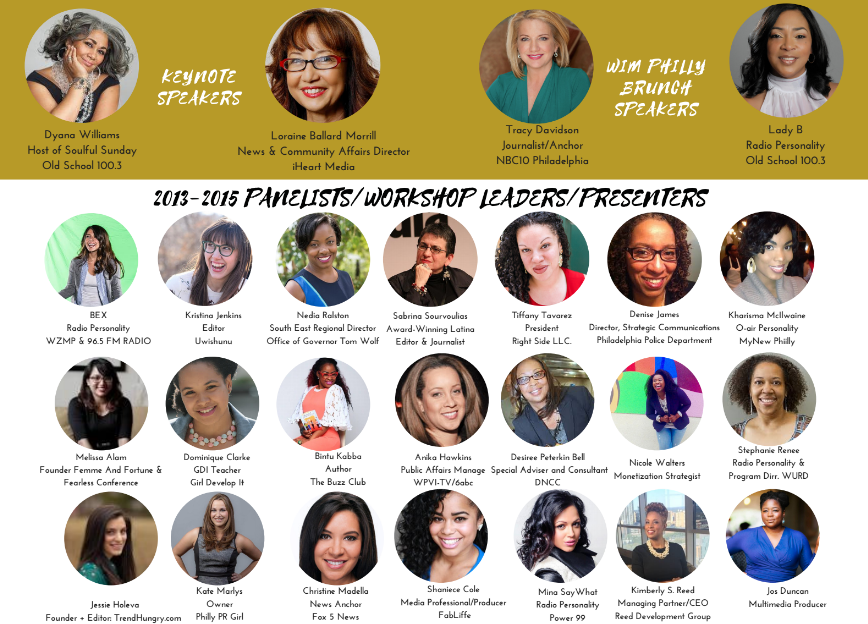 WIM WEDNESDAY SPONSOR: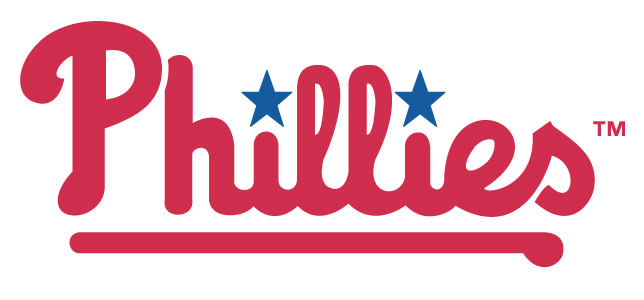 Major League Baseball trademarks and copyrights are used with permission of MLB Advanced Media, L.P. All rights reserved.
SUPPORTER: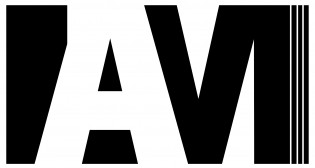 CATERING & HOSPITALITY SPONSOR: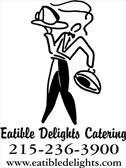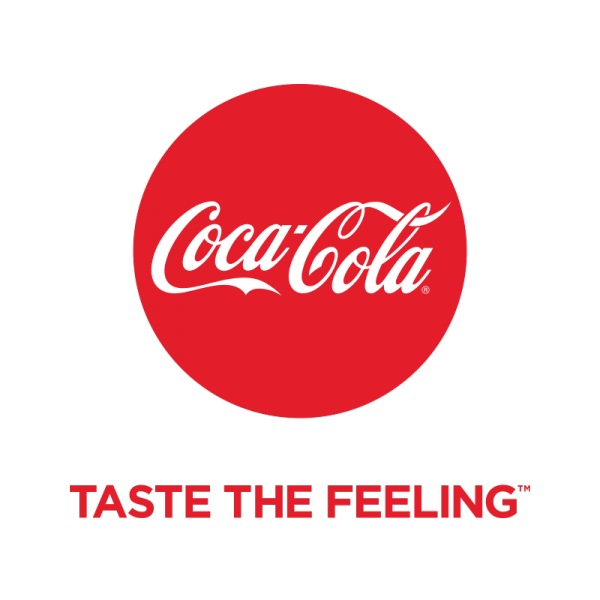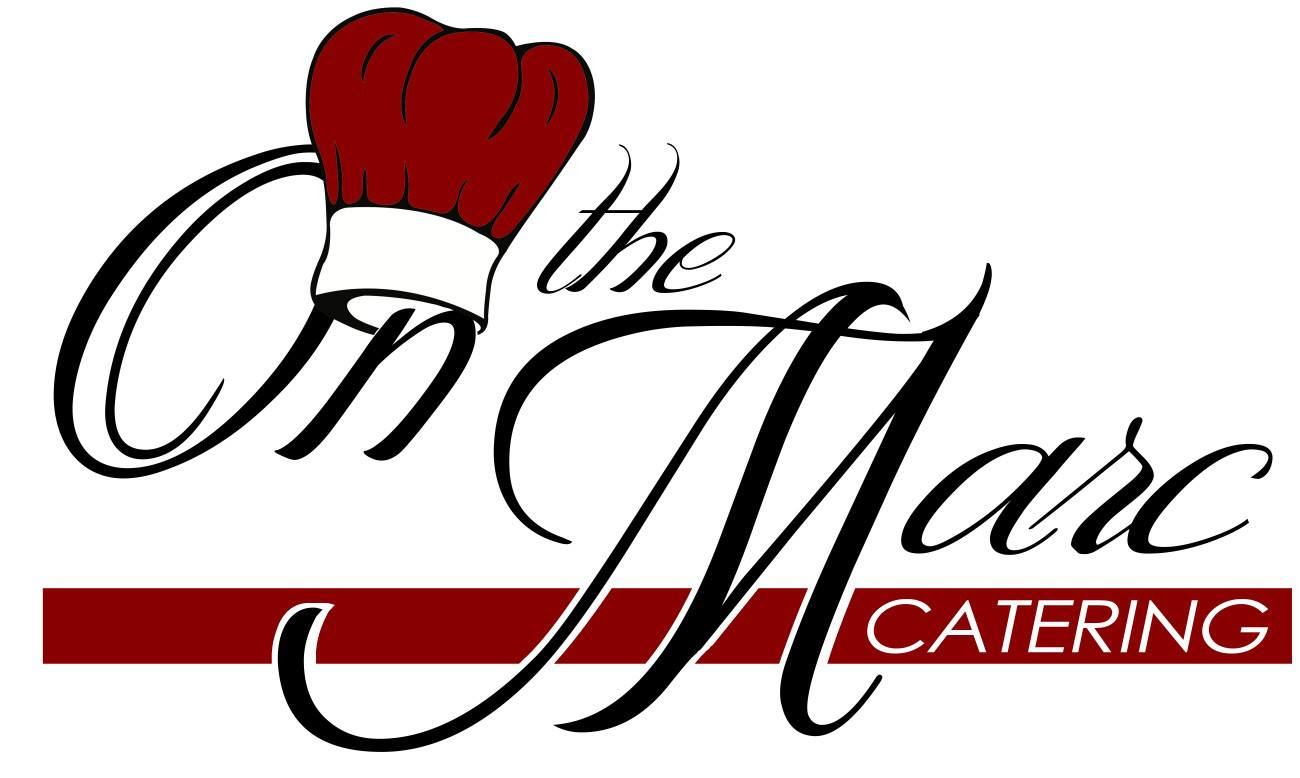 MEDIA & MARKETING SPONSORS: